Alex Guerrero in Dodgers lineup for series finale vs. Giants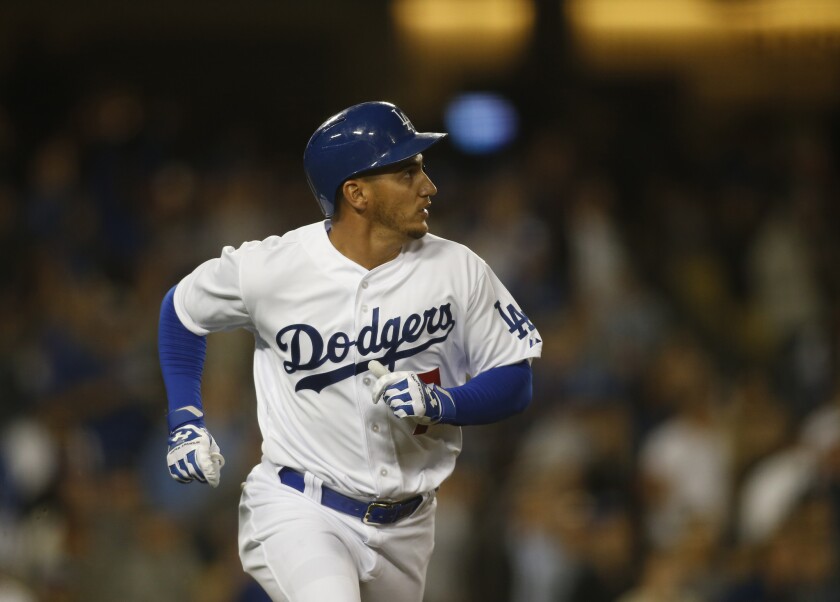 Reporting from SAN FRANCISCO —
Alex Guerrero will start at third base for the Dodgers in their series finale against the San Francisco Giants on Thursday, but it's not because he delivered a pinch-hit, two-run home run the previous night.
"I told him the first game of the series he had this game," Mattingly said.
Guerrero is batting .438. In only 16 plate appearances, he has driven in 11 runs — only three fewer than Adrian Gonzalez and two more than Angels star Mike Trout.
Asked if Guerrero was merited consideration for increased playing time, Mattingly replied, "I think you have to pay attention to the way he's swinging the bat. We've been paying attention. With him, I think he's been a surprise, not necessarily offensive, but just the way he's looked defensively. He's actually gotten even better offensively from last year to this year."
Last season was Guerrero's first in the United States. Before that, Guerrero was in Cuba but refused to play for a season in the country's domestic league.
But for now, it sounds as if Juan Uribe will remain the Dodgers' primary third baseman.
"We know we have a long season, a long way to go," Mattingly said. "You put things together during the winter knowing who your personnel is and how you think you see it working. Sometimes, you stay with that course. Other times, you have to get off that course. We've played, how many games? I just don't think we're willing just go run in a whole 'nother thing. He's been good for us off the bench.
Mattingly said a similar case for increasing playing time could be made for Justin Turner, who batted .340 last season.
"We're just a better club the way we are," Mattingly said. "And we'll see. We're not going to be hard-headed to the point where we're going to say, 'This is what we said we're going to do and we're going to stay with it.' You make decisions based on where you're at, where you're going."
Asked if he considered making Guerrero the starting third baseman and Uribe his late-inning defensive replacement, Mattingly mentioned Turner again.
"Where does J.T. fit in your plan?" Mattingly snapped. "Does he not play? Should he not start and then somebody come in for him? I know the people are chanting for Alex right now, but there's other guys too that probably have swung the bat better. J.T. hits .340 last year, leads the league in hitting, basically. Now, because he's not the flavor of the day, we start talking about somebody else. That's where we can't get involved with what happened over a 10-day period. We have to make decisions based on long term and what we see and project, but also with the fact that things change. Not discounting Alex, but you still have a full roster we know we'll use over the course of the season."
The Dodgers lineup:
Justin Turner SS
Yasiel Puig RF
Adrian Gonzalez 1B
Howie Kendrick 2B
Yasmani Grandal C
Carl Crawford LF
Alex Guerrero 3B
Joc Pederson CF
Mike Bolsinger P
---
Get our Dodgers Dugout newsletter for insights, news and much more.
You may occasionally receive promotional content from the Los Angeles Times.