After last winter's showy off-season, Dodgers now seem almost dull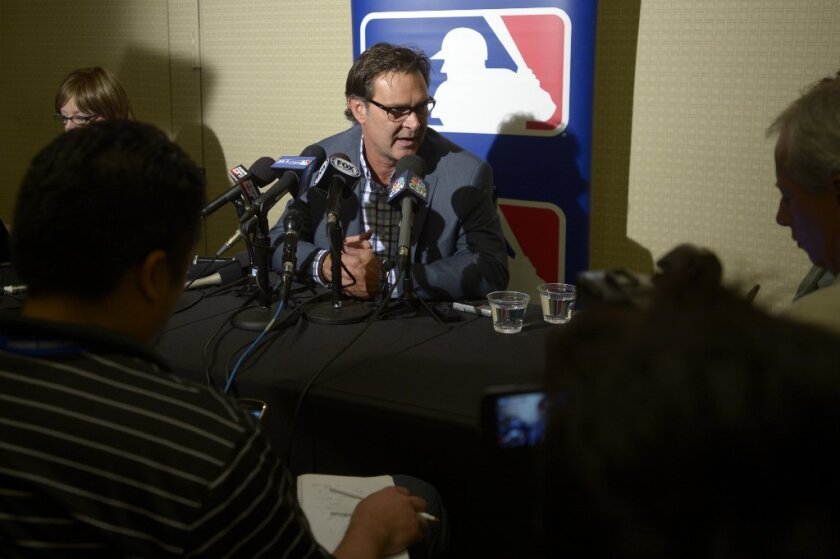 Spoiled rotten.
Admit it, after one thrilling off-season you've stuck out your fat lower lip and have your best pouty face going. You want more. More than a fifth starter and returning set-up man.
A big name, a stud for the rotation, an impact third baseman. Heck, even a nifty utility player. Something.
Alas, the Dodgers went to baseball's annual winter meetings and returned Thursday the same-looking club. No big deals, no signings, no trades.
Last winter they signed Zack Greinke and Hyun-Jin Ryu. Were fresh off adding Hanley Ramirez, Yasiel Piug, Adrian Gonzalez, Carl Crawford and Josh Beckett. They were the scourge of Major League Baseball. Their name sent ripples of fear into other clubs.
This winter, they've sent mostly yawns. While several teams have been active and hot, the Dodgers have operated in the warm stove league. And you expected a lot more based on last off-season. This winter they've been that worst of things -- boring.
Which isn't necessarily a bad thing. Guggenheim Baseball Management filled a lot of holes in its first season as the team's owner. Answered a lot of questions. There remains work to be done, but much less.
And there's still plenty of time to do it. The Dodgers did not actually sign Greinke and Ryu until after last year's winter meetings. They could yet land a David Price or Masahiro Tanaka for the rotation. Probably not, but it could still happen.
This is sort of a transitional period for Guggenheim, going from a team that needed to be immediately fortified, to one laying the foundation for its primary talent to emerge from a reinvigorated farm system. Thus far they've resisted trading a package of top prospects to land Price.
"There comes a time when you have to bite down hard and say you're going to do it," Dodgers President Stan Kasten said.
They still have four high-profile outfielders, which is one too many only if you truly belief all four will remain healthy throughout the season. And if they were to trade one, Kasten said it would more likely be to nab another team's top prospects.
In a major market like Los Angeles it typically behooves a team to make at least one major off-season move just to generate some buzz, to excite its fan base.
The Dodgers still need at least one starting infielder, more help for the bullpen and a utility player. There still figures to be some movement.
But this winter they are dealing more from a position of strength. They mostly need to add pieces, not revamp the clubhouse and rocket the payroll into the stratosphere.
Yeah, it does make for a comparatively dull winter. This new phase is hardly as sexy as last winter's eye-popping period, but that's OK. It was already a much better team when this hot stove league began. Pull that lower lip in.
---
Get our high school sports newsletter
Prep Rally is devoted to the SoCal high school sports experience, bringing you scores, stories and a behind-the-scenes look at what makes prep sports so popular.
You may occasionally receive promotional content from the Los Angeles Times.