Dodgers can hope, but can't completely count on Hyun-Jin Ryu for 2016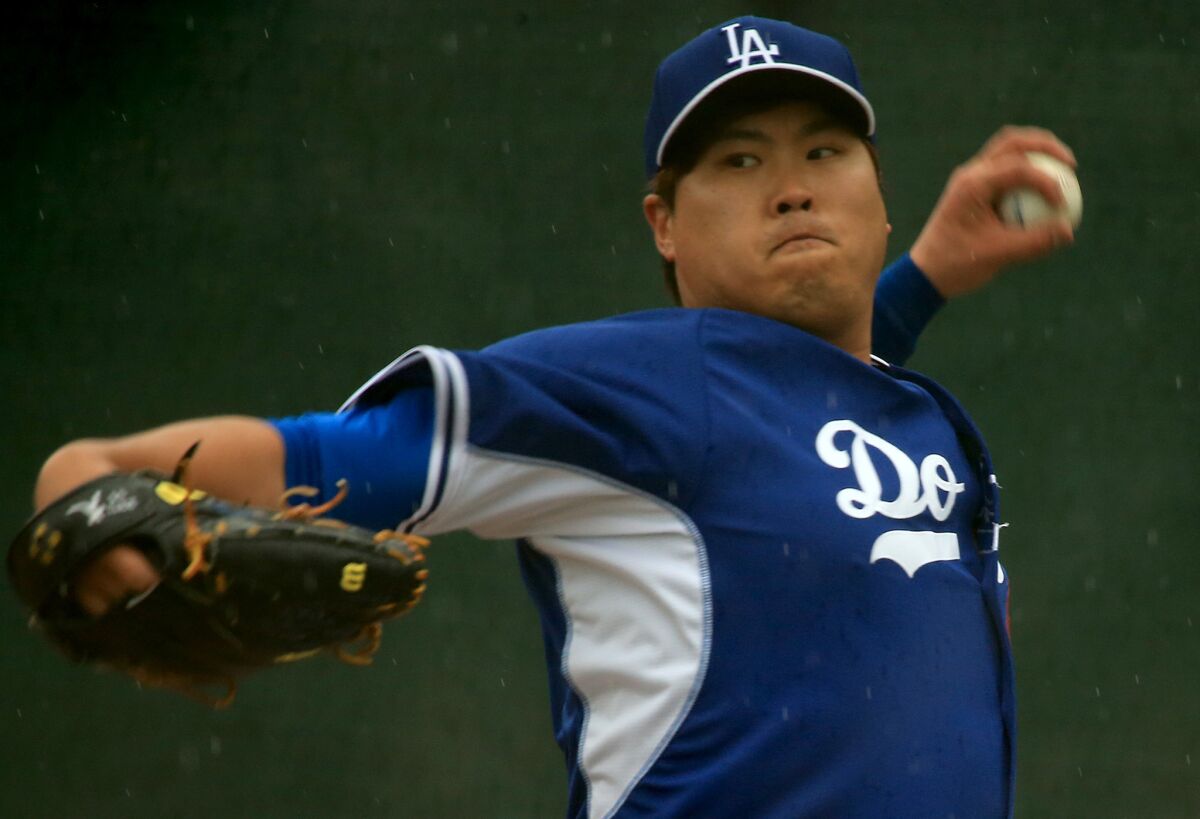 There are plenty of things you can count on in life – political rhetoric, re-gifting, Pete Rose still banned – but there are others you had best treat like a skillet right off the stove.
The Dodgers, as you may have heard, have a rotation problem. As in, it has holes in it. At least one, though possibly two (nine days after it was leaked they had signed right-hander Hisashi Iwakuma, the Dodgers have yet to make an announcement).
At the moment, the rotation is Clayton Kershaw, Alex Wood and Brett Anderson. If you can safely assume Iwakuma, that still would leave one opening. If only they had a guy like Zack Greinke.
The one obvious in-house candidate to fill out the rotation is left-hander Hyun-Jin Ryu, who this spring will be attempting to come back from shoulder surgery. If Ryu can return to his previous form – he went 28-15 with a 3.17 ERA and a 1.20 WHIP his first two seasons – the Dodgers have a legitimate No. 3 starter.
Ryu had his labrum repaired in May, and at one time that would be near a death knell for a pitcher. Dodgers physician Neal ElAttrache once described shoulder problems like trying to put together a jig-saw puzzle without the cover box photo to guide you.
Baseball is littered with pitchers who failed to successfully return to prominence following labrum surgery – Brandon Webb, Rob Nen, Ben Sheets, Chad Cordero, Jason Schmidt, Mark Prior. But increased knowledge and improved technique in recent years have stirred greater success in labrum surgery.
ElAttrache, who performed the labrum repair on Ryu in May, was part of a study published five years ago that showed that of pitchers who had labrum surgery in concert with rotator cuff repair, only 57% returned to their previous level. But of pitchers without rotator cuff issues who needed only labrum repair – like Ryu – over 80% returned to their previous level.
So at some point the odds strongly suggest Ryu will return to at least close to his former self. If he lights up the radar gun one or two mph slower, it should not dramatically affect his throwing.
That still leaves a nearly 20% chance he won't come all the way back, so careful with that skillet. The Dodgers can be optimistic (though normally pitchers take a full year to return). They just can't afford to count on him. The odds are higher that Brandon McCarthy will successfully return from Tommy John surgery, though he's not expected back until around June.
The fill-in candidates – Mike Bolsinger, Joe Wieland, Ian Thomas, Zach Lee – may offer the Dodgers more promise than a year ago, but are hardly pitchers they want to enter 2016 having to rely on for the full season.
With Ryu, the Dodgers have to tread carefully. They can't push his return or he could end up right back on the disabled list. Caution will rule, and that means the Dodgers still need another starter.
Right now, it's what they can count on.
---
Get our Dodgers Dugout newsletter for insights, news and much more.
You may occasionally receive promotional content from the Los Angeles Times.