If Howie Kendrick walks after next season, trade could haunt Dodgers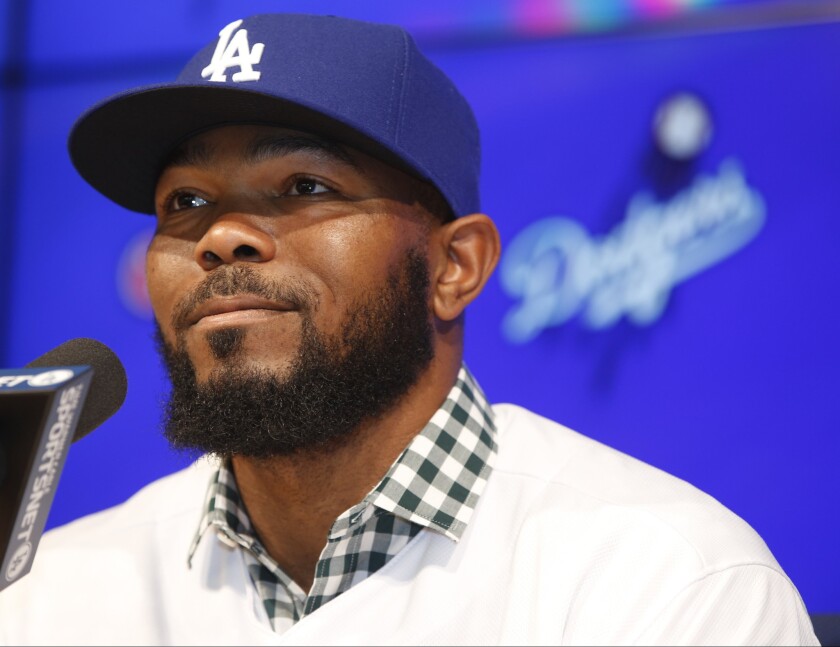 Having any trouble with this one?
The Dodgers traded a bright pitching prospect, a former ninth overall pick, to the Angels for one year of 31-year-old second baseman Howie Kendrick.
Andrew Heaney, a 23-year-old left-hander, could become a mainstay in the Angels rotation, if not next season, soon. While Kendrick is in the final year of his contract and could be gone by the end of 2015.
How does this jive with President of Baseball Operations Andrew Friedman's normal mantra of playing and developing young talent? The only way this could makes sense is if Kendrick is signed to an extension.
And maybe that happens one day, maybe not. Kendrick said the Dodgers have yet to broach the subject with him.
"We haven't even talked anything about that," Kendrick said. "I don't know if that will or won't happen. But my main focus is to play the game. That stuff will work itself out, whether it does or doesn't happen."
Friedman talks as if a Kendrick extension is not a real focus for him right now, either.
"There are a lot of different ways it can play out, but we're excited to have him," Friedman said. "All of our focus right now is on the 2015 season. Assuming that things play out well and Howie likes it here, I'm sure those conversations will happen at some point.
"But, again, it didn't necessarily have to line up ahead of time because it's a fine line when you're doing what you can to put yourself in the best position to win in 2015 while also being mindful of future years."
Kendrick, however, is apparently willing to talk extension and forgo testing the free agent waters. He had made an overture to the Angels on a possible extension.
"Earlier in the off-season, I had my agent mention it to them," Kendrick said. "But nothing came of it. They were trying to free up salary and shore up pitching, so that's one of the reasons I'm over here."
Heaney came to the Dodgers in the trade of Dee Gordon to the Marlins. He lasted a couple hours as a Dodger before he was flipped to the Angels. He's expected to start the season at triple-A, but should injury strike the rotation, he could become the first starter called up.
That could make for a long career. And if successful, and Kendrick leaves, for one bad trade.
---
Get our Dodgers Dugout newsletter for insights, news and much more.
You may occasionally receive promotional content from the Los Angeles Times.