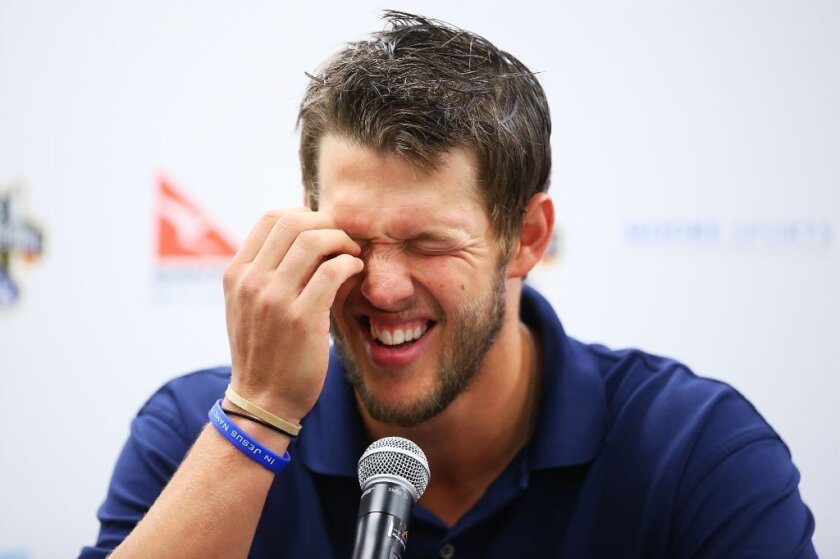 Is Clayton Kershaw the most popular pitcher in Major League Baseball?
By one measure, yes. The Dodgers ace and defending National League Cy Young winner led all pitchers in jersey sales during the off-season, based on sales from MLB's online shop.
David Ortiz and Dustin Pedroia of the World Series champion Boston Red Sox led the rankings, released Thursday by the league. Derek Jeter of the New York Yankees ranked third, followed by Yadier Molina of the St. Louis Cardinals.
Kershaw ranked fifth. The next pitcher on the list: Matt Harvey of the New York Mets, at No. 15.
Dodgers outfielder Yasiel Puig ranked No. 11, with Angels outfielder Mike Trout at No. 14. The Angels finished 18 games out of first place, so Trout did not have the same opportunity for the postseason exposure that would help drive off-season sales.
The Top 20 of off-season jersey sales, as released by MLB:
1. David Ortiz, Boston Red Sox
2. Dustin Pedroia, Boston Red Sox
3. Derek Jeter, New York Yankees
4. Yadier Molina, St. Louis Cardinals
5. Clayton Kershaw, Los Angeles Dodgers
6. Andrew McCutchen, Pittsburgh Pirates
7. Buster Posey, San Francisco Giants
8. David Wright, New York Mets
9. Robinson Cano, Yankees/Mariners
10. Manny Machado, Baltimore Orioles
11. Yasiel Puig, Los Angeles Dodgers
12. Bryce Harper, Washington Nationals
13. Miguel Cabrera, Detroit Tigers
14. Mike Trout, Los Angeles Angels of Anaheim
15. Matt Harvey, New York Mets
16. Prince Fielder, Tigers/Rangers
17. Adam Wainwright, St. Louis Cardinals
18. Koji Uehara, Boston Red Sox
19. Yu Darvish, Texas Rangers
20. Jacoby Ellsbury, Red Sox/Yankees
---