Dodgers Adrian Gonzalez, Matt Kemp agree with Don Mattingly's criticism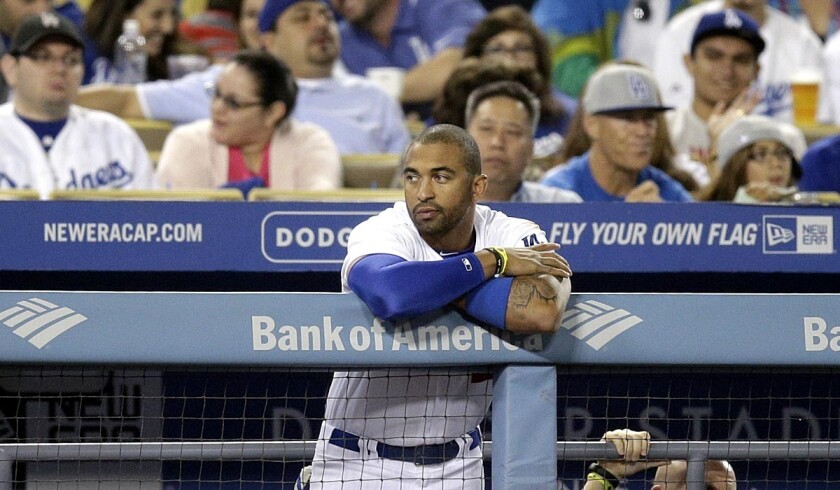 Reporting from Denver —
When asked about Don Mattingly's recent criticism of the Dodgers, Adrian Gonzalez and Matt Kemp said Friday they were in agreement with their manager.
"Basically, we're …," Mattingly said Wednesday.
Gonzalez's response: "True – I mean, lately. The last two series we were."
Kemp also didn't dispute Mattingly's description of the team.
"I mean, we haven't been playing very good baseball," Kemp said. "I think we would all agree."
But Kemp disagreed with Mattingly's opinion that players didn't share a common objective.
"There's nothing wrong with our chemistry," Kemp said. "We all get along. We're all on the same page. We're just not executing when we need to execute. I don't really know where that came from."
Gonzalez, on the other hand, didn't dispute Mattingly's observation. Gonzalez said the lack of a singular focus was the result of the Dodgers not having a set lineup.
"Last year, when we took off, it's when [Yasiel] Puig and Hanley [Ramirez] settled in and we were able to have a consistent lineup," Gonzalez said. "Everybody knew what their role was. I think, right now, everybody is still trying to figure out what their role is."
The Dodgers have three former All-Stars in Kemp, Andre Ethier and Carl Crawford sharing two outfield positions. They might never have a set lineup.
But Gonzalez said, "We have to, if we want to win."
Told of what Gonzalez said, Mattingly replied, "It sounds good, but just can't do it, you know."
For the series opener in Colorado, Mattingly moved Ramirez to the second spot in the lineup from the third. Puig will bat third and Gonzalez fourth.
Mattingly didn't back down from the comments he made Wednesday night. Of the obscene adjective he used, he said, "Yeah, we have been.
"At this point, I don't think we've played the kind of baseball we're capable of. At that point, you have to turn the page. We have 101 games left as we speak today and we move forward."

---
Get our Dodgers Dugout newsletter for insights, news and much more.
You may occasionally receive promotional content from the Los Angeles Times.