Keeping Dodgers' bench players sharp early is a problem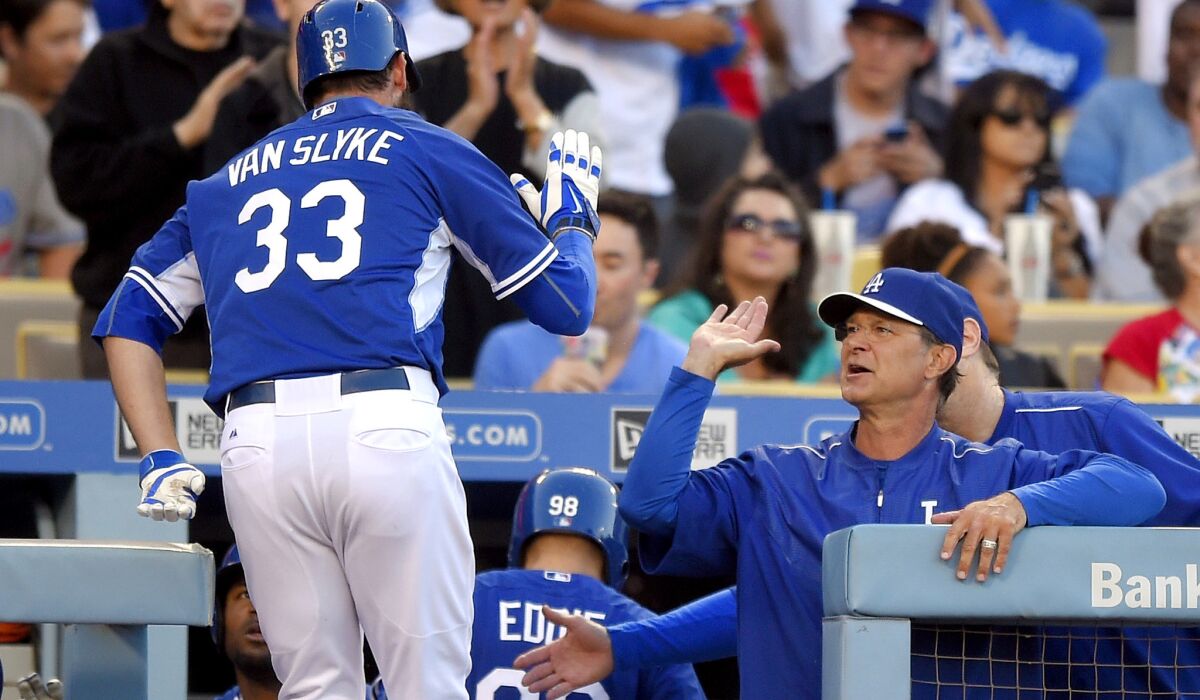 The Dodgers' lineup Wednesday night looked exactly like it did Tuesday night. And the only change Tuesday from the opener was switching Yasmani Grandal at catcher for A.J. Ellis.
During Monday's opener, Manager Don Mattingly said he wanted to keep outfielder Andre Ethier fresh, but exactly what qualifies as keeping Ethier or any of the other bench players sharp is uncertain and a definite challenge early in the season.
"I'll try to do the best I can about keeping everybody involved in the lineup," Mattingly said. "It's a little tougher early just because of the number of off days, guys that are rested or not rested.
"As you get into the season, there are so many games and so many little nick injuries, guys need a break or a breather. It gets a lot easier as the season moves on. It's a little tougher now."
The Dodgers have four off days in April and the season did not start until April 6. They have two off days in May and only one in June.
Of bench players Scott Van Slyke, Justin Turner, Darwin Barney, Alex Guerrero and Ethier, Van Slyke figures to get the most playing time. Mattingly wants to start him frequently against left-handers, but in the opening series against San Diego, the Padres started three right-handers.
Mattingly would not say how often he would like to start Ethier or any of the other bench players in an attempt to keep them fresh, but going 10 days to two weeks is not in his plans.
"I'm hoping it doesn't get like that," he said. "Those guys basically walk out of spring training, they all pretty much have an equal number of at-bats. You try to get all guys ready as best you can. It's just when you begin the season, it's harder to get at-bats for those guys.
"And that's really what separates the guys that are pretty good off the bench from guys that aren't. There are certain guys that don't swing the bat very well when they're not playing a lot. And other guys who seem like they could sit a week and step up there and put up a good at-bat."
At least Ethier and Turner each played in the first two games. Barney and Guerrero have yet to make their 2015 debut. And Barney could be sent down April 14 when the Dodgers have to bring up another starting pitcher.
Get our Dodgers Dugout newsletter for insights, news and much more.
You may occasionally receive promotional content from the Los Angeles Times.