Dodgers designate Mat Latos for assignment, activate Carlos Frias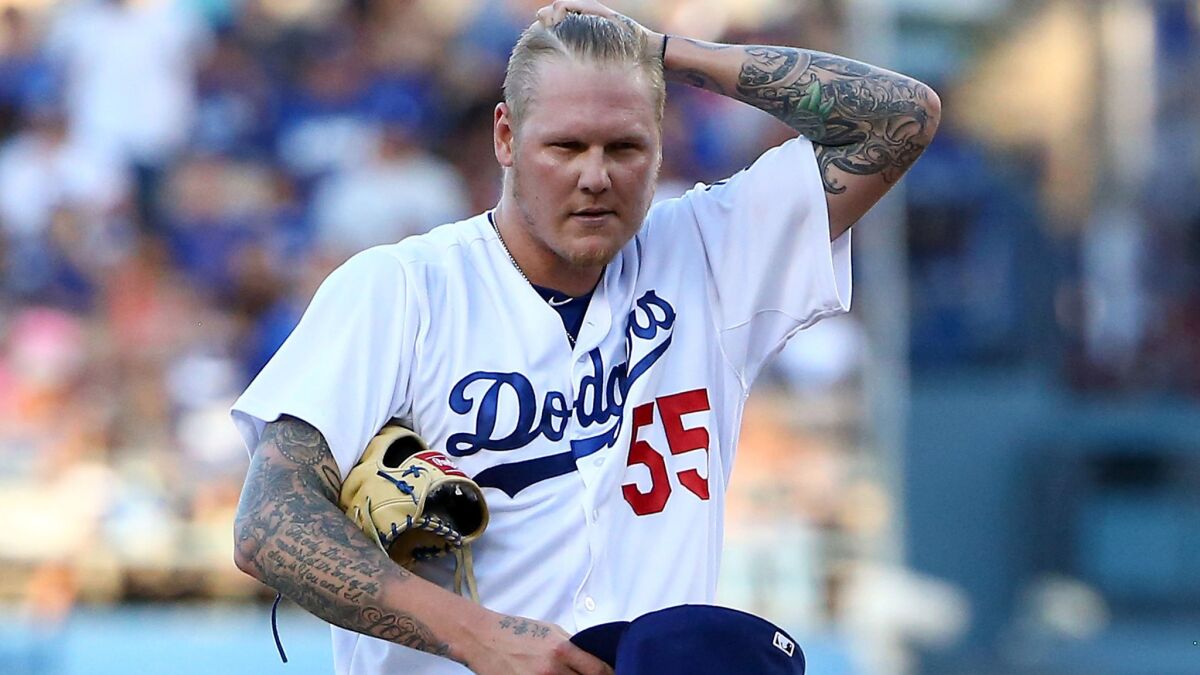 And then, without so much as a farewell kiss, the Dodgers bid Mat Latos adieu.
Sometimes parting is not such sweet sorrow: Latos clearly unhappy with the way he had been used by the Dodgers, and the Dodgers unhappy with the results of their little deadline experiment.
It all ended late Thursday afternoon, with the Dodgers designating Latos for assignment and activating right-hander Carlos Frias from the disabled list.
The Dodgers' last view of Latos will be of him giving up that massive, game-winning home run to Colorado's Nolan Arenado to end Tuesday's 16-inning marathon. To be fair, Arenado has emerged as one of baseball's best hitters. And continuing with the fairness theme, Latos was a bust as a Dodger.
He appeared in six games (five starts), going 0-3 with a devilish ERA of 6.66 and a 1.52 WHIP. He had been bumped from the rotation, his spot essentially taken by the man he was acquired to replace, Mike Bolsinger.
The Dodgers had high hopes for Latos when they made him part of their trade deadline maneuvers, picking him up for three second-tier minor leaguers. The Dodgers needed two starters and were probably hoping Latos, a onetime ace for the Reds, could emerge as their No. 3.
But after a solid first start against the Angels (six innings, one run, four hits), it all went the wrong way for the big right-hander. In his next five appearances he went 0-3 with an 8.35 ERA.
Latos was not thrilled with how he had been pulled from the rotation, and if his mannerisms made his unhappiness clear, recently he had politely stopped talking to the media. If the Dodgers now had no plans for him, and he was one disgruntled camper, the Dodgers were best to admit this little failure and move on without him becoming a more serious clubhouse distraction.
Frias had become a member of the rotation before his lower back flared up and he was placed on the DL. He last appeared in a major league game on June 30. In 14 games (12 starts), he was 5-5 with a 4.39 ERA and a 1.55 WHIP.
If Frias can prove effective these last 17 regular-season games, he would still have an outside chance of making the Dodgers' postseason roster.
---
Get our Dodgers Dugout newsletter for insights, news and much more.
You may occasionally receive promotional content from the Los Angeles Times.