Dodgers go all in with their fragile Brett Anderson gamble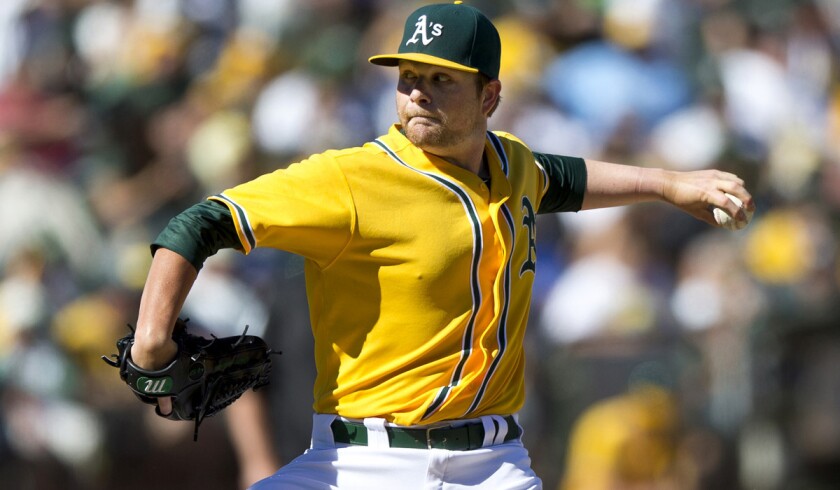 Wonder just how effective Brett Anderson is going to be as a new starting pitcher for the Dodgers? Anderson must be wondering just a bit himself.
Since his back surgery last August, the oft-injured Anderson has yet to throw off a mound. He's hoping to throw in the next week or two.
"My arm feels good, my back feels good," Anderson said in a conference call Wednesday. "Anything I would have concerns with feels fine at this point, so I'm happy."
Anderson is something of the Dodgers' great risk-reward gamble this off-season, not counting the $48 million they gave to Brandon McCarthy for four years. Anderson, who has averaged only 52 innings a season the past four years due to various injuries, was signed for one season at $10 million by the Dodgers. This after the Rockies declined his $12-million option.
He is currently rehabbing from the surgery for a herniated disk with renowned physical therapist Brett Fischer at the Fischer Institute in Arizona.
"He rehabbed Randy Johnson through the same thing and he won a couple of Cy Youngs after the fact, so I keep telling him, 'Just put me on the same program as Randy Johnson was on and I'll go out there and win the two Cy Youngs,' " he said. "Brett Fischer has gone through this rehab with multiple guys in multiple sports, so he has a baseline of where to go. He likes where I'm at, and I like where I'm at, so going forward it should be good."
No one ever thought they had to surround Johnson in bubble wrap to keep him healthy, either.
The 6-foot-4 Anderson said he's currently throwing at about 160 feet, introduced breaking balls last week and expects to be fully ready by spring training. He said because of his extensive rehab, he's probably a couple of weeks ahead of his normal routine. Not that he's known normal for a while.
The only time Anderson, a Team USA under-18 teammate of Clayton Kershaw, started at least 30 games in a season was during his rookie season in 2009. He had Tommy John surgery in the summer of 2011. He's also lost time with foot, abdominal and knee injuries, and last season in an April start for the Rockies he fractured a finger swinging the bat.
The Dodgers think it's just bad luck, and point out he's never had a shoulder injury. Of course, in his six seasons he hasn't thrown 500 total innings, so it's not like there's been unusual stress on the shoulder.
But he only turns 27 on Feb. 1, and when healthy, many consider him one of the best left-handers in baseball. He was the Opening Day starter for the A's in 2013.
Over the years, Anderson said he's become more of a groundball pitcher and is uncertain if he's the same pitcher who showed such promise after going 11-11 his rookie season.
"It's tough to say because I haven't really been able to get through a full season," Anderson said.
A gamble, apparently, the Dodgers are willing to take
Follow Steve Dilbeck on Twitter @stevedilbeck.
---
Get our high school sports newsletter
Prep Rally is devoted to the SoCal high school sports experience, bringing you scores, stories and a behind-the-scenes look at what makes prep sports so popular.
You may occasionally receive promotional content from the Los Angeles Times.