Bandwagon update: Giants are the team to beat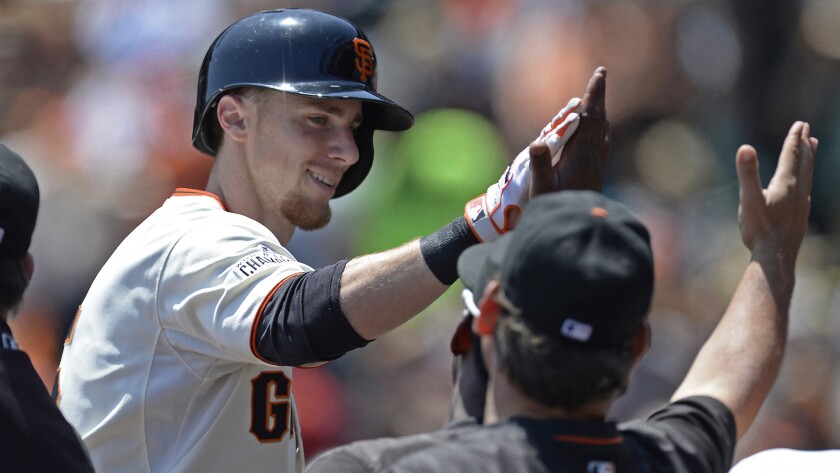 Every day I get these lovely tweets from my adoring public, reminding me that back in February I labeled the Padres the team to beat in the National League West.
And here late in July they look pretty beaten, so I say to all that I missed that one. I overrated their lineup, could not foresee the collective mediocrity of their rotation, did not heed enough the warnings of their defense.
So now on the eve of the trade deadline, I admit I was wrong in proclaiming the Padres the team to beat.
Obviously, the Giants are.
That's right, oh haters of all things orange and black, the evil Giants. They're coming at the Dodgers like a runaway train. They have won 11 of their last 12 games. They are just one game back. They have found their World Series mojo and there is little reason to believe things will dramatically change soon.
For the last five seasons, people – OK, people down here – have looked at the Giants and wondered how they did it. In three of those five seasons, they did it enough to win the World Series.
They have been a seriously streaky team this season, but once again have shown an uncanny ability to re-invent themselves.
Beloved third base star Pablo Sandoval signs with the Red Sox and his appointed successor, Casey McGehee, bombs? No problem, they invent a guy named Matt Duffy. All he's doing is batting third in the lineup (.302/.342/.466) ahead of Buster Posey.
The rotation looks a tad creaky with 173-year-old Tim Hudson and 38-year-old Ryan Vogelsong? No biggie, they invent a guy named Chris Heston. That would be the right-hander who threw a no-hitter against the Mets last month.
Heston (10-5, 3.18, 1.15 WHIP) was a 12th-round pick, Duffy went on the 18th out of Long Beach State. Somehow the Giants do this stuff.
------------
FOR THE RECORD
July 27, 2:42 p.m.: An earlier version of this article gave Chris Heston's WHIP as 11.15. It is 1.15.
------------
Now the Giants are rolling and expect to get outfielder Aoki Nori back from the disabled list Monday. Like the Dodgers, they could use another starting pitcher, so that could prove interesting.
But the Giants are one confident team regardless, a confidence borne not just of their recent World Series success or current hot streak. They've won nine of 12 games against the Dodgers this season.
The Dodgers and Giants don't meet again until the final day of August, time for things to change or become more cemented.
The Dodgers have allowed all this to happen because they couldn't put the Giants away when they had the chance. Since May 12 the Dodgers have played .500 ball (34-34).
That's not the way to grab a title. Not when the team to beat is breathing down your neck.
As always, I eagerly await your tweets.
MORE BASEBALL NEWS:
For Dodgers and Angels, some July trades have worked and some, well ...
Mike Trout's grand slam leads Angels in 13-7 win over the Rangers
Zack Greinke's scoreless streak ends at 45 2/3 innings; Dodgers lose
---
Get our Dodgers Dugout newsletter for insights, news and much more.
You may occasionally receive promotional content from the Los Angeles Times.