Dodgers Manager Don Mattingly says Josh Beckett's season likely done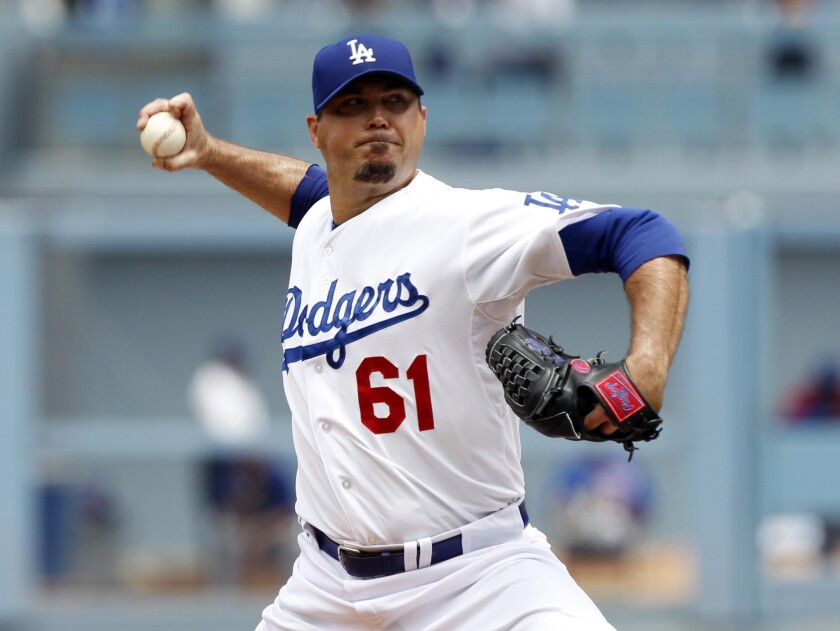 Not sold on the fourth and fifth spots in the Dodgers' rotation and quietly holding out hope that Josh Beckett returns to form and provides late-season help?
Best take that hope elsewhere.
Manager Don Mattingly essentially announced Beckett's season was over Wednesday, which could also mean the end to the 34-year-old's career.
"I think the timing of him being able to get back is probably not very possible at this point, that we're going to be able to see him again this year," Mattingly said.
Beckett overcame rare surgery to remove a rib and relieve nerve pressure this season to post a remarkable first half (5-4, 2.02 ERA) that included a no-hitter.
But he has been on the disabled list since Aug. 8 with left hip impingement.
Beckett has yet to throw a bullpen session, and with only 22 games remaining in the regular season after Wednesday, he was clearly running out of time to return to the team this year.
Mattingly made his Beckett comments after the clubhouse was closed to the media Wednesday and the right-hander chose not to come out for a reporter's request afterward, saying he'd be back Friday.
Mattingly said Beckett attempted to play catch while the Dodgers were on the road last week.
"It didn't go that good," Mattingly said. "He threw [Monday] and it went OK, but still I don't know if that leaves us any time. I don't think it leaves us enough time to get ready to pitch."
Mattingly said he was uncertain whether Beckett – who is in the last year of his contract and can become a free agent at the end of the season – will now opt for surgery on his torn hip labrum.
"That's going to be Josh's choice," Mattingly said.
If that's the last the Dodgers see of Beckett, he finished the season 6-6 with a 2.88 ERA in 20 starts, and a 1.67 WHIP. He is 138-106 with a 3.88 ERA during his 14-year career. He excelled in the postseason, going 7-3 with a 0.94 ERA in 14 games for the Marlins and Red Sox.
---
Get our Dodgers Dugout newsletter for insights, news and much more.
You may occasionally receive promotional content from the Los Angeles Times.