Dodgers expected to make Kenta Maeda deal official this week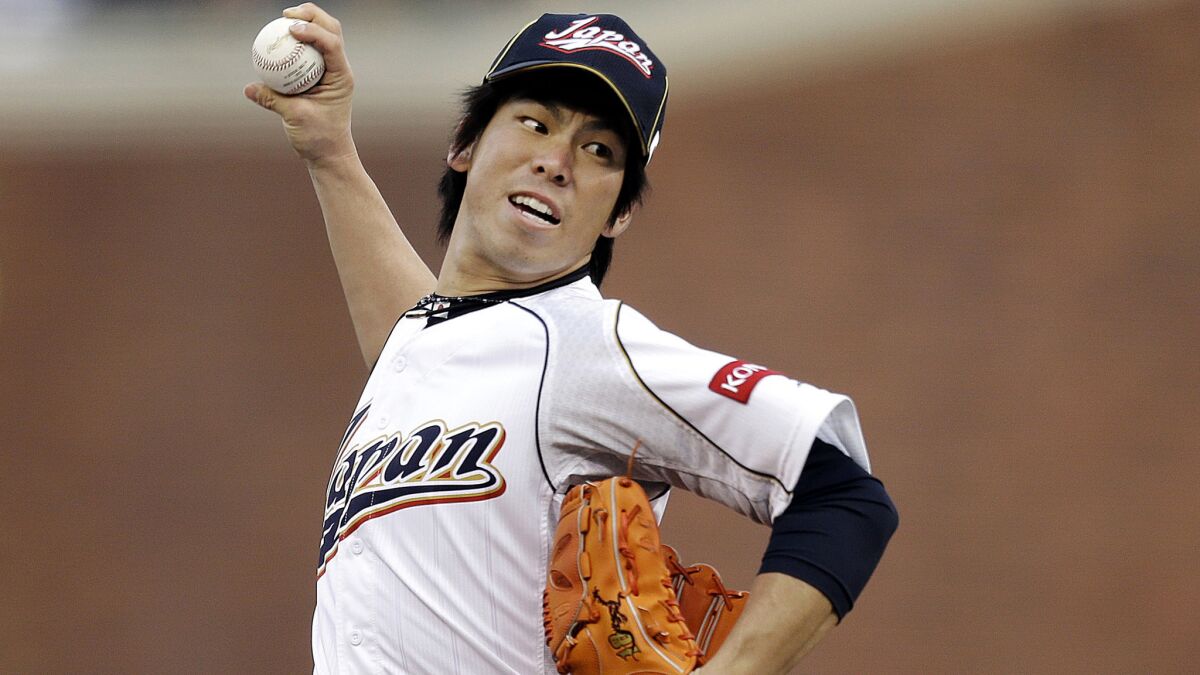 The Dodgers have finalized their contract with Japanese right-hander Kenta Maeda and are expected to announce the deal this week, perhaps as soon as Wednesday.
The contract enables Maeda to earn more than $100 million but guarantees him as little as $24 million, according to a person familiar with the deal but not authorized to discuss it publicly. The Dodgers also must pay $20 million to Maeda's Japanese club, the Hiroshima Carp.
The contract is believed to be for eight years. Under similarly structured deals with a variety of teams, players have been able to void the contract and opt into salary arbitration after completing the first three years of the deal. Maeda's contract with the Dodgers does not permit him to file for salary arbitration, according to the person who has seen the deal.
The person declined to say whether the unusual contract structure -- so light on guaranteed money for such a prominent player -- reflected an issue that arose after Maeda took his physical examination for the Dodgers. However, ESPN reported late Tuesday that issues over the condition of Maeda's elbow had arisen. The deal thus would allow Maeda to get a nine-figure contract if he stays healthy but would protect the Dodgers if he does not.
The length and minimum value of the contract first were reported by Christopher Meola.
Maeda, 27, who won Japan's equivalent of the Cy Young award last year, went 15-8 with a 2.09 earned-run average for Hiroshima, pitching 206 innings. He has worked at least 200 innings in four of the last six years.
The Dodgers also are expected to add former Toronto Blue Jays General Manager Alex Anthopoulos to their front office, although no announcement is imminent and no role has been finalized for Anthopoulos.
Anthopoulos, selected as executive of the year by the Sporting News, acquired American League most valuable player Josh Donaldson and Cy Young runner-up David Price in separate trades, sparking the Blue Jays to their first postseason appearance in 22 years. The Blue Jays offered Anthopoulos a new contract, but he declined to stay under new club President Mark Shapiro.
Anthopoulos would become the sixth current or former general manager in the Dodgers' front office, joining Andrew Friedman, Farhan Zaidi, Josh Byrnes, Gerry Hunsicker and Ned Colletti.
MORE BASEBALL
Scott Kazmir, a flameout as an Angel, resurfaces as a remade pitcher with Dodgers
Ken Griffey Jr. tops the things to watch when baseball announces its HOF electees
Mike Piazza's desire to enter Hall of Fame in a Mets cap speaks volumes
Follow Bill Shaikin on Twitter @BillShaikin
Get our Dodgers Dugout newsletter for insights, news and much more.
You may occasionally receive promotional content from the Los Angeles Times.