Matt Kemp says his agent would be a 'great' GM for Diamondbacks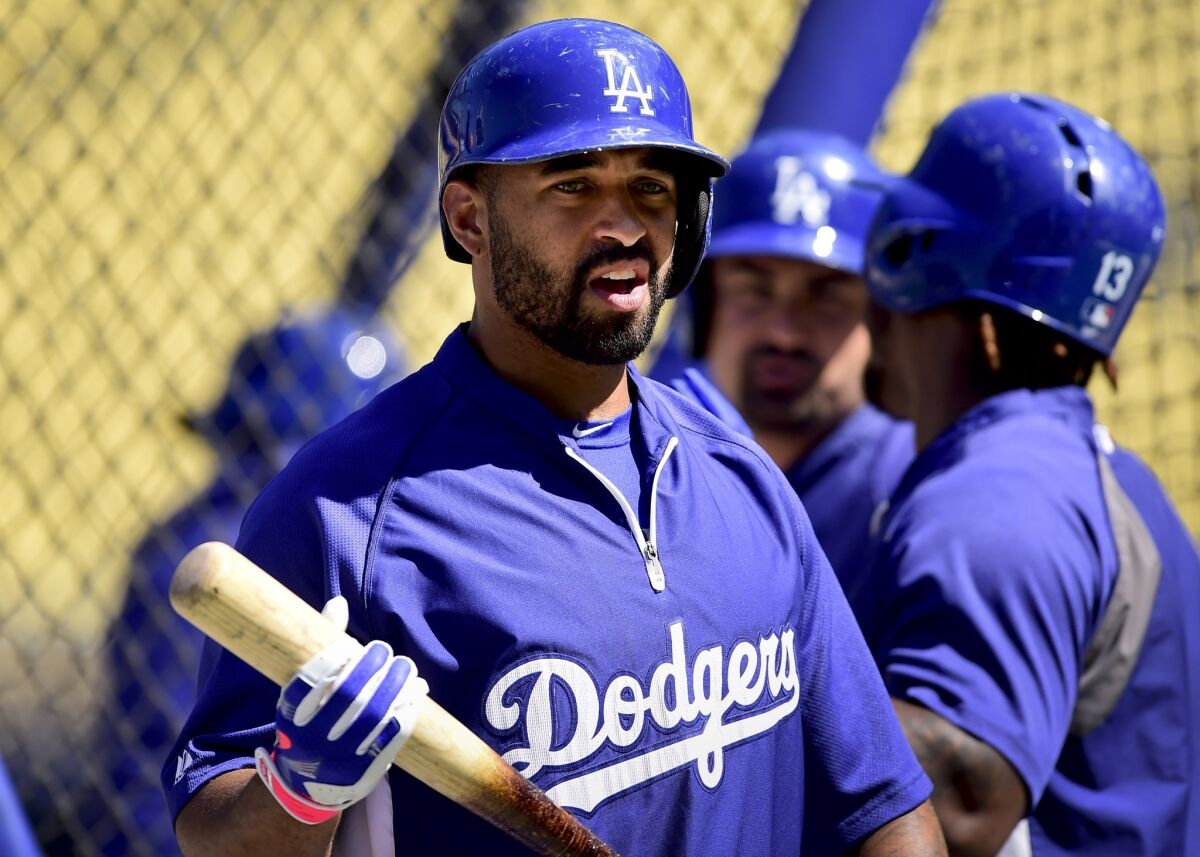 Former All-Star pitcher Dave Stewart is a candidate to become the Arizona Diamondbacks' next general manager and Matt Kemp has mixed feelings about that.
Stewart is Kemp's agent.
"If that were to happen, he wouldn't be my agent anymore," Kemp said. "I would be disappointed about that, but then again, if it's something he wants to do, I'll be supportive."
The Arizona Diamondbacks fired general manager Kevin Towers on Thursday night. The next day, Chief Baseball Officer Tony La Russa named Stewart among the candidates to replace Towers. Stewart pitched for the Oakland Athletics when La Russa was their manager.
Kemp considers Stewart to be much more than an agent and said it would be strange to imagine him working for the rival Diamondbacks.
"Whatever happens, he's always going to be family," Kemp said, smiling.
"He would be … not an enemy, but he would be an enemy, because he's with the Diamondbacks. But it would be all fun. We would have a lot of fun if that were to happen."
Based on his interactions with Stewart, Kemp believes he is qualified to run a baseball team.
"I think he'd be a great GM," Kemp said. "He's one of the guys I talk to about baseball the most. He knows a lot about the game. He's been on both sides. He's been an agent, he's been a player, he's been on all sides of baseball. He's real knowledgeable about the game and he knows what it takes to be successful."
Stewart negotiated Kemp's eight-year, $160-million contract with the Dodgers. Stewart also represents Chad Billingsley.
Kemp said Stewart has always been completely supportive of them.
"He's a very supportive person but he keeps it real too," Kemp said. "Especially with me. We're like family. There's no sugarcoating with him. If he feels something, if he feels like he has to say something, he'll say it. You have to respect his opinion because he's been so successful in everything he's done. I think he would be good for them if that were to happen."
Told Stewart appears to place himself in the line of fire to advocate on behalf his clients, sometimes by making bold public statements, Kemp said, "Stew's an outspoken person, man. He always speaks what he feels. You have to respect somebody for that. He's not going to sugarcoat anything and he's not going to tell you what you want to hear. He's going to tell you what he thinks. You have to respect somebody for that."

---
Get our Dodgers Dugout newsletter for insights, news and much more.
You may occasionally receive promotional content from the Los Angeles Times.