Matt Kemp, despite improving ankle, unlikely to be ready for opener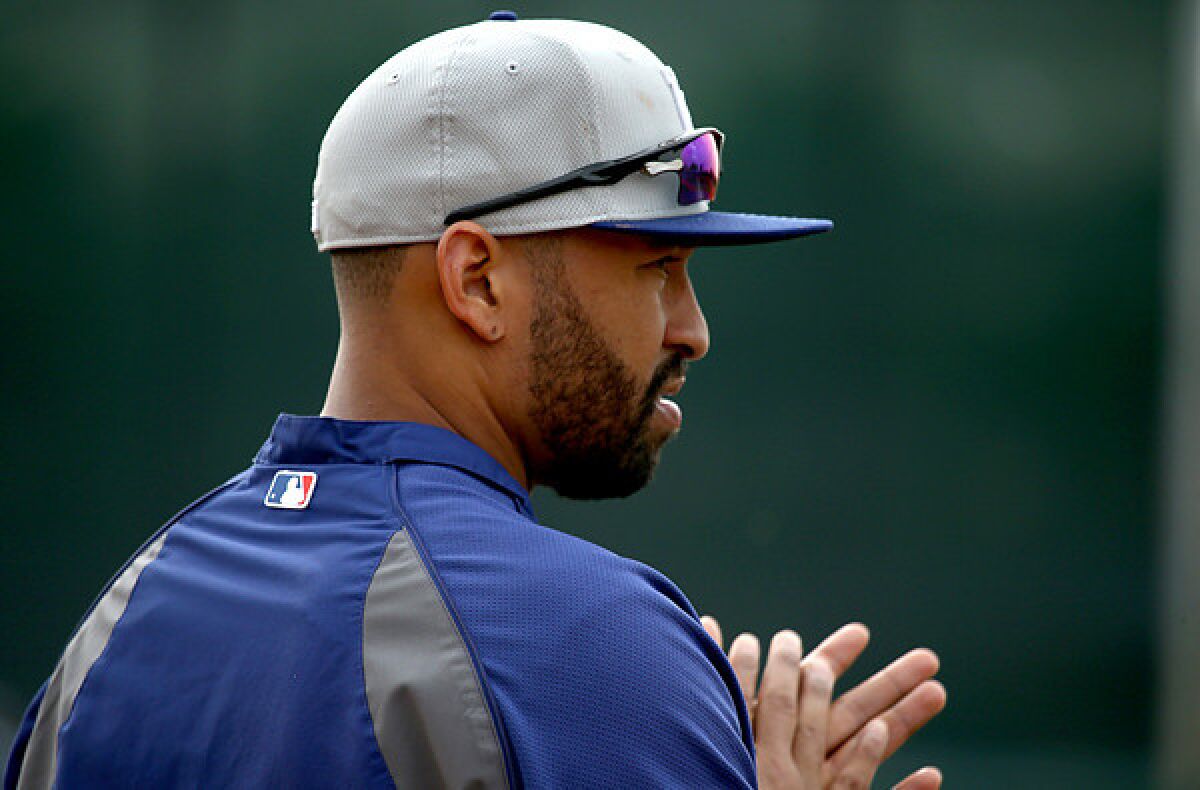 The Dodgers wonder if you've been listening: Having four star outfielders isn't a problem, it's a luxury.
One they'll be tapping into immediately.
The latest MRI on Matt Kemp's surgically repaired left ankle offered good news Saturday. However, even though additional baseball activities will be added to his rehab, it's clear now he will not be ready to start the regular season and may not even play in exhibition games.
As they should, the Dodgers and Kemp are taking the cautious approach to his recovery, even though after the October surgery they initially said he should be ready to start the season.
But that's an added bonus of having four outfielders, the urgency to return quickly is not the same and they can afford to be extremely careful.
"Where the doctor did the microfracture, [it] is healing really well," Kemp said. "Everything is going as planned. You've got to take your time and make sure everything is OK, so when I do come back I won't have any more setbacks."
The Dodgers said Kemp was advancing to Step 5 in a seven-step recovery program, though Kemp admitted he had no idea exactly what the steps were.
"Your guess is better than mine," he said. "Honestly, it's a feeling thing.
"I have to be right with myself and make sure I'm able to do a first-to-third or able to score on a base hit from second. I don't won't to have any negative thoughts in my head."
Kemp has been hitting and on Friday started some light jogging.
"I never thought running would be so fun," Kemp said.
With a compacted spring because the Dodgers are starting the season March 22 in Australia, Kemp was hopeful but not certain that he would play in the exhibition season.
"I hope so," he said.
So who knows how often having four star-caliber outfielders will prove much of a problem. Kemp, of course, has already gone on record saying: "I'm not going to be a fourth outfielder." After Yasiel Puig emerged last June, having four was only an issue in two games the rest of the season.
If Kemp can return to anywhere near his 2011 form this season, there's little doubt he will play most every day. Meanwhile, he and the team can afford not to rush the return from his latest surgery.
"I know this year is going to be a good year, I can feel it," Kemp said. "I see good things for the Dodgers, and I hope and pray there is a healthy Matt out there in 2014."
---
Get our Dodgers Dugout newsletter for insights, news and much more.
You may occasionally receive promotional content from the Los Angeles Times.