Still seeing that one great obstacle in Yasiel Puig becoming MVP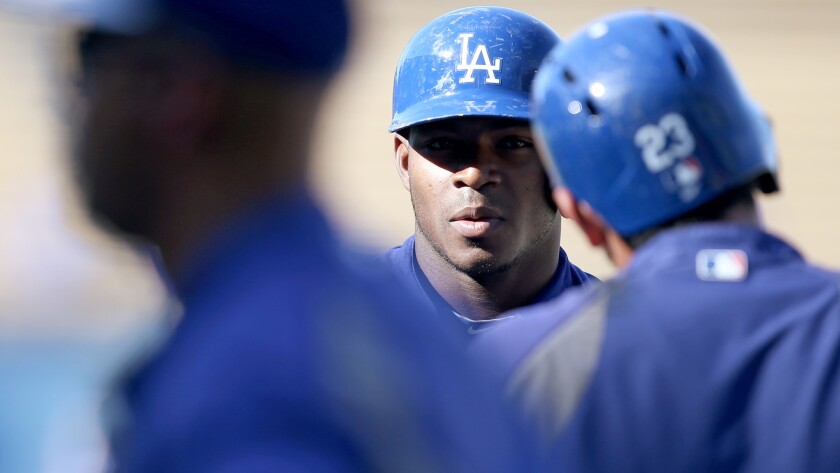 Here's a question for you: Which do you think is more likely, that The Times' Dylan Hernandez will win a Pulitzer or Yasiel Puig an MVP?
Best give that some thought before answering. Right now I can see Hernandez piggy-backing his way to a Pulitzer as part of a Times' team investigating (we still do that?) a hot-button topic more easily than Puig winning an MVP.
Not that Puig doesn't have the talent. He reeks talent. Unique, unfettered, did-you-just-see-that talent.
Dodgers hitting coach Mark McGwire can see several MVP awards in Puig's future.
"If we can put a full season together and if that lull toward the end of the season is not there — he has a big September, big playoffs — there's no question he's going to have several MVPs," McGwire told Hernandez. Admittedly in a story that probably won't be earning that Pulitzer.
But that is a serious amount of "ifs." If only the Dodgers had selected Adam Wainwright with their 2000 first-round pick instead of Ben Diggins, if only Kwame Brown or Ryan Leaf or "Ishtar" or Brian Williams.
What seems clear is, Puig's ultimate greatness will depend almost exclusively upon him, which is the rub. Which is why at this moment, I don't see it happening.
Now don't turn that all around and think I'm a negative old scribe (that's for another post) who doesn't want to see Puig succeed. I would absolutely love to watch him continue to blossom, to turn those amazing gifts into the kind of consistent play that would reap MVPs.
It's not rooting against him, just being honest with the Puig we've seen to this point. He's this crazy bundle of energy, the Looney Tunes' Tasmanian Devil wildly careening in all directions. His focus comes and goes, he doesn't respond well to authority, his work ethic is sketchy. Even talented players need those things to achieve their ultimate potential.
He's 24 now and has been in this country for almost three (corrected) years. It's not like he shouldn't be maturing as a player and person. The pace to that can be different for people, so it absolutely isn't that he can't yet become the game's great superstar. Not that he brings high expectations or anything.
But we're talking MVPs here, which are difficult to come by. Talk to Matt Kemp, or for that matter McGwire, who despite his record-breaking 70-homer season in 1998 finished second to Sammy Sosa.
Puig is unlikely to ever hit 40 homers in a season, or maybe even 30. But he is the ultimate five-tool player and that rare kind of talent it's difficult to take your eyes off.
There aren't many things he cannot do, if he wants to badly enough. He cut down on some mistakes last year, went through his first full season in the majors. This nova superstar status is still out there for him.
It will require a side to Puig we've yet to see, though. And until we do, I'm betting on Hernandez.
---
Get our Dodgers Dugout newsletter for insights, news and much more.
You may occasionally receive promotional content from the Los Angeles Times.