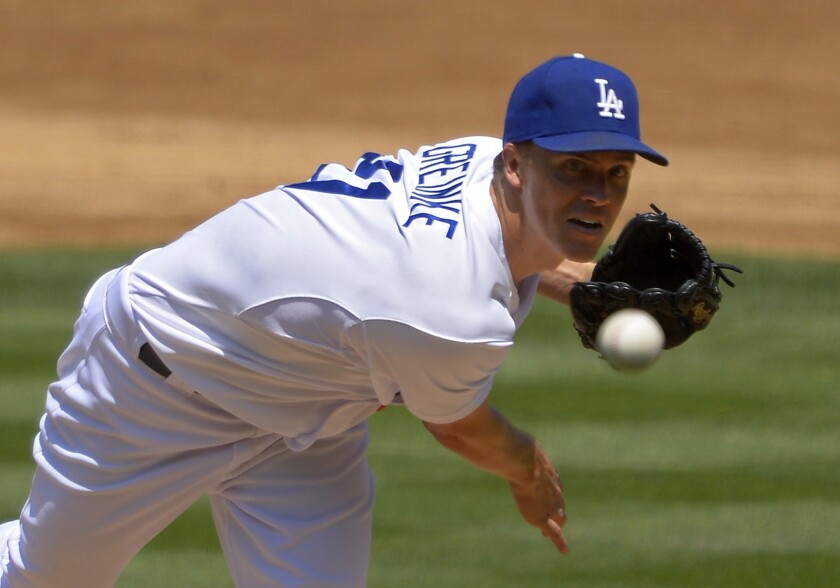 Say this for the Dodgers, they're versatile. One day after a stunning walk-off victory, they won by jumping out to an early lead before cruising behind Zack Greinke.
The result was a 5-0 victory over the Tampa Bay Rays on Saturday afternoon before a Dodger Stadium crowd of 52,619, this one devoid of all the previous night's dramatics, if with similar result.
So on they roll, the Dodgers now having won 36 of their last 44 games. Their fourth consecutive victory assures they will take the three-game series from the Rays, leaving them undefeated in their last 14 series (11-0-4).
Adrian Gonzalez got the Dodgers off to the early lead with a two-run homer off Roberto Hernandez in the first inning. Tack on a four-hit day from Skip Schumaker, and that was all the support Greinke needed.
Greinke has been on something of a roll lately. He's 7-1 in his last 10 starts. In his last seven starts he's posted a 1.61 earned-run average.
He was firmly in control over the Rays, who have baseball's second-best record to the Dodgers during their 36-8 run. He was particularly effective whenever Tampa Bay would threaten to score, shutting down scoring opportunities in the first, fourth and fifth innings.
Greinke (10-3) threw 6 1/3 innings Saturday, giving up six hits and a walk, and striking out seven.
The Dodgers' bullpen did the rest, which is kind of an on-going trend. The Dodgers are 19-3 since the All-Star break and during that stretch the bullpen has a combined 1.75 ERA. This time it was J.P. Howell and Chris Withrow completing the shutout.
After Nick Punto pulled off one of his patented head-first slides to beat out a hit in the first, Gonzalez launched his 16th home run of the season to provide the early 2-0 lead.
The Dodgers added two more in the third after Greinke led off with a walk. Carl Crawford doubled him to third and Punto lined a single to center to drive in both.
The Dodgers made it a 5-0 game with a run in the fourth. Singles by Andre Ethier, Juan Uribe and Schumaker loaded the bases before A.J. Ellis sacrificed a run in with a fly to deep center field.
The Rays actually turned a double play off the sacrifice when Uribe was caught at third with the hidden ball trick by Evan Longoria.
The Dodgers, 12 games under .500 on June 21, are now 16 games over .500 (66-50) for the first time this season.
---