What are the Dodgers going to do at second base?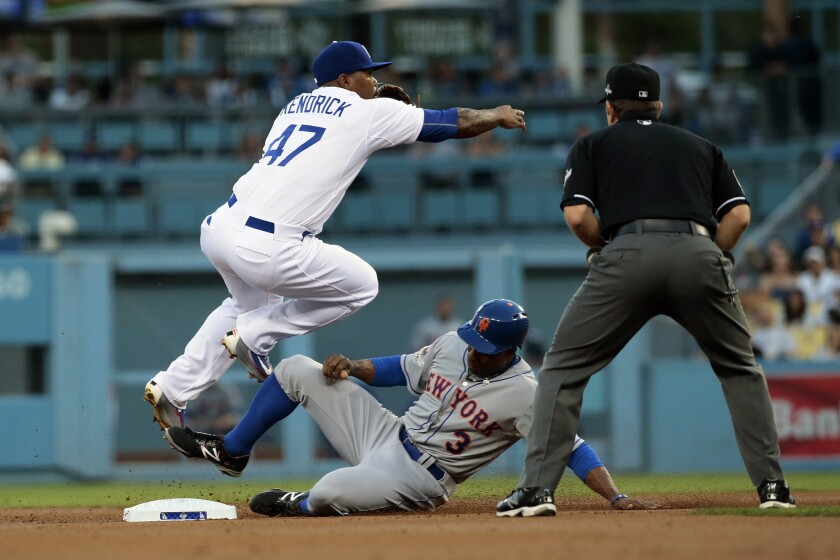 Who's on second? Yeah, I know, he's on first.
But classic comedy sketches aside, the Dodgers currently have a pretty set lineup -- assuming Joc Pederson is back in center -- except for second base. There they have enough candidates to stage a Republican presidential debate, but no designated starter.
Last year's starter, Howie Kendrick, has completed his contract and is expected to reject the Dodgers' qualifying offer today and test free agency.
There are currently (which could change any moment) four possibilities: Howie Kendrick, Enrique Hernandez, Chase Utley and Jose Peraza. And that's not counting signing free agent Daniel Murphy, last seen in these parts giving last rites to the 2015 Dodgers.
Here's a look at each:
Kendrick, 32, was the one-year, stop-gap measure at second after the Dodgers traded future batting champion, stolen base leader and Gold Glove winner Dee Gordon to the Marlins. Kendrick played solid defense, hit .295, was great in the clubhouse and batted second, third or fourth in the lineup.

The Dodgers would likely want him back, but he's expected to look for a deal around four years and $50 million, which is a pretty good commitment for a team that wants to add more peach fuzz in the locker room.

He turns 33 in July, but if his contract demands take him out of the Dodgers' equation, he'll leave a real lineup hole to fill on a team that lacks many consistent hitters.
Hernandez proved a terrific utility player last season and took over center from Pederson in August. Still, he's said his best position is second base and the Dodgers are hoping/expecting Pederson to bounce back from his dismal second half.

Last season Hernandez played every outfield and infield position but first. He hit .350 in the second half and went from super utility man to a regular. But he batted just .234 against right-handers (.423 vs. left-handers), and for now, might better be served as a platoon player.
Which takes us to Utley. He turns 37 next month and struggled at the plate (.202/.291/.363) after coming to the Dodgers in mid-August. He became a free agent at the season's end and it was presumed there was no way he would return.

But Utley does not want to retire and General Manager Farhan Zaidi said this week the Dodgers are exploring re-signing him. It's not to be their everyday second baseman. But he could spell Hernandez against some right-handers, and he was looking decent playing in his brief time at third. And just think how much fun it would be if he re-signs when the Dodgers head to Citi Field.

Peraza is something of a wild card -- hey, that makes four! He doesn't turn 22 until April and it's difficult to imagine the Dodgers going all in on someone who's played exactly seven major-league games.

But he can also play the outfield, and if he may never challenge Gordon for a stolen base crown, he does have outstanding speed, an area where the Dodgers remain severely challenged. Despite his youth, he's played five years in the minors with a .302 batting average and 210 steals.

He may be the future, just not next year's.
Follow Steve Dilbeck on Twitter @SteveDilbeck
---
Get our Dodgers Dugout newsletter for insights, news and much more.
You may occasionally receive promotional content from the Los Angeles Times.