With Brian Wilson's return, Dodgers need a way to keep Chris Withrow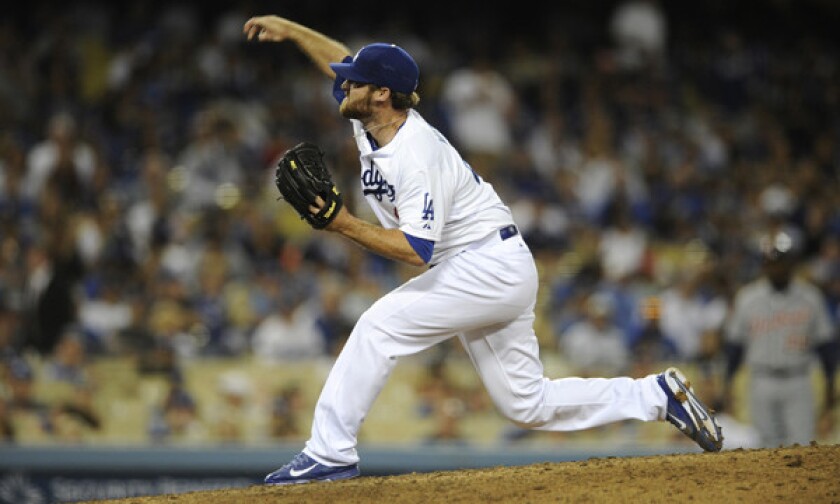 That hurts. Not sure what, but something. Something bothersome enough to land a reliever on the disabled list.
Chris Withrow has been one the Dodgers' best and most valuable relievers this season. In his first six appearances (seven innings) he's allowed one hit, two walks, zero runs and struck out 12.
Those are the kind of numbers that get you celebrated, not demoted. Managers dream of having someone like that in their bullpen.
The trouble is, Withrow is one of only three relievers in the bullpen with options left. And the other two are closer Kenley Jansen and Paco Rodriguez, who's one of only two left-handed relievers.
And Brian Wilson is about to be activated from the DL, possibly even today.
Somebody has to make room on the 25-man roster for Wilson and Withrow, in a most convoluted way, appears the likeliest candidate. Except, how does a team that's trying to win a championship send down one of its finest bullpen weapons?
The answer should be, you don't. You want to win, you keep that weapon.
But if you're not going to send down Rodriguez, the only other options are waiving another reliever you want to keep – ouch, that hurts! – or someone comes down with a timely injury that sends them to the DL.
Do you feel the pain? Teams don't necessarily make up convenient injuries in these situations. Most every pitcher throws with something aggravating them to some extent once the season starts rolling. And now just looks like a very good time to rest it.
Not the preferred situation, shelving a mostly healthy arm for 15 days. But possibly the best-case scenario. Certainly the Dodgers could decide to waive Brandon League – the way they've spent money, does eating $17 million seem so ridiculous? – or even decide the need for Jamey Wright isn't as pressing as they once thought it was.
But that means losing someone they still value, which is hardly the desired approach while still facing a long season. Tough time to give up arm.
So the more logical approach is to either send Withrow down and figure he'll be back up soon enough when one of the other relievers does have to go to the disabled list, or they decided it's DL time right now.
---
Get our high school sports newsletter
Prep Rally is devoted to the SoCal high school sports experience, bringing you scores, stories and a behind-the-scenes look at what makes prep sports so popular.
You may occasionally receive promotional content from the Los Angeles Times.