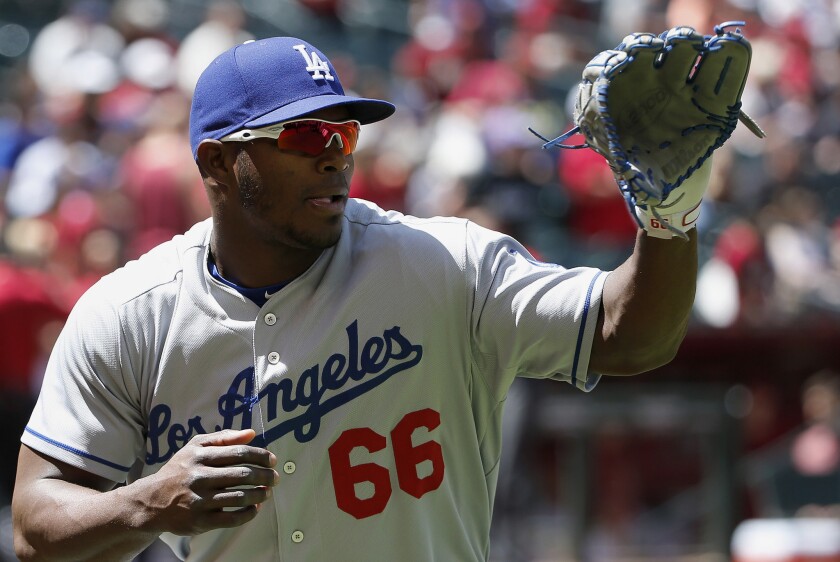 And Tuesday came, and no Yasiel Puig.
Turns out the cause of his "hobbling" Monday was a sore left hamstring, and despite telling the Dodgers he felt fine by Tuesday and was ready to go, he was left out of the lineup and replaced by Andre Ethier.
"It's a little sore," Puig said. "Hopefully tomorrow I can play."
That's right, on Tuesday he talked to me. Think he's going with the one-reporter-a-day routine.
The Dodgers have an off-day Thursday, so they might elect to sit him Wednesday too, giving him three days to rest the hammy. Manager Don Mattingly seemed uncertain whether Puig would start Wednesday and said he would defer to the medical staff.
"The fact that he came in today bouncing and wanting to play was a pretty good sign," Mattingly said. "If something like that is in any way serious, guys aren't bouncing around. Guys know."
Puig drove a hit into the right-center gap Monday and went around first at full speed, looking to stretch it into a double, but Nelson Cruz got to the ball quickly and fired it to second. Puig had to jam on the brakes hard and retreat to first.
"It probably happened then because in the previous games I didn't get any hits, so I wasn't used to running," Puig said.
See? He hasn't lost his sense of humor. After getting benched Saturday after a two for 17 start, he'd hit home runs in two straight games.
Mattingly inserted Juan Uribe (hamstring) back in the lineup at third and said Justin Turner was fully recovered from his swollen index finger. Mattingly said the only player who likely would not be available Tuesday was Puig.
"He'd be the one for sure that I would try to stay away from, be a little more cautious with," Mattingly said.
As expected, the Dodgers did send infielder Darwin Barney down to clear roster space for left-hander David Huff, who was to start Tuesday's game. Mattingly said he hoped to get four to five innings from Huff.
Follow Steve Dilbeck on Twitter @stevedilbeck
---