Seriously, is Juan Uribe the one Dodger who can't be replaced?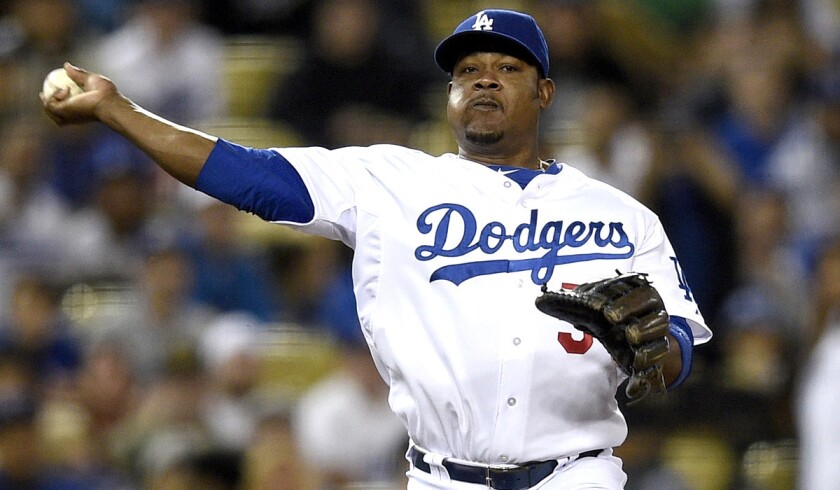 They're like your kids. If you're baseball management, you worry about your players. Guide and prod and protect, but worry.
Particularly when they tweak something, even if it's described as mild, as the Dodgers are calling Juan Uribe's right hamstring injury.
Uribe was out of the lineup Friday against the Giants, one night after leaving Thursday's game in the ninth inning after straining the hamstring.
"He looks pretty normal walking, so it's not one of those blowups where a guy gets shot," Manager Don Mattingly said. "Obviously mild, but we'll wait and see."
The Dodgers really have no great backup plan at third. They aren't ready to eliminate the possibility of placing Uribe on the disabled list, but clearly it's not something they're eager to embrace.
"I don't know about [the DL]," Mattingly said. "Hamstrings are tricky 'cause you could feel pretty good, but if you can't run you can't play. It may be one of those things, you're walking fine but as you try to extend, then you can't play. We'll know really quickly. We'll give him the day and probably find out tomorrow if he's going to be able to run or not, and then we'll make that decision."
Justin Turner started at third Friday against the San Francisco Giants. Chone Figgins is the only other player on the 25-man roster who can play third.
The Dodgers have no obvious third-base candidate to call up from their system should they have to place Uribe on the DL.
"I don't know if we're really sitting anywhere with a top minor league prospect being a third baseman," Mattingly said. "If that was the case, we would probably do that. Right now I'd look at it like we're going to find [a third baseman] with the guys we have now, and we're going to have to call up somebody."
If Uribe needed to go on the disabled list for a lengthy period, the Dodgers could try something radical like calling up Cuban infielder Alex Guerrero to play short and moving Hanley Ramirez to third. That's a lot of moving parts -- Guerrero is a shortstop currently learning to play second base -- the Dodgers would like to avoid, but options are limited. Light-hitting Miguel Rojas has been playing third lately at triple-A Albuquerque.
It's been suggested that the Dodgers' 2012 first-round pick, shortstop Corey Seager, ultimately will be moved to third, but he's only 20 and currently at Class-A Rancho Cucamonga.
Who knew? Juan Uribe, the irreplaceable Dodger. Enough so to worry.
---
Get our high school sports newsletter
Prep Rally is devoted to the SoCal high school sports experience, bringing you scores, stories and a behind-the-scenes look at what makes prep sports so popular.
You may occasionally receive promotional content from the Los Angeles Times.