Dodgers' playoff dreams could hinge on Brett Anderson as No. 3 starter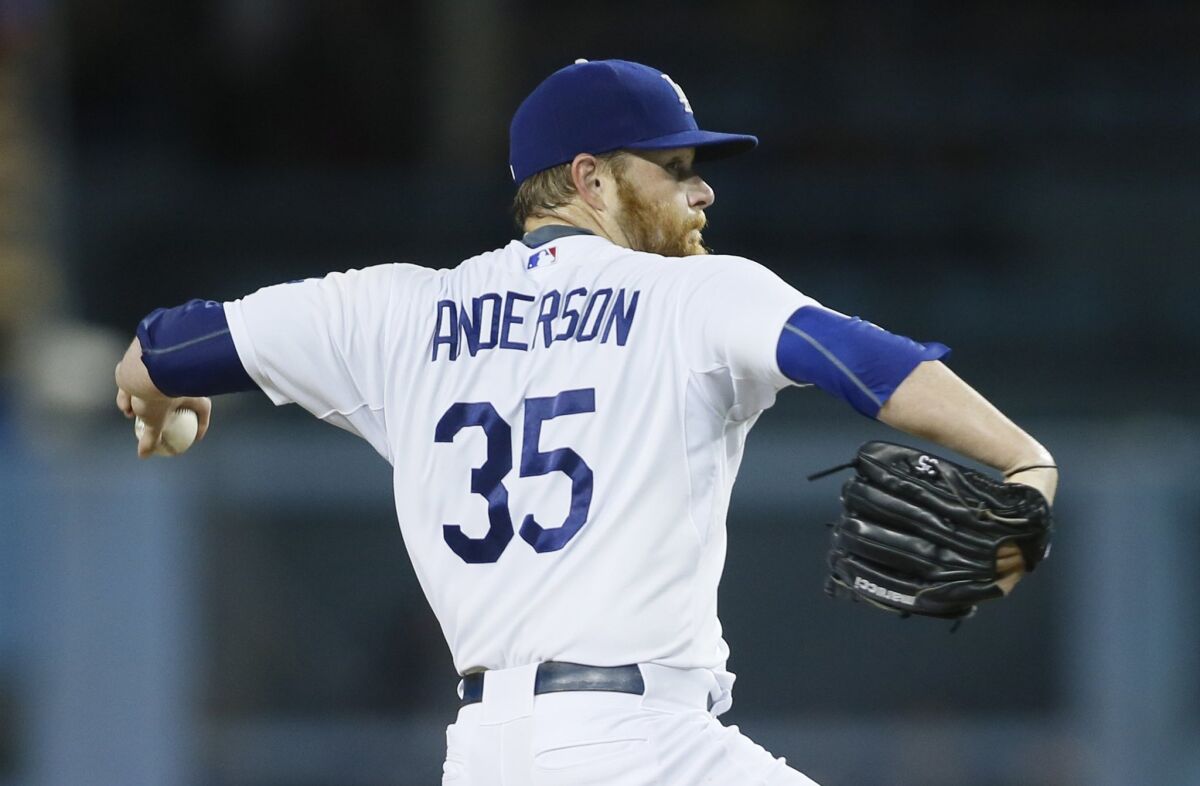 When the Dodgers signed Brett Anderson in the off-season it was to a one-year, $10-million deal to be their fifth starter. He's more than delivered.
Trouble is, he no longer is their fifth starter. He's their No. 3.
And come playoff time, that could prove significant.
Anderson took a no-decision Tuesday night against the Colorado Rockies in that mammoth production of a game that stretched 16 innings. He allowed three runs (two earned) on seven hits (including two bunt singles, an infield hit and a blooper) in six innings, striking out seven without allowing a walk.
"I thought he threw the ball pretty good," Dodgers Manager Don Mattingly said. "He could have been out of that with nothing."
Anderson is 9-8 on the year with a 3.35 ERA and 1.35 WHIP. All excellent numbers — for a fifth starter.
But when Brandon McCarthy and Hyun-Jin Ryu were lost early for the entire season, that moved Anderson up to No. 3.
When the Dodgers acquired Alex Wood and Mat Latos at the trade deadline, they were likely hoping one of the two could emerge as a third starter. Only it never happened, and Latos has lost his spot in the rotation entirely.
In Clayton Kershaw and Zack Greinke, the Dodgers have a pair of absolute aces at the front of their rotation. But if they intend to go far in the postseason, they're going to need a dependable No. 3.
The left-handed Anderson is their guy, if partially by default.
Anderson has started 29 games and thrown 164 innings, both the most since his rookie season in 2009. Since then, his seasons have been marked from injury, many of the freak variety. He has worked hard to avoid the "injury-prone" label this season, replacing it with something more akin to "reliable."
The Dodgers are trying to help by handling him carefully. In his last start, he left with a severe calf cramp. He had not pitched in the previous nine days.
"When everything is going good, you'd like to kind of ride the wave and hopefully get on a normal routine here," Anderson said. "We don't have too much time. But I understand getting the extra rest with the cramp and me having made a bunch of starts and more innings than I've thrown in awhile. Get this little extra time and then hopefully get on a normal routine and see what happens. I'll be ready whenever they tell me to pitch."
The key now will be how he pitches in the postseason — and if he can step up to complement Kershaw and Greinke as a legitimate No. 3. Their postseason dreams could depend upon it.
---
Get our Dodgers Dugout newsletter for insights, news and much more.
You may occasionally receive promotional content from the Los Angeles Times.