Dodgers hope Matt Kemp is going all retro on them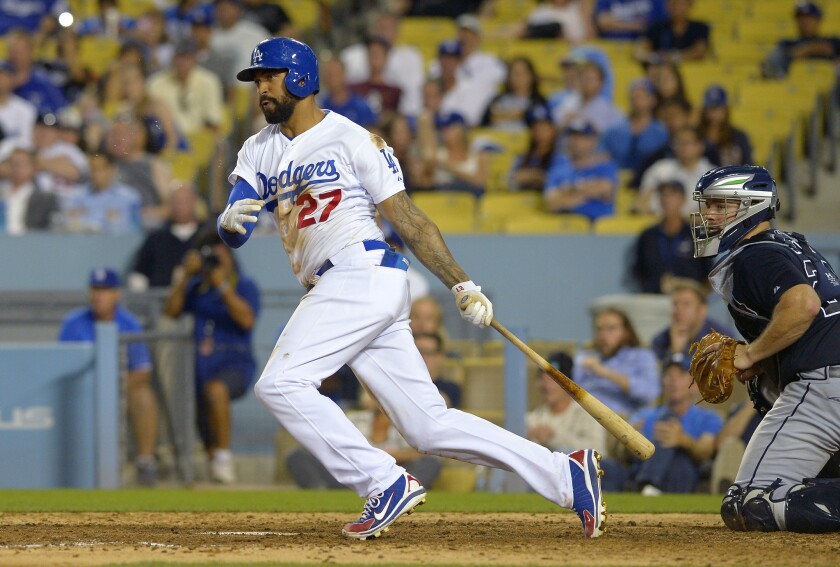 Ah, go ahead. Dream a little. Let yourself get all fanciful and imagine the current Matt Kemp is not some temporary incarnation but the new and improved version.
Or at least, the new/old version.
Has Kemp looked just a tad familiar the past few games? Powering the ball, eating up the infield with those massive strides, showing he can deliver in the clutch.
"I've never seen him play like that, because I wasn't here (in 2011) so it's pretty exciting to see," said right-hander Zack Greinke.
Kemp had gone 86 at-bats between homers, but hit two on Tuesday, both shots. He came back Wednesday and hit another one to deep center. He walked and scored the go-ahead run, taking two bases on an infield hit for the second time Wednesday.
Then when the Braves tied the game in the ninth, he calmly drove in the winning run with a single in the 10th.
"It feels good when you're starting to drive the ball and figure some things out," Kemp said.
It's only been a handful of games, but right now Kemp's confidence is suddenly overflowing. Success can do that, but this is a player who once was the most feared hitter in the National League. He was the MVP runner-up in 2011 and then started 2012 the same way before a rash of injuries began.
It's pretty much been a struggle for Kemp since, both to stay healthy and to regain his power stroke.
But in his last nine games, he's hit .486 with three homers, six walks and 11 RBIs.
"The balls he's starting to hit are reminiscent of the balls that he was hitting back in 2011 and April 2012," said catcher A.J. Ellis. "It's really exciting for us. It just lengthens our lineup and makes us a more dangerous team."
The Kemp outburst happens to coincide with his name being constantly bandied about in trade rumors as baseball nears its nonwaiver trade deadline Thursday. It was hard to imagine anyone wanting Kemp with the $118 million he's still owed and the way he was hitting, but if he's going to play anything like this, why would you trade him?
He seems fairly comfortable in right field. And along with his power, his legs appear to be returning to form.
"It's always good to run," Kemp said. "Right now I'm not as fast as I want to be, but be aggressive and make some things happen. It just feels good to be in position to score a run or take that extra base. That's important, especially with the guys we have in the lineup."
Can he keep it up? Maybe not like the past two days anyway, but something in the neighborhood? Go with it, seems the Dodgers are.
---
Get our Dodgers Dugout newsletter for insights, news and much more.
You may occasionally receive promotional content from the Los Angeles Times.