Matt Kemp turns into the Dodgers' right fielder today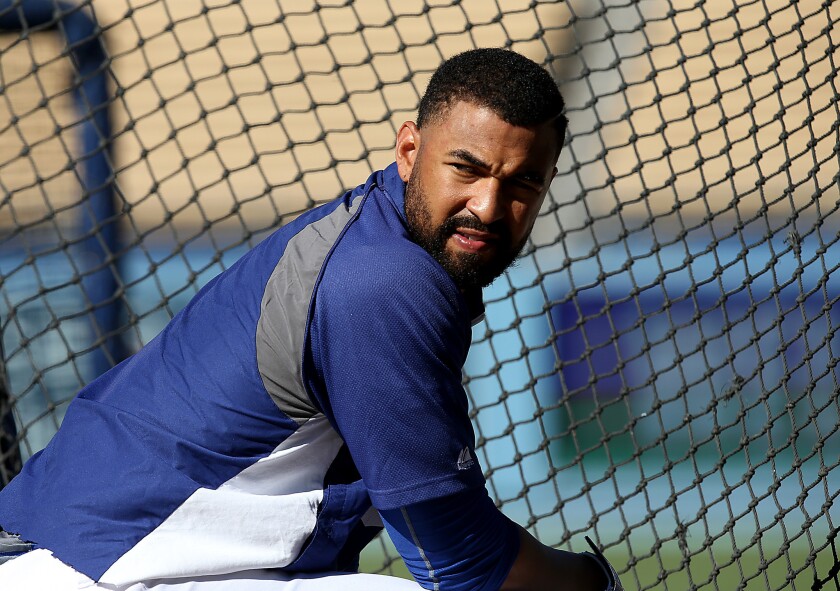 Well, Matt Kemp said he didn't envision remaining a left fielder. I didn't envision myself ever coming back from vacation, either, but here we are.
I'm done with the pina coladas, and at least for the day, Kemp is no longer in left.
It was only Friday that Kemp said flatly, "I'm a center fielder." Surprise, Monday finds him a right fielder.
This would be the position that Kemp hasn't played since 2009, hasn't played regularly since 2008 and where Manager Don Mattingly said way back on Sunday he would be hesitant to play him.
But Monday arrived, Yasiel Puig is still out with his sore hand and Kemp found himself starting in right against right-hander Edinson Volquez. Guess Mattingly wasn't too hesitant, or Scott Van Slyke would be out there.
"I'm just happy to be in the lineup," Kemp said to The Times' Dylan Hernandez in Pittsburgh.
"It's just another position to play."
It seems clear, however, the Dodgers are determined to let Kemp know they very much do not envision him a center fielder. The easy thing Monday would have been to send Andre Ethier back home to right and start Kemp in center; Carl Crawford is starting in left.
Center is the more glamorous, demanding position and where Kemp still sees himself, even if the Dodgers have seen enough of him making poor jumps and routes on balls up the middle.
Sunday in St. Louis he made another bad jump on one ball, starting back on a drive in front of him and letting it drop for a hit, but then making a terrific diving stop of another on his next ball. If possible, he sometimes seems almost awkwardly athletic.
But with Puig out, tonight Kemp slides over to right. Kemp is hitting only .229 (11 for 48) this month but had two hits Sunday. And, as ever, the hope remains he can approximate his offensive form of 2011.
---
Get our Dodgers Dugout newsletter for insights, news and much more.
You may occasionally receive promotional content from the Los Angeles Times.