Mariners in, Dodgers lukewarm on Masahiro Tanaka?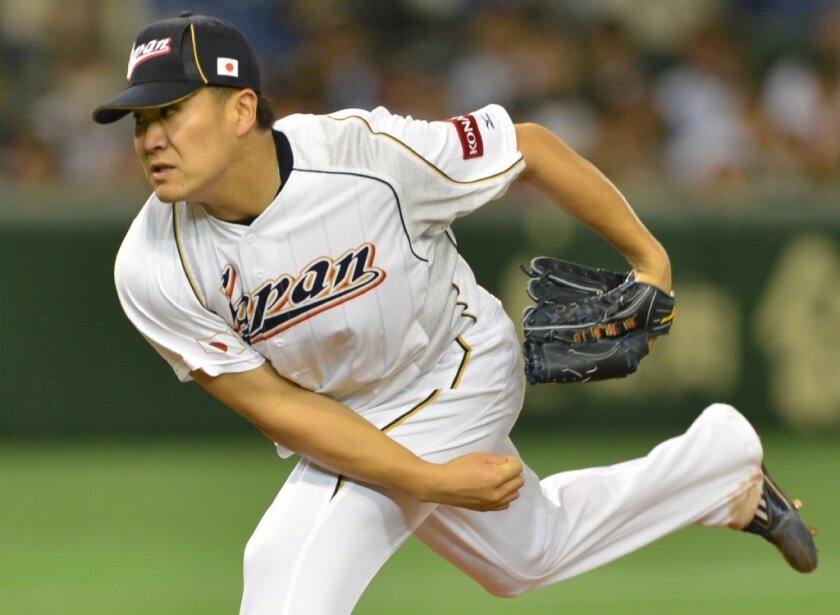 LAKE BUENA VISTA, Fla.---On the heels of signing Robinson Cano, could the Seattle Mariners follow by signing Masahiro Tanaka?
The Dodgers and New York Yankees are widely considered the likely favorites to land Tanaka, there are indications neither team might engage in an all-out bidding war to get him.
The Dodgers are interested in Tanaka, but not with the win-at-all-costs mentality that marked their pursuit of Hyun-jin Ryu last winter, according to two people familiar with the team's thinking.
And, according to the New York Post, the Yankees "have have become more dubious that they will pursue Masahiro Tanaka."
Japanese baseball officials have yet to sign an agreement with Major League Baseball on the mechanism for making Japanese players available, and the owner of Tanaka's Japanese club has yet to agree to include Tanaka in any such system. And, of course, the Dodgers and Yankees can change their thinking at any time.
But the Mariners -- with ownership ties to Japan, a successful history of signing Japanese players, and apparent cash to burn -- could see Tanaka as the perfect complement to Cano.
Mariners General Manager Jack Zduriencik declined Monday to comment on Cano, whose signing is not yet official, or on Tanaka, who is not yet available.
"We're open to a lot of things," Zduriencik said.
Including the addition of an ace pitcher?
"We'll see what happens. We have two of them," he said, referring to Felix Hernandez and Hisashi Iwakuma.
The Mariners, like the Dodgers, are believed to have inquired about Tampa Bay Rays ace David Price. The Mariners likely would have to include top pitching prospect Taijuan Walker, but Zduriencik said he plans to keep Walker.
"We think the guy has the ability to be a front-line starter," Zduriencik said. "I expect Taijuan to be with us."
That too could change, but signing Tanaka would enable the Mariners to add an ace without surrendering prospects -- and instead to use prospects in a trade for an outfielder, perhaps the Dodgers' Matt Kemp.
The Mariners went 71-91 last season, finishing fourth in the American League West. However, with Cano, the Mariners are playing to win now and expect to contend next season.
"I would hope so," Zduriencik said. "Whether we can make the jump or not, we'll see."
---
Get our Dodgers Dugout newsletter for insights, news and much more.
You may occasionally receive promotional content from the Los Angeles Times.