Paul Maholm rediscovers comfort zone in start for Dodgers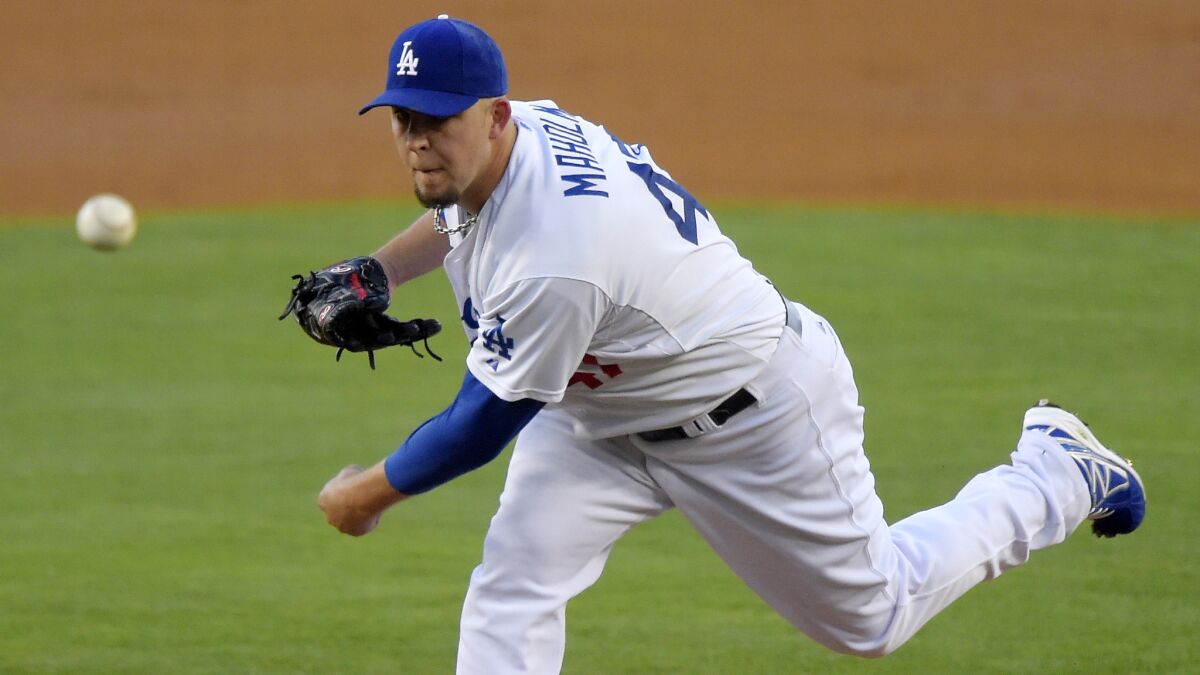 Of the first 243 games of Paul Maholm's career, 242 of them were starts. Pitching every fifth day, settling into a routine — that's his comfort zone.
And until 2014, he didn't have to leave that zone. He was a starter, nothing more, nothing less.
But last year, with Atlanta, he went 10-11 with a 4.41 earned-run average. The Dodgers needed just $1.5 million to pick him up in the off-season, figuring he could be a jack-of-all-trades-type pitcher.
Seven of the first 10 appearances of this season were starts, but Maholm was inconsistent at best. In his last start before Saturday, he gave up 11 hits and 10 runs — five earned — in a 13-3 loss to the Miami Marlins.
Quickly, he was moved to the bullpen, where Maholm doesn't have a defined role. Sometimes he's pitching middle relief, sometimes he's pitching in the ninth inning. The numbers — a 5.08 earned-run average and 24 walks in 57 innings — haven't been good. It's not easy going to the bullpen after being a starter your entire career.
"This is Paul's first year at doing this so it's probably a little more difficult for him to come into the middle of an inning or the middle of a game or all of a sudden you start," Mattingly said before Saturday's game. "He's used to doing regular work every five days, so I'm sure this year's been an adjustment for Paul."
Saturday, Maholm was back in his comfort zone. He gave up only two hits in six innings of work, a pair of singles to Padres third baseman Chase Headley, in a 1-0 Dodgers' win.
Starting left fielder Matt Kemp probably would have caught the first of those two singles too, but he had to switch to center after right fielder Yasiel Puig was thrown out for arguing balls and strikes in the third inning. Carl Crawford came off the bench and couldn't get to the flare in shallow left field.
Aside from Headley, Maholm cruised. He struck out four and didn't walk a single Padre. He left in the seventh inning to a standing ovation, the swingman stretched for 65 pitches, the most he's thrown in more than two months.
"He was great," Mattingly said after the game. "He came out throwing strikes, he attacked, it was almost like he was on a mission to show us he could start."
Added Maholm: "My last start I gave up 10 runs, and I felt great in the start but it just didn't work out. Sitting on it for two months and not knowing, coming in in relief for the first time in my career and not really being comfortable in that situation and role, today was a lot more comforting."
Maholm had been on the bench for a while when catcher A.J. Ellis won the game for the Dodgers' with a sacrifice fly, so he didn't earn the win.
That almost doesn't matter. The way he pitched Saturday, aggressive and confident, Maholm could have a lot more opportunities to pick up wins as a starter in the second half of the season.
"I made it known to the front office that I want to start and that's my gig," Maholm said. "But I signed up for this and I've gone down and whenever they call, they call, whether it's to one hitter or a couple innings. I just want to pitch. It's not an issue of anything, I just want to pitch.
Get our Dodgers Dugout newsletter for insights, news and much more.
You may occasionally receive promotional content from the Los Angeles Times.