Column: Dodgers' split from Don Mattingly is not exactly out of the Blue
It had to happen.
History gave the Dodgers no choice. Their fans cut them no slack. Their manager did them no favors.
It had to happen, so it was no surprise Thursday morning when it was announced that Don Mattingly, the curator of three consecutive postseason collapses in his five years as manager, was leaving the Dodgers.
In what appeared to be a firing disguised as an amicable separation, the Dodgers and Mattingly parted ways with shallow smiles and air kisses. Dodgers officials claimed they respected Mattingly, and Mattingly claimed likewise, yet after several days of discussions, they agreed they could no longer live together.
Don Mattingly stands in the Dodgers dugout during a Sept. 23 game against the Arizona Diamondbacks at Dodger Stadium.
(Robert Gauthier / Los Angeles Times)
Manager Don Mattingly takes the ball from Clayton Kershaw as the Dodgers ace leaves the game after giving up five runs and the lead to the St. Louis Cardinals in the seventh inning of the 2015 divisional series opener at Dodger Stadium.
(Gina Ferazzi / Los Angeles Times)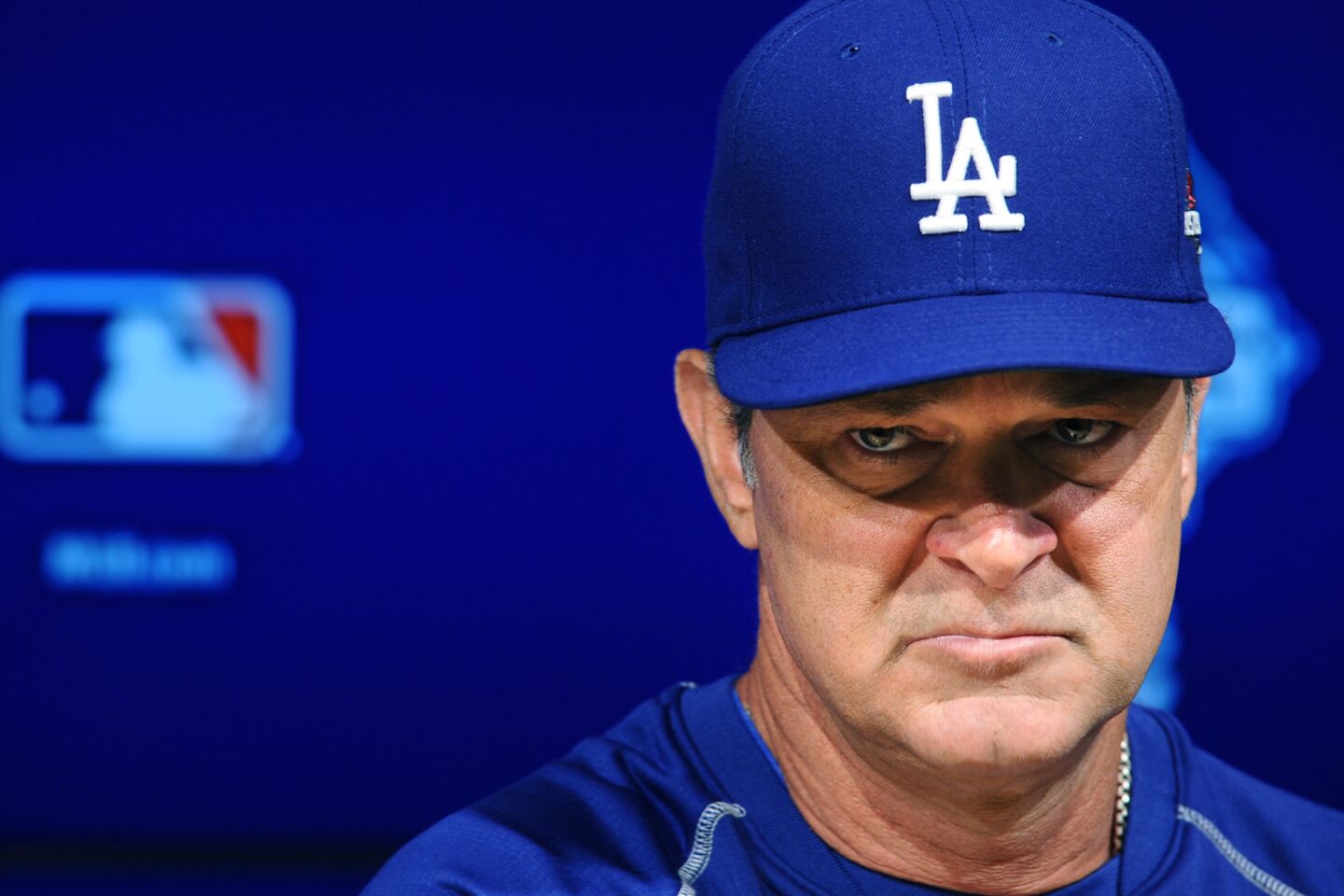 Dodgers manager Don Mattingly answers questions during a press conference at Dodger Stadium.
(Wally Skalij / Los Angeles Times)
Adrian Gonzales (23) is welcomed back to the dugout by Don Mattingly after scoring against the Atlanta Braves at Dodger Stadium on July 29, 2014.
(Brian van der Brug / Los Angeles Times)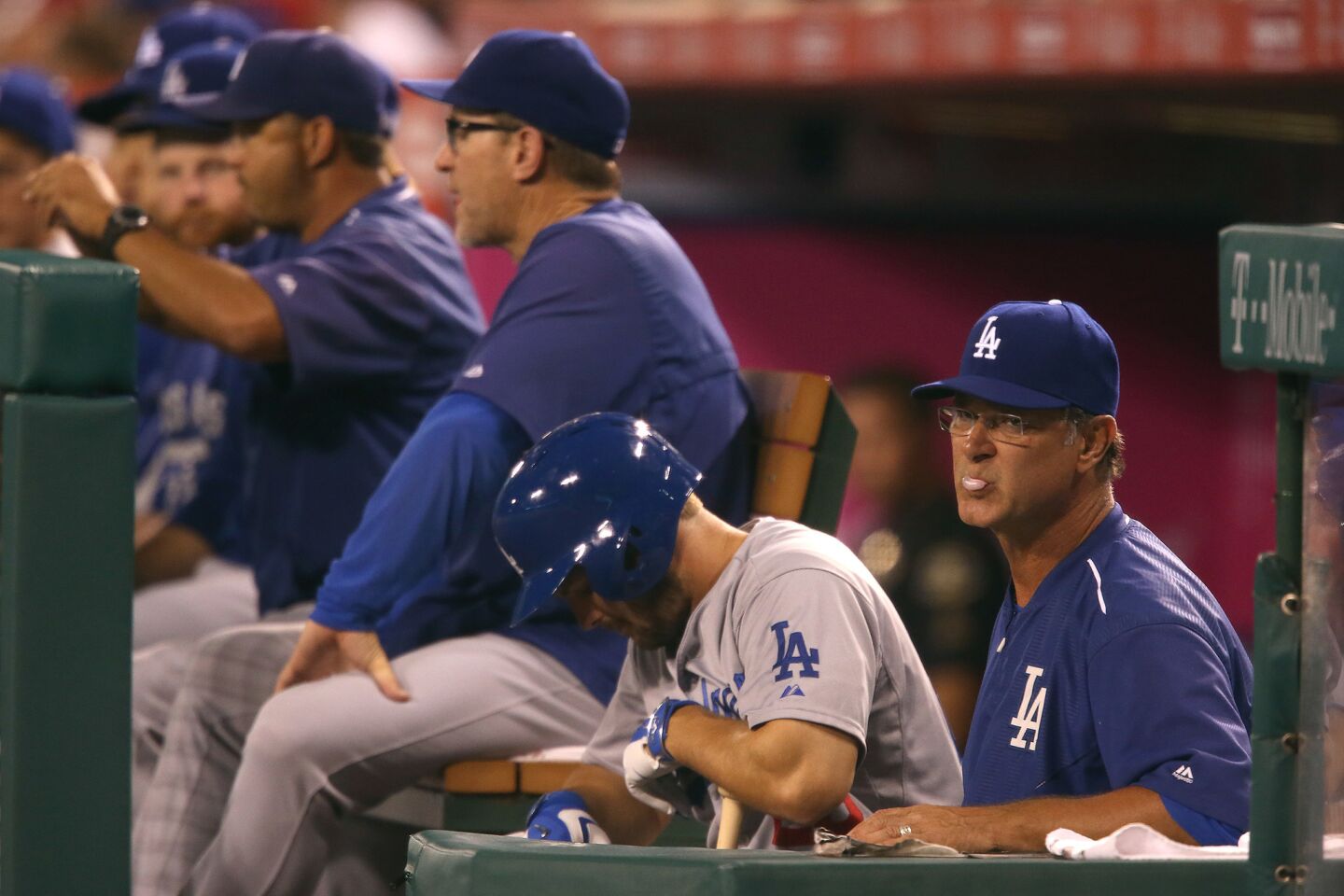 Dodgers manager Don Mattingly in the dugout during a game against the Angels at Angel Stadium on Sept. 8, 2015.
(Robert Gauthier / Los Angeles Times)
Dodgers General Manager Ned Colletti, left, and manager Don Mattingly speak to the media following the end of the season on Oct. 21, 2013, at Dodger Stadium.
(Al Seib / Los Angeles Times)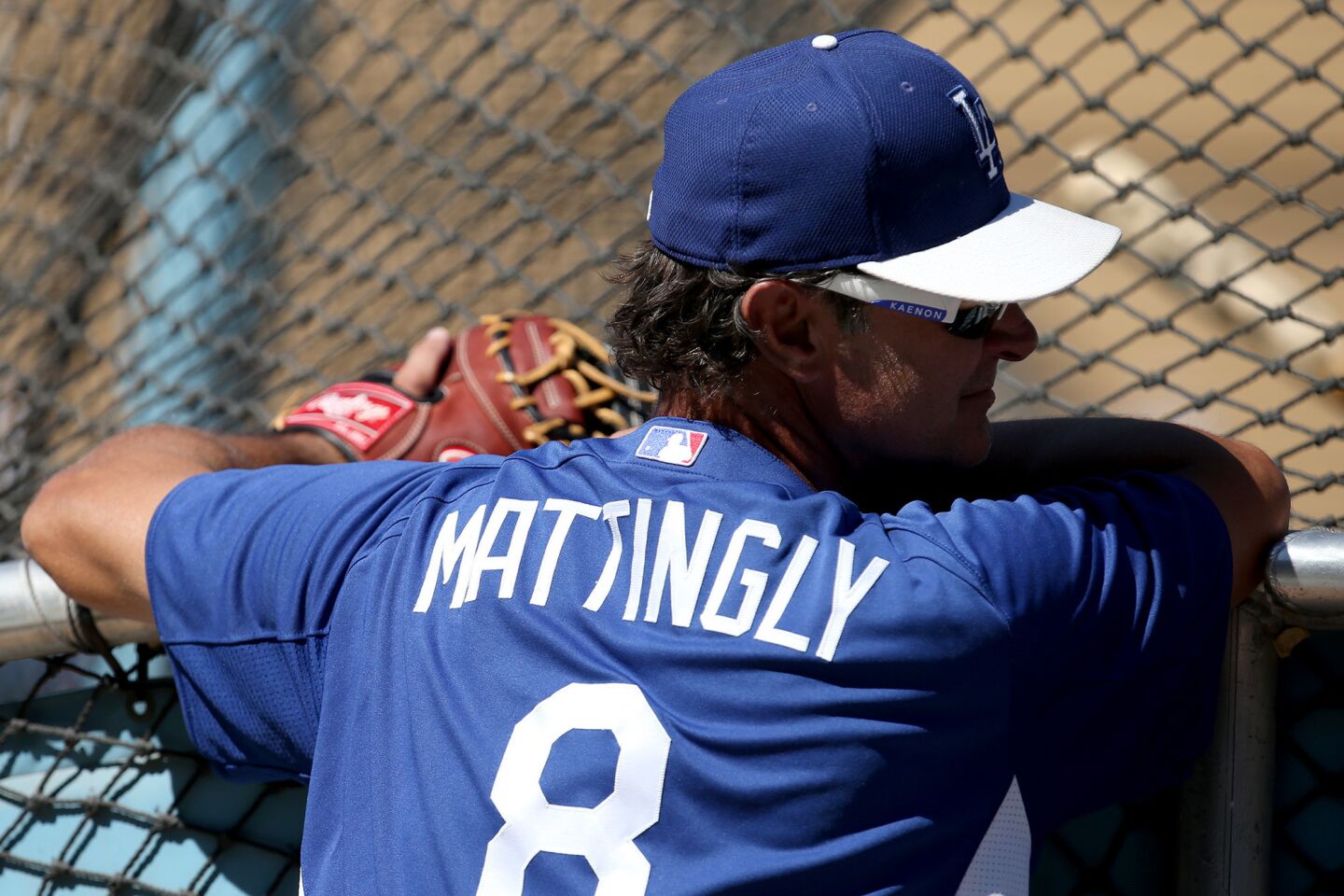 Don Mattingly watches batting practice before a Dodgers game against the Boston Red Sox at Dodger Stadium on Aug. 25, 2013.
(Luis Sinco / Los Angeles Times)
Dodgers manager Don Mattingly, right, chats with his former New York Yankees teammate, pitcher Rich "Goose" Gossage, before an old-timers game at Dodger Stadium on June 8, 2013.
(Wally Skalij / Los Angeles Times)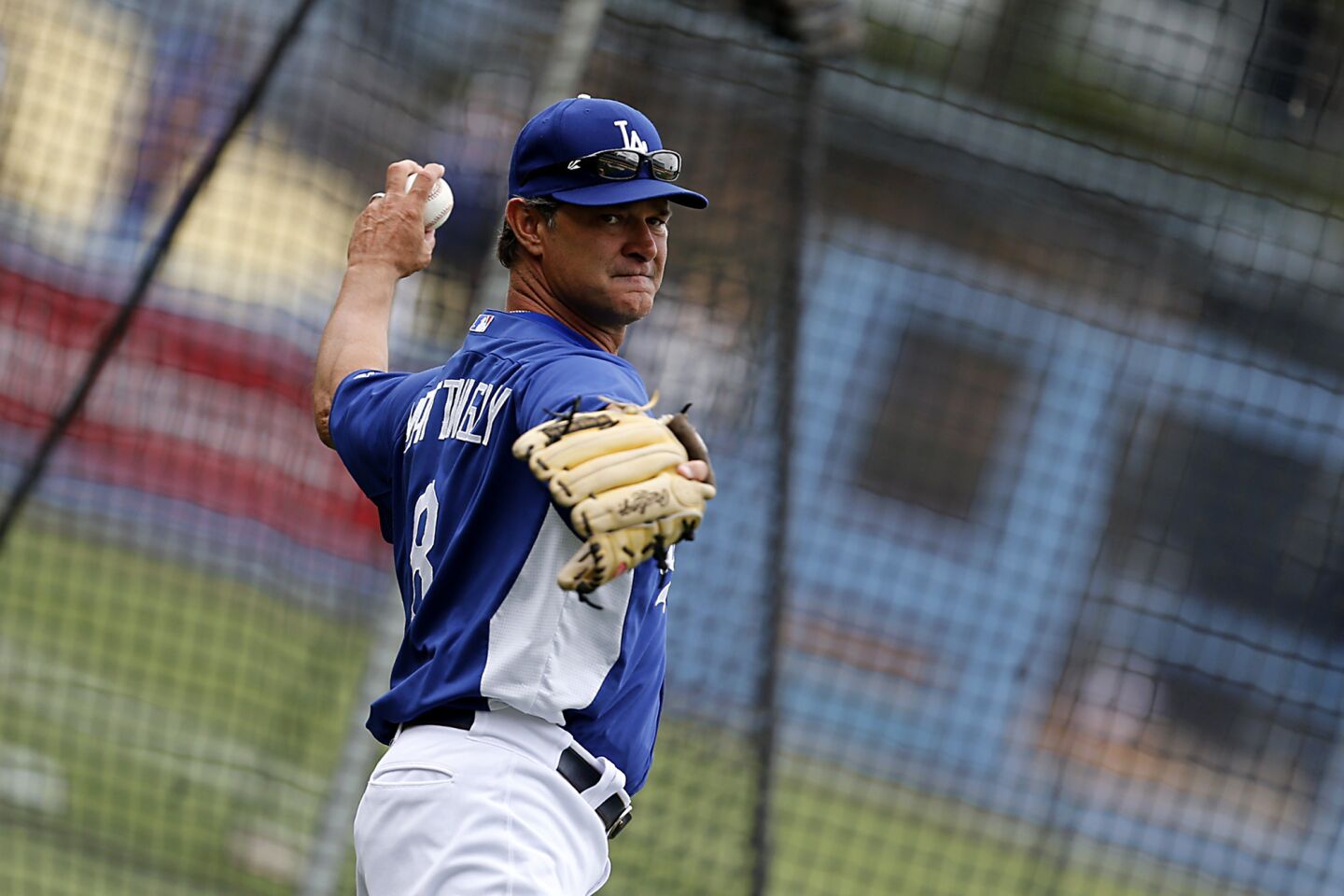 Dodgers manager Don Mattingly pitches batting practice before a game against the Diamondbacks at Dodger Stadium on May 8, 2013.
(Luis Sinco / Los Angeles Times)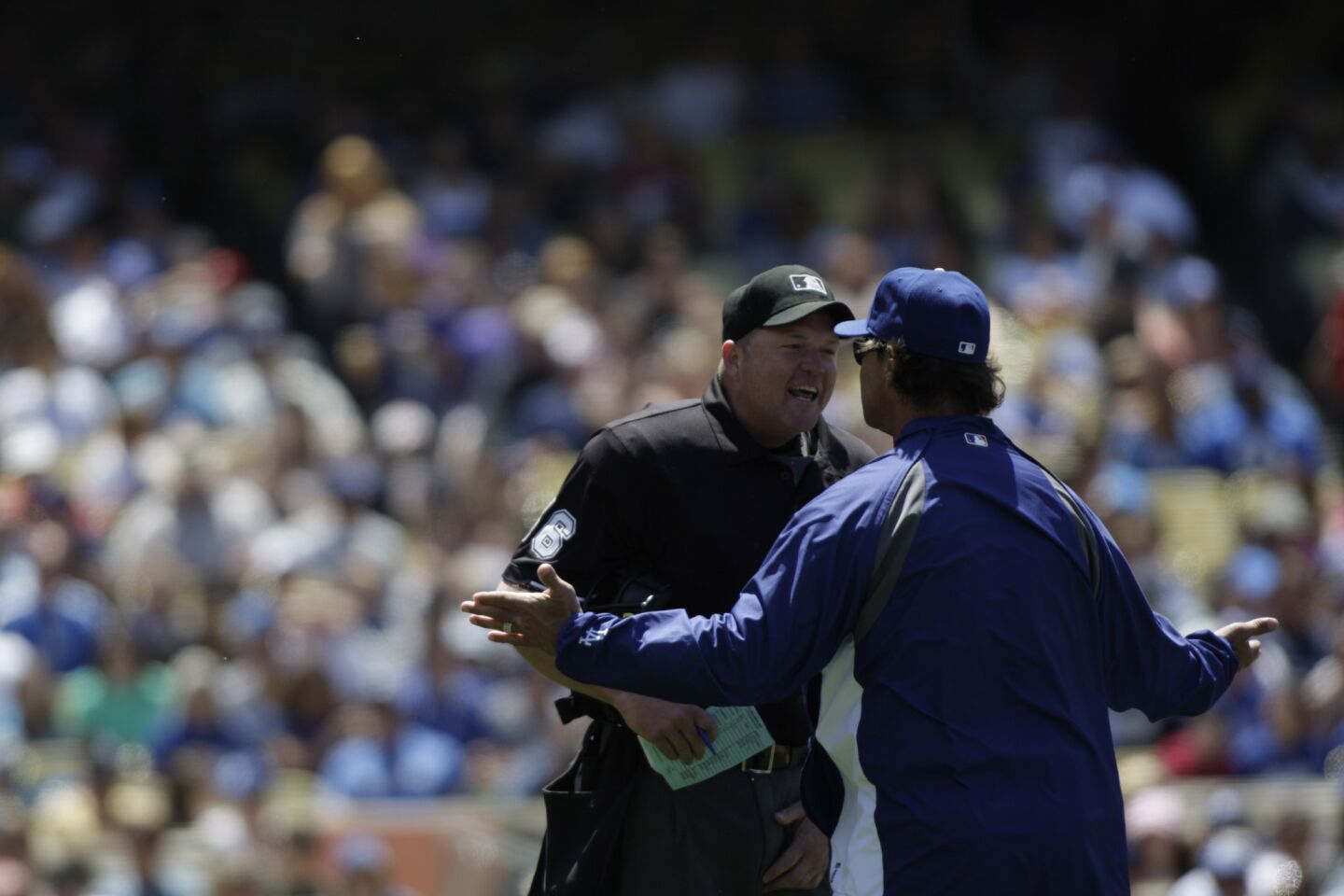 Dodgers manager Don Mattingly argues with umpire Ron Kulpa before being ejected during the fifth inning of a game against the Florida Marlins on May 29, 2011.
(Michael Robinson Chavez / Los Angeles Times)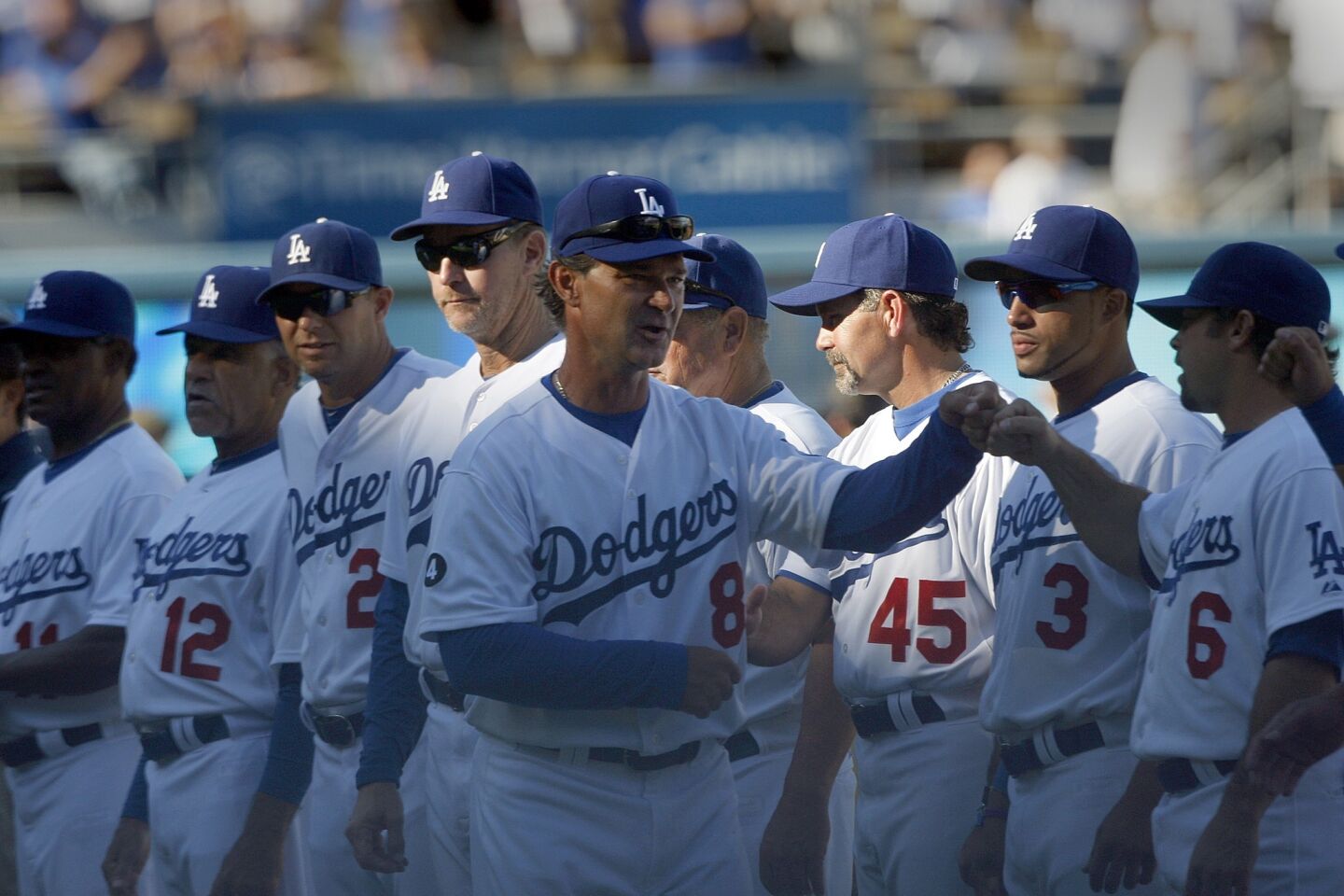 Don Mattingly greets Dodgers players before the season opener against the Giants at Dodger Stadium on March 31, 2011.
(Allen J. Schaben / Los Angeles Times)
Dodgers manager Don Mattingly, left, and former manager Tommy Lasorda talk before an exhibition game with the Angels at Dodger Stadium on March 28, 2011.
(Allen J. Schaben / Los Angeles Times)
Dodgers manager Don Mattingly walks through a tunnel leading to the field during spring training in Phoenix.
(Wally Skalij / Los Angeles Times)
Outgoing Dodgers manager Joe Torre, left, embraces incoming manager Don Mattingly after Torre's last home game as manager at Dodger Stadium on Oct. 3, 2010.
(Gina Ferazzi / Los Angeles Times)
Dodgers manager Don Mattingly talks with former Dodgers manager Tommy Lasorda during spring training in Glendale. Ariz., on March 29, 2010.
(Luis Sinco / Los Angeles Times)
Said Andrew Friedman, Dodgers president of baseball operations: "When we started [discussions] on Friday, we expected him to be our manager for 2016 … but we kind of got to a point where we felt like mutually it might be better to part ways."
Said Mattingly: "It was definitely a mutual decision, and I think as we kind of talked through the season, it just became for me, clearly, this was the right time."
Both men spoke at separate press meetings that were as confusing as the sight of Dodgers infielders attempting to cover third base. They would not give details of their differences, refused to elaborate on their discussions, and continually spoke of their admiration for each other. It sounded very much like an introductory news conference, except for the part where they kicked Mattingly out.
Said Friedman: "It was amicable, it was mutual, we have a tremendous amount of respect for Donnie."
Said Mattingly: "It all comes back to, this was the right time and the right thing."
No matter how it happened, it was indeed the right time, and truly the right thing. It was a move that was uncomfortable but necessary, sad but justified, statistically wrong but perfectly right.
For the Dodgers to advance to the next level, the one constant leader in their three consecutive postseason failures had to leave. For Friedman's administration to truly reshape the Dodgers' culture into one that can reach the World Series for the first time since 1988, he had to replace the curator of that culture.
Yes, he was the first Dodgers manager in history to lead the team to three consecutive postseason appearances — three consecutive division championships no less. Yes, his .551 winning percentage in five seasons is better than any Dodgers manager since Walter Alston.
But those numbers are all about April to September. Titles are won in October. The man known as Donnie Baseball was no Donnie October.
Of the four Dodgers managers who have managed at least 10 postseason games in the last 60 years, Mattingly is the only one with a losing record His 8-11 mark included two series defeats in the first round of the postseason and one defeat in the National League Championship Series.
Dodgers managers, Don Mattingly is out as manager of the Los Angeles Dodgers. Who might be in? Here are the five leading candidates.
The Dodgers didn't only lose, they collapsed, and the smoldering October wreckage ultimately scattered around Mattingly.
Two years ago, losing a 13-inning NLCS game to St. Louis after burning Adrian Gonzalez for a pinch-runner in the eighth inning. Last season, against St. Louis, replacing Hyun-Jin Ryu with little-used Scott Elbert in a game that was blown open four pitches later. This month, replacing Clayton Kershaw with Pedro Baez instead of the hotter Chris Hatcher and watching Baez blow the division series opener against the New York Mets.
In the end, some of this was about specific decisions, tiny moments of failure that turned opportunities into debacles. But it was also about a wider range of issues that involved an old-school manager not quite adjusting to a new-age game.
His five-year tenure included constant questions about how he managed games and ran the bullpen. He was criticized for his inability to instill a sense of urgency in the league's highest-paid roster. He didn't have the patience to police a playful clubhouse. And he didn't help himself by failing to encourage and grow the abilities of youngsters such as Joc Pederson and Yasiel Puig.
In particular, his attitude toward the inconsistent and often unprofessional Puig alienated management. The relationship was finally considered broken after Mattingly gave bitingly sarcastic interviews about the "miraculous" nature of Puig's hamstring recovery.
Mattingly supporters will note that this season Friedman didn't give him the tools to win by failing to strengthen the pitching rotation and bullpen while trading away power (Matt Kemp) and speed (Dee Gordon).
Those supporters would be correct. But this was about more than one year. It was about several during which Mattingly, in his first job as a manager at any level, seemed to stop growing and learning while his team continued to streak then stumble.
In the end, as management's patience waned, Mattingly grew weary of the fighting the daily battles that come with running baseball's Hollywood franchise.
During the brief postseason, friends noticed he looked tired and unhappy, especially when the season ended with the embarrassment of his team failing to cover third base and eventually allowing the tying run in a 3-2 loss to the Mets in the deciding Game 5.
Now the heat that has singed Mattingly for so long has been transferred to the office of Friedman, whose legacy here will officially begin with his biggest hire.
"The pressure comes with expectations and you want to work at a place with expectations," Friedman said. "We're putting a lot of pressure on ourselves to make the best hire we possibly we can. I don't feel like any of that is undue and outside pressure. It's all of us, how competitive we all are."
We won't even begin to guess at what will surely be a long and varied list of replacement candidates. The new Dodgers manager probably will not be anything like the former Dodgers manager, as he will probably possess faith in analytics, belief in discipline and a bent for teaching.
This parting of ways between Dodgers baseball and Donnie Baseball had to happen. Far more surprising could be what happens next.
Twitter: @billplaschke
MORE ON THE DODGERS:
Five candidates to replace Don Mattingly as Dodgers manager
For Dodgers, managerial experience is an asset, not a requirement
Plenty of highs mixed with the lows of Don Mattingly's managerial career
Get our Dodgers Dugout newsletter for insights, news and much more.
You may occasionally receive promotional content from the Los Angeles Times.