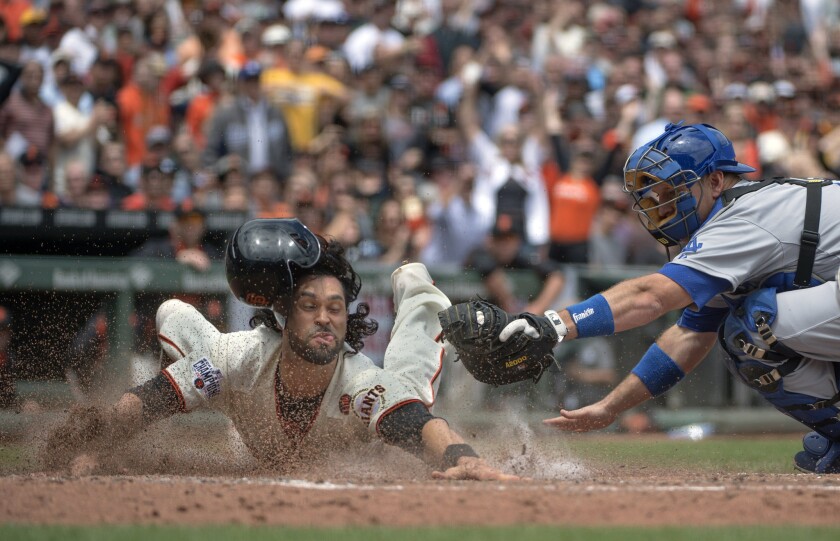 On the bright side, no one has to be concerned about the Dodgers' getting too full of themselves. They may act like worldbeaters against the rest of baseball, but against the Giants they are mere fodder.
Maybe the Dodgers did not actually need humbling, but just in case the Giants left them breathless and frustrated Thursday, completing a three-game sweep with a 4-0 victory at AT&T Park.
That made it three games in the City by the Bay without the Dodgers' scoring a single run. The last time the Dodgers were unable to score a run in three consecutive games was in 2012 ... against the Giants at AT&T. The Dodgers have gone 31 consecutive innings without scoring.
Adding more insult, the sweep pulled the Giants to within 1 1/2 games of the Dodgers in the National League West.
It wasn't as though the Dodgers were crushed -- they lost the three games by scores of 2-0, 4-0 and 4-0 -- but they simply could not scratch together anything that resembled an offense. This from a team that came into the series leading the National League in most every offensive category.
And, oh, yeah, the Dodgers are now 0-6 in San Francisco this season.
Not even Clayton Kershaw, who actually pitched very well Thursday, could stem the tide that has pulled the Dodgers back within reach of the Giants.
He was matched against Madison Bumgarner for the third time this season, and for the third time the Giants came out on top. Bumgarner helped see to that not only by throwing 6 1/3 scoreless innings, but by delivering the game's first run with a solo homer of Kershaw in the third.
It was the first home run by a pitcher Kershaw has ever allowed, but that's how things have been going for him and the Dodgers of late.
The Giants added one more in the fourth when Angel Pagan doubled and beat the tag of A.J. Ellis after a single by Hunter Pence. Kershaw pitched into the eighth, but was relieved by Chris Hatcher with one out after giving up a pair of singles. Both runners ended up scoring, Kershaw not finding much luck anywhere early this season.
Pence hit a high chopper over the glove of Hatcher for an infield single to score the third run. Paco Rodriguez took over and gave up another run-scoring single.
Kershaw dropped to 2-3 with the loss. He was charged with four runs on seven hits and two walks, striking out seven. Kershaw entered the game 8-2 with a 0.97 earned-run average at AT&T (an opponent record).
The Dodgers did manage nine hits, but left 10 men on base and went without a hit in seven opportunities with runners in scoring position.
The Dodgers have now lost six of their last eight games, and scored two runs in their last five.
Follow Steve Dilbeck on Twitter @stevedilbeck
---