Vin Scully is undecided on returning to Dodgers for a 67th season next year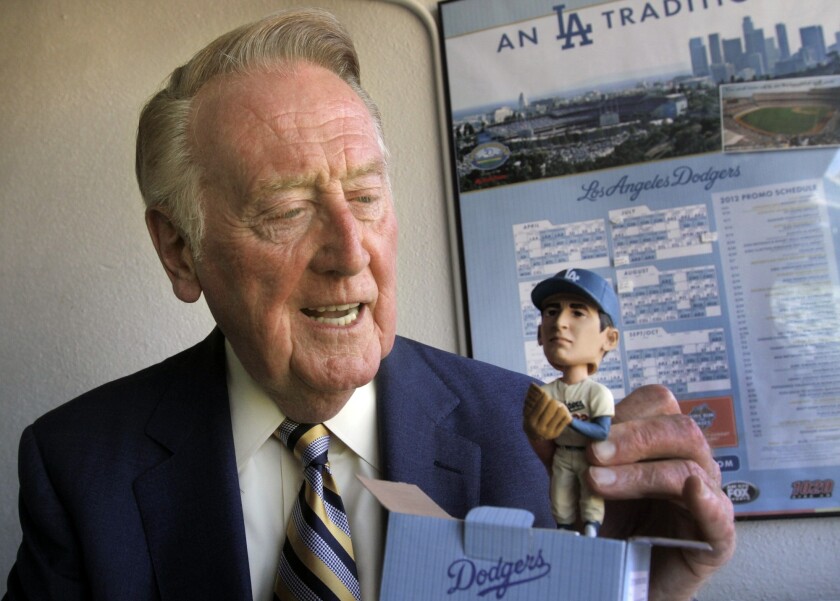 Vin Scully had a cold last week.
That made news, because Scully decided to rest his voice a bit. Not by taking a sick day, mind you, but by asking that his television broadcast not be simulcast on radio, as it usually is for the first three innings. Since radio listeners do not have television pictures, Scully feels obliged to be more descriptive with his words.
Scully is 87. This is the time of year when the Hall of Fame broadcaster traditionally announces whether he will return for the following season, and his cold prompted a flurry of inquiries from concerned readers, wondering what Scully has decided about next season.
He told us he has not made a decision about returning for what would be his 67th season with the Dodgers. He said he does not want to commit too soon.
He previously has said he has three priorities in making his annual decision. His health is foremost -- and, last week's cold aside, he said his health is fine.
He does not want to extend his career to the point where he is no longer an effective broadcaster. To us, he remains the best in the business, as evidenced by weaving the mother of Washington Nationals manager Matt Williams into a story about Charles Manson last week.
He also likes to sit down and see what his wife, Sandra, and the Dodgers -- in that order -- might have to say. The decision might be his, but he cannot imagine making it without the support of his family and employers.
Los Angeles keeps its fingers crossed.
ALSO:
Ron Roenicke to replace Lorenzo Bundy as Dodgers third base coach
Minor league lifer John Shoemaker has major impact on Dodgers organization
Zack Greinke attacks Reds on mound and at plate, lifts Dodgers to 2-1 win
---
Get our Dodgers Dugout newsletter for insights, news and much more.
You may occasionally receive promotional content from the Los Angeles Times.