The voter who snubbed Dodgers' Yasiel Puig explains why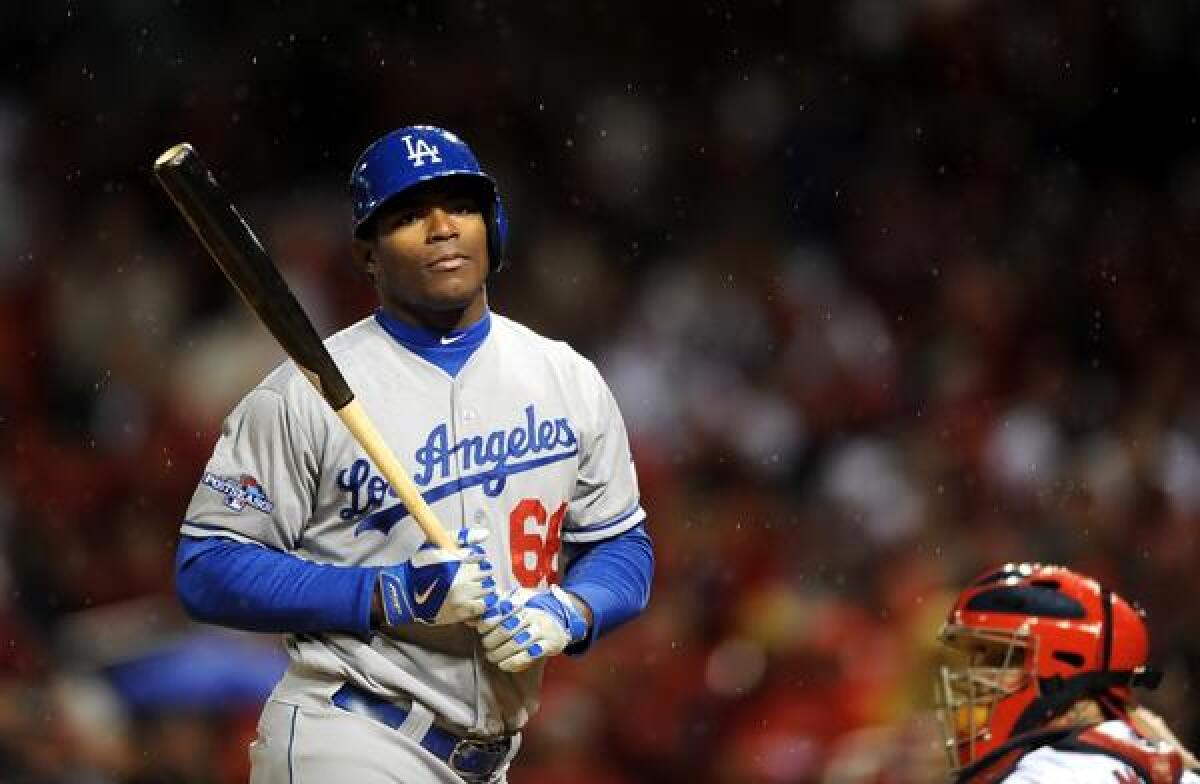 The lone writer who left Yasiel Puig off his National League rookie of the year ballot said Monday he considered the Dodgers outfielder among "four really good candidates for three spots."
Jose Fernandez of the Miami Marlins won the award, with 26 of the 30 first-place votes. He was the only player named on every ballot.
Puig finished second, with the other four first-place votes. He got 25 second-place votes.
Voters list three candidates on each ballot, in order of preference. John Maffei of UT San Diego omitted Puig from his ballot, the only writer to do so. The omission had no impact on Puig's second-place finish.
In deciding his vote, Maffei said, he settled quickly on Fernandez for first place.
"To me, that was easy," Maffei said.
St. Louis Cardinals pitcher Shelby Miller was the choice for second, Maffei said, in part because of his late-season performance in the only competitive divisional race in the NL.
"He won 15 games, and his club won his last five starts -- and seven of eight -- in a pennant race," Maffei said.
That left third place to either Puig or San Diego Padres infielder Jedd Gyorko, whom Maffei watched regularly in San Diego. Gyorko played the entire season with the Padres and finished with 23 home runs and 63 runs batted in. Puig had 19 homers and 42 RBIs, although he did not make his major league debut until June 3.
Maffei said he realized Puig would finish strongly in the voting. He said his third-place vote was not about rejecting Puig but about rewarding Gyorko.
"A second baseman hit 23 home runs and played great defense," Maffei said. "Maybe Puig's antics were in the back of my mind, but I really think the guy [Gyorko] deserved a third-place vote. I just felt he deserved it, not that Puig didn't."
Gyorko got two votes for third place, the other from Jack Magruder of Fox Sports Arizona.
---
Get our Dodgers Dugout newsletter for insights, news and much more.
You may occasionally receive promotional content from the Los Angeles Times.