Time has come for Dodgers to sit Yasiel Puig and play Andre Ethier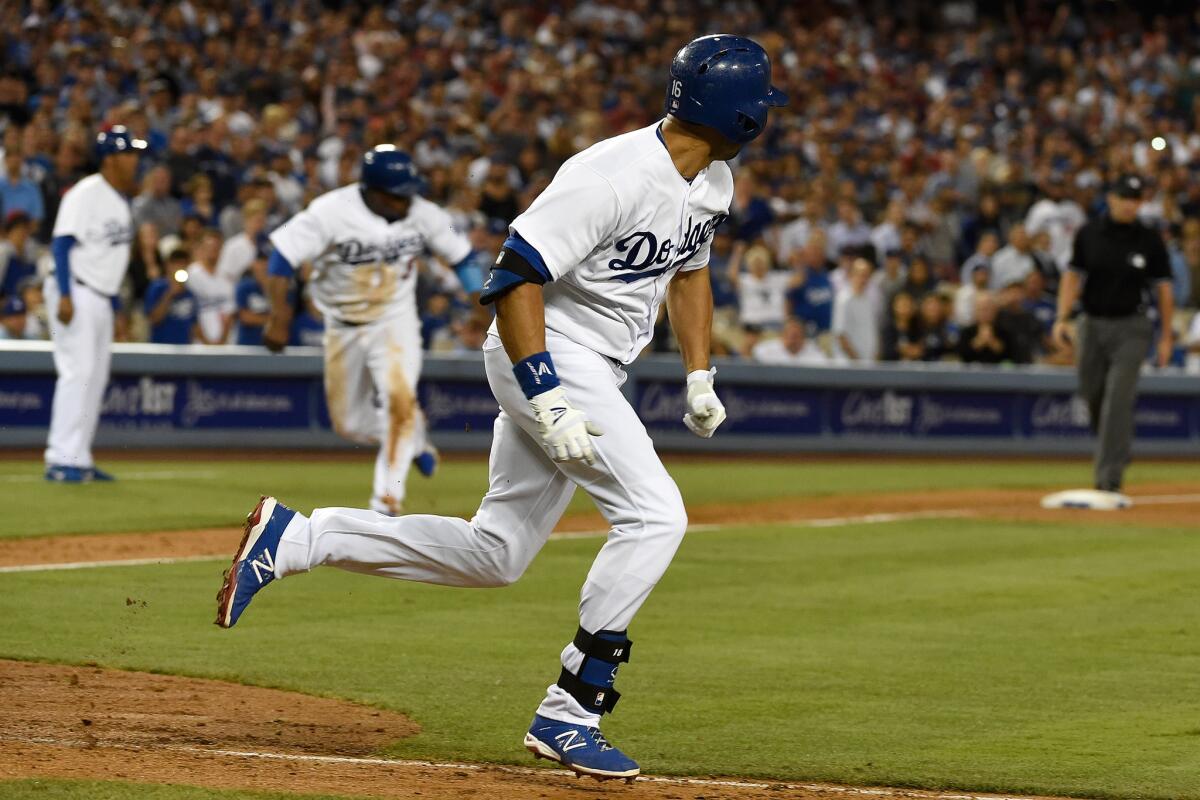 OK, enough. Enough waiting for the Golden Boy to become an overnight sensation or last year's overnight sensation to get going again.
The idea is to win right now. In September with a pennant on the line. It's not time to experiment.
You don't keep playing Joc Pederson, called up nine days ago, and hope he starts tearing up the majors the way he did triple-A. You don't keep sending out Yasiel Puig every night when he's hit .209 since July 31, which also happens to be the last time he hit a home run.
It's time to start Andre Ethier in center again. Tonight against San Diego's Ian Kennedy.
Now I know what many of you are going to say. You watch Ethier play this year? Looked at his numbers?
And, sure, he has career-lows going in almost every offensive category. But at least he has a history. He's been through the playoff wars. He's responded under pressure.
He's also hit .324 in his career against the right-handed Kennedy with a pair of home runs. Puig's is 3-for-16 (.167) against Kennedy.
So send him out there and see what happens. He can't do much worse than Puig, who's driven in one run in his last 18 games.
Yet the Dodgers continue to diminish Ethier, which is puzzling, and long term, potentially troubling. Tuesday night the Dodgers trailed the Padres 5-2 in the seventh and had runners on first and second with one out and the pitcher's spot up against right-hander Andrew Cashner.
And Manager Don Mattingly sent up Pederson to pinch hit?
Mattingly said he wanted to send up the batter with the best chance to avoid the double play and to drive the ball.
"It's like you'd rather have Andre up with the game on the line in the ninth than Joc," Mattingly said. "That's kind of the thinking there. You save for the biggest at-bat in the ninth."
What? You may never get another chance like that. You try to win the game when you can, you don't save bullets you may get to fire.
Pederson flied out to left and the Dodgers failed to score. In the ninth, Mattingly pinch hit Ethier in what was now a 6-2 game with one out and a runner on first. Not exactly the same RBI opportunity. He was hit by a pitch.
Afterward, Ethier wasn't going to complain about Mattingly's decision in the seventh.
"That's a manager's job, plain and simple," Ethier said.
"I'm doing whatever he tells me to do and be ready. It's easy for anyone to sit back later on and say that stuff and play what-ifs, but I'm ready for that opportunity there or in the ninth."
Hey, I have nothing against Pederson. Maybe he becomes a superstar or just a really good player, or maybe he never replicates what he did at triple-A. We don't know. But asking him to do it now, in a pennant race, just isn't fair. He's 2-for-15 with seven strikeouts.
Sitting Puig and his potential power, and returning to an Ethier/Scott Van Slyke combo in center is a tougher call, particularly with all that territory in AT&T Park awaiting this weekend.
But the Dodgers just can't keep waiting and hoping for Puig to get it going. He's batting .151 (10 for 66) in his last 18 games. This is his first full season in the majors and he's going through the worst slump of his career.
Maybe he'll respond to some time off. I know Mattingly prefers a set outfield but right now it's not working. And right now is when it needs to work.
Get our Dodgers Dugout newsletter for insights, news and much more.
You may occasionally receive promotional content from the Los Angeles Times.