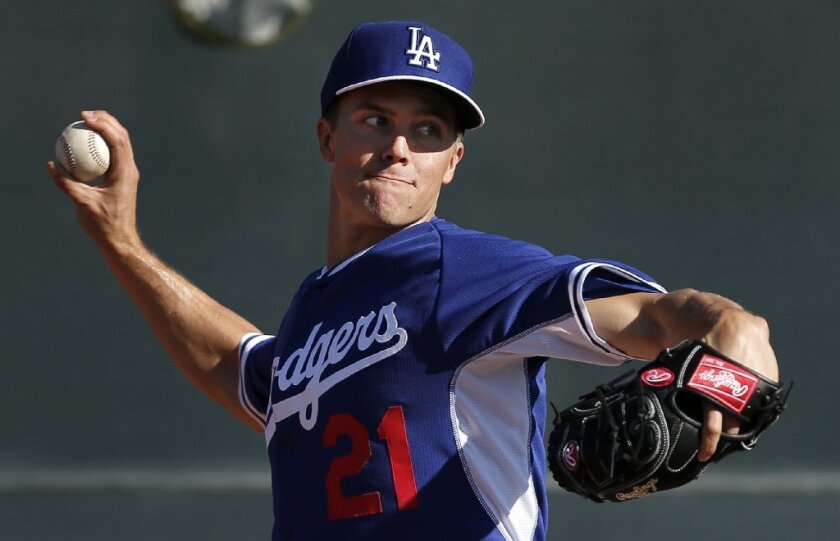 TEMPE, Ariz. --- Right-hander Zack Greinke threw about two dozen pitches off a mound and outfielder Matt Kemp stepped up his running program slightly Thursday as both former All-Stars moved closer to returning from nagging injuries.
Greinke's light bullpen session, in which he threw only from the stretch, marked his longest stint on the mound since coming out of his first spring start last week with a mild strain in his right calf.
Afterward Greinke spent several minutes talking with pitching coach Rick Honeycutt before returning to the trainer's room for treatment.
Dodger Manager Don Mattingly said the next step for Greinke will be to throw to hitters.
Meanwhile Kemp, who had surgery on his left ankle last fall, is still running straight ahead but the Dodgers medical staff hopes to have him trying turns soon.
Kemp, limited by injury to 73 games last season, also took batting practice on a back field Thursday.
"Matt's been really calm all spring, and patient," Mattingly said. "He wants to be cautious, I think. He's had enough of not playing. So for him it's really important -- and for us also -- to get back on the field and to get going."
Both Kemp and Greinke are not expected to make the team's season-opening trip to Australia later this month.
---