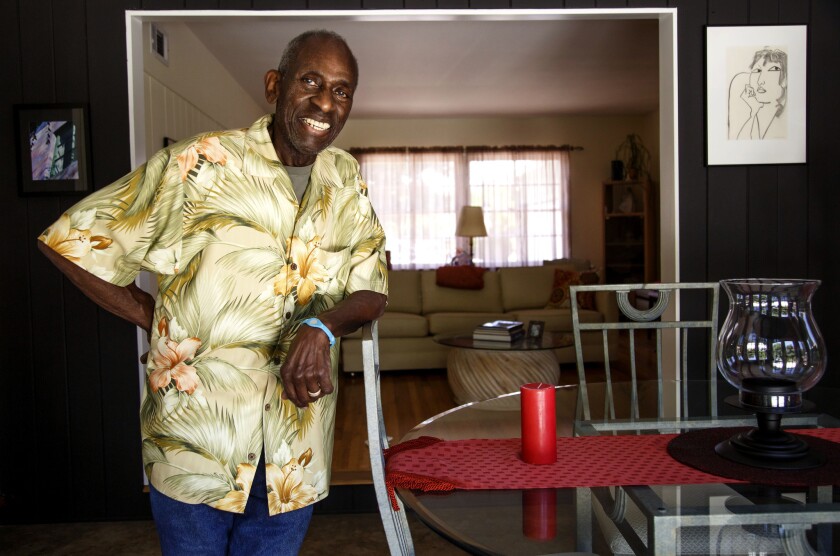 It was supposedly about the food, not the joyful man with the giant smile who created it.
For more than half a century at Dodger Stadium, chef Dave Pearson has cooked for players, fans and team employees and media in a press-box dining room that bears his name. Dave's Diner is a cluttered, loud, happy place where every day, he would explain his menu in the same fashion.
"I've got a beautiful tri-tip." . . . "I've got some beautiful turkey." . . . "This is some beautiful lasagne."
Pearson would talk about the beautiful in the applesauce he would make every game for Vin Scully, the beautiful in the salads he would concoct for Charley Steiner, the beautiful life of a 75-year-old man still able to create something that will make people smile.
"I will jokingly ask him, 'Dave, do you have anything that is ugly?'" Steiner said. "His answer has always been no."
That changed three months ago when Pearson's persistent cough led to a diagnosis of Stage 4 lung cancer. The prognosis was frightening. The biopsy surgery was painful. Person missed several Dodgers homestands and his concern over his diners was profound.
"The best part of my job is cooking food that makes people happy," he said. "If I can't get them my food, how am I going to make them happy?"
He was saddened. He was weakened. Then last month, the chef was given the most amazing bit of nourishment in the mailbox of his Van Nuys home. It was an 11-minute video shot in and around Dave's Diner. It contained 50 team employees and media members sending 50 different messages of hope. It was cameramen telling him to fight, ushers telling him to hang tough, writers begging him to come back.
It began with ballpark organist Nancy Bea Hefley offering encouragement. It ended with Vin Scully offering prayers.
"You have just suddenly left a hole in the ballpark, and the only way we can fill it up is to get you back," Scully intoned.
Dave Pearson watched the video, and a man who never cries, even over the most awful grease burns, wept at the realization that maybe he had been dishing out more than just "beautiful" food.
Maybe, after all these years, the one thing everyone thought was beautiful was him.
And so, at that moment, his battle against cancer officially began.
"I never knew what kind of impact I've had on people, never even had a clue," Pearson said. "To hear all these people telling me to fight? They're giving me that fight, and I'm gonna fight, I have to fight, because now I know I have a lot to fight for."
They are usually located just steps away from the best seats in the most beautiful ballparks, yet press-box dining rooms are not much different from factory break rooms or teachers' lounges. They offer a brief oasis for workers in the middle of long days, a place where folks can buy a meal, grab a laugh, catch their breath.
With every press-box dining room being a reflection of the person who runs it, Dave's Diner is like a big hug. It is a place where the lowliest of workers can joke with Scully, where Tom Lasorda's voice still booms with glee, where Hefley and her husband Billy occupy one corner table, where Fernando Valenzuela can be found chowing at another one, where scouts gossip and writers complain and many folks just mill about until the first pitch.
Dave Pearson created this space with a gentle, easygoing manner that matches his simple delicacies. He personally serves the broadcasters in a separate side room so Scully can at least eat in peace, yet he treats everyone as if they were a Hall of Famer, as he spends most of his time standing at the end of the food line shaking hands and telling stories.
"No matter what is going on, he always has a gentle smile, he gives me a good word, then we fist bump like the players do," Scully said. "He's such a joy, such a part of everything."
Steiner calls him "a glorious man" while Rick Monday says, simply, "He is family."
Until now, though, Pearson has been strictly background, a 10th-grade dropout who worked his way to the top of the Los Angeles sports food chain by toiling in remote kitchens while rarely coming out from behind his apron.
After moving here from Brooklyn as a teenager, he helped support his family by working as a busboy at a Boyle Heights restaurant named Swally's. He worked his way up through the kitchen, then used connections from there to land a part-time job running the Dodgers cafeteria during the 1963 World Series. He continued to moonlight there until he was hired to run the entire Dodger Stadium food operation in 1970.
He has cooked steaks for the Stadium Club, soup for the players, served generations of fans at seemingly every corner of Chavez Ravine. He finally settled into strictly running the press dining room about 20 years ago, and he has been surrounded by many of baseball's glamour moments without ever really partaking in them.
Imagine working for a baseball team for 52 years and never watching a game from the stands. That's him. Because he arrives every day at 7 a.m. to prepare lunch for stadium employees, Pearson is exhausted by the time he's finished with the pregame dinner, and leaves the stadium every day by 9 p.m. He was even walking out the door the night Kirk Gibson hit his homer in the 1988 World Series, and stopped only long enough to watch the ball clear the fence.
"Cooking for the people, that's what makes me happy," he said. "After that it's time to go home."
Imagine being part of four world championships yet, because he officially works for the stadium concessionaire, having no ring or pendant to show for it. That's also him, as his championship memorabilia consists of some 1988 World Series wine glasses.
"I don't need memorabilia to know I've been part of it," he said. "When people smile and thank me for my food, that's how I know."
He has never been on a road trip. He has never been to spring training. All these years as a chef for Hollywood's baseball organization, and he has never even published a cookbook, although there is a reason.
"We were all set to print one, and then we realized, Dave never wrote down any of his recipes," said his wife, Sherry, with amazement. "It's all in his head."
His rewards have come in cooking for the likes of Frank Sinatra, Ronald Reagan and the Three Tenors. Then there was the time Lasorda told an interviewer that if he could take anybody into a foxhole with him, it would be "Dave the chef at Dodger Stadium."
The ultimate flattery occurred when the Arizona Diamondbacks, who are run by former Dodgers executive Derrick Hall, tried to hire him away. But Pearson is so loyal to the Dodgers that he turned down the offer without even telling them.
"It really has become like my family," he said. "I can't leave them now."
This loyalty can perhaps best be found in the back of a Dodger Stadium refrigerator, in a jar of homemade applesauce. Pearson makes it and serves it nightly to Scully, who loves applesauce so much he eats it with virtually every meal.
"Every day, you look forward to seeing Dave," Scully said. "When all of a sudden he's not there, it's like missing a front tooth."
Pearson has been out for nearly a month after his cancer treatment — a twice-daily chemotherapy pill — was compounded by back problems. But he is hoping to be back in the kitchen for the upcoming homestand, and he says he will be standing strong.
He has been told by Levy Restaurants, the Dodger Stadium food concessionaire, that his job is safe. He has been told by the Dodgers, who set him up with specialists from City of Hope, that he is indeed family. Neither has ever mentioned a word about his food.
"It feels like that whole stadium is behind me," Pearson said. "The way I feel now, I've got 10 or 15 more good years in me."
The Dodgers will take it one game at a time, beginning Friday against the New York Mets, a night when Pearson hopes to cook up some of that you-know-what tri-tip.
"We heard he might be coming back," said Scully. "Now, that would be beautiful"
Twitter: @billplaschke
---