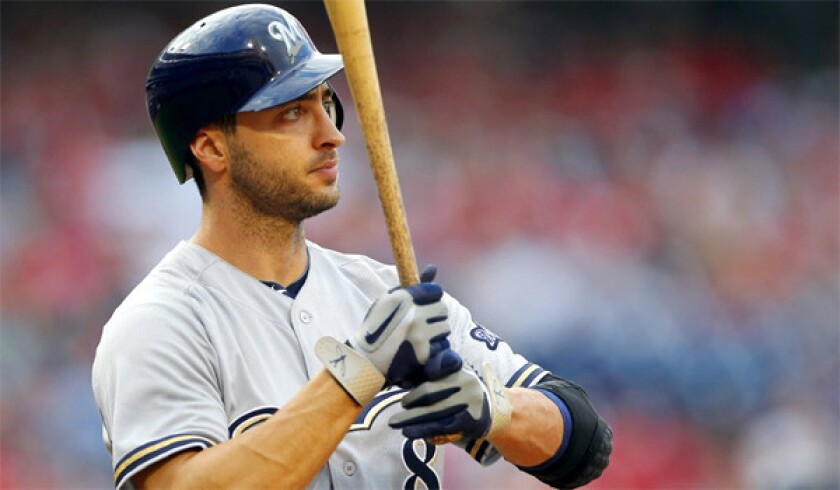 Zack Greinke declined to say anything about Ryan Braun in the days immediately after his former teammate was suspended for violating baseball's drug policy. Uncertain if he wanted to voice his opinion, Greinke asked for another day to collect his thoughts, then another.
On Friday, Greinke broke his silence.
"I just get nervous talking about this whole situation," Greinke said.
Greinke spoke slowly and quietly, but his message was clear: He was disappointed.
Greinke was on the Milwaukee Brewers in 2011, when Braun tested positive for a performance-enhancing drug in the playoffs. Greinke was also with the Brewers the following spring, when Braun, who successfully overturned a 50-game suspension, told his teammates he never did anything wrong.
"The main thing is, yeah, he lied to us," Greinke said. "He forced us to lie for him, threw people under the bus in order to help himself out and didn't care, blamed others for his mistakes, and it's just a lot of things you don't expect from people. "
Braun publicly attacked Dino Laurenzi Jr., the man who collected his urine sample. Laurenzi's handling of the sample was the key to Braun's appeal.
"The fact that even to this day he hasn't had a real apology is really upsetting to me," Greinke said. "I thought about it a bunch. He still hasn't really apologized."
In a statement released by Major League Baseball on the day he was suspended, Braun said he realized he "made some mistakes" without specifying them. Later in the week, Braun sent a message to reporters in Milwaukee through the Brewers public relations department, saying he couldn't "legally" speak.
Greinke said he had believed Braun when Braun said he never used performance-enhancing drugs.
"Oh, yeah, 100% believed him," Greinke said. "Everything was so convincing. He had people to blame. He seemed like a really good guy. He was a good teammate at the time. You don't know the guys that he was pinning it on. I'm not positive, but I think everyone 100% believed him at the time. Especially the next year, he looked just as good as the year before. His numbers his whole career, Hall of Fame numbers. How could you not believe him? He was so convincing."
Asked if his opinion on Braun as a player changed, Greinke replied, "Not even talking about the player. It's just the person. Just the fact that he was willing to use anyone that got in his path. The closer you were to him, the more he would use you. It's just disappointing that a human being could be like that."
A career change
Don Mattingly's son will play Division I college basketball for Bobby Knight's son this fall.
Preston Mattingly, a former Dodgers first-round pick who never advanced beyond Class A, is committed to Lamar University in Texas, where Pat Knight is the head coach. Mattingly, who is 6-feet-3, said he averaged 21 points per game as a senior at Evansville Central High in Indiana.
"Basketball came naturally for me," Mattingly said. "Baseball, it took me a while to learn how to do stuff. Being an Indiana kid, you grow up, all you do is play basketball."
Mattingly, who turns 26 next month, was in the Dodgers' system from 2006 to 2010. He was in the New York Yankees' minor league spring training camp last year, but was released.
twitter.com/dylanohernandez
---