Column: The Baseball Hall of Fame is a museum. It shouldn't make you angry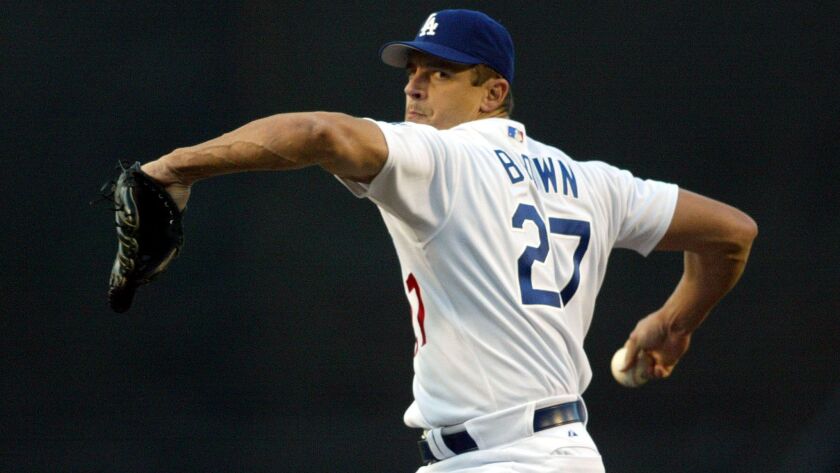 ON BASEBALL
Kevin Brown belongs in the Baseball Hall of Fame. I never saw him pitch, but I believe this to be true.
During his 19 seasons in the majors, Brown was worth 10 more wins above replacement than Tom Glavine (inducted into Cooperstown in 2014), according to FanGraphs. He threw more innings than Pedro Martinez (class of 2015), struck out a higher percentage of batters than Don Sutton (1998) and completed more shutouts than John Smoltz (2015).
Except for start Game 7 of the 1991 World Series, he did pretty much everything better than Jack Morris, who was ushered in by a veterans committee in 2018.
From 1996 to 2000, Brown won 82 games with a 2.51 earned-run average. He led the National League in ERA in 1996 and 2000. He had a credible case for the Cy Young Award in 1996 and 1998. "Kevin's the most dominant pitcher I've ever played with," Al Leiter told Sports Illustrated in 1999, soon after Brown inked a $105-million deal with the Dodgers.
The case for Brown combines both an extended record of success and a peak period of dominance.
The voters of the Baseball Writers Assn. of America disagreed with me, as Brown fell off the ballot after receiving 2.1% of the vote in 2011, his first and only year of eligibility. To me, his resume is still strong. But don't bother trying to pick my argument apart. I don't care anymore.
This coming year will be my 10th as a member of the BBWAA, which would earn me the privilege of a Hall of Fame vote next winter. It is something I once dreamed about. But the Los Angeles Times has a policy forbidding its staffers from voting for awards. For that, I am now grateful.
During the past decade, as the voters have grappled with how to evaluate baseball's steroid era, the discourse has devolved from a celebration of the sport's greats into a squabble over what classifies as greatness. I want no part of it.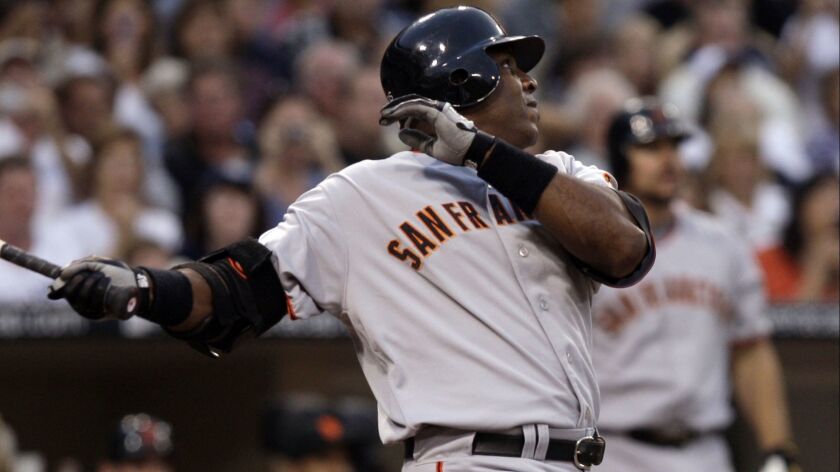 The tainted duo of Barry Bonds and Roger Clemens are objectively two of the best players ever. Their dalliances with performance-enhancing drugs have kept them out of the Hall, and the baggage extends far beyond them. No longer do benchmarks like 500 homers (Mark McGwire), 600 homers (Sammy Sosa) or 3,000 hits (Rafael Palmeiro) guarantee inclusion.
The last pitcher to collect his 300th win was Randy Johnson in 2009. No contemporary starter is particularly close to the milestone. With that criterion removed, voters are left to debate on a more granular level — as I just did with Kevin Brown.
So the discussion has become far more nuanced, and far more tedious. It's the grist for endless segments on MLB Network, the chum for swarms of Twitter arguments. The banality can feel stifling. Since baseball teams no longer spend money on free agents, what better way to spend the winter than jousting about how Coors Field inflated Larry Walker's slugging percentage?
You can argue that journalists should never "celebrate" anything regarding the subjects they cover, and you wouldn't be wrong. The Hall of Fame is a museum in central New York, designed to document the history of the sport. The discussion about who belongs there should be joyful, rather than punitive.
I used to feel invested in the outcome, less for the players I grew up rooting for — I didn't watch much baseball until college, so I possessed no childhood favorites — but for the players whose abilities aligned with my own ideology. The gospel of "Moneyball" brought me into the game, and I lapped in the waves of the statistical revolution, studying Baseball-Reference.com to absorb the ERA+ and OPS+ of players I never watched on the diamond.
So I cheered the overdue induction of Bert Blyleven in 2011 and was flabbergasted when I met a voter who wouldn't consider Tim Raines. My memory lacks a moment at the crossroads when I stopped thinking this way. But I can say, with the next Cooperstown class expected to be announced on Tuesday, that my interest level in the process, the candidates and the meaning of the vote barely registers.
The incoming class should be a good one. Mariano Rivera has a chance to become the first-ever unanimous inductee. In his first year on the ballot, the late Roy Halladay looks like a lock. In his 10th and final year of eligibility, Edgar Martinez should make it. Mike Mussina has a chance. Bonds and Clemens will inch closer to the 75% required for entry.
I know these things because of Ryan Thibodaux, who keeps track of each publicly revealed bracket in the months leading up to the announcement. His tracker is a resource for people curious about the latest trends in Hall of Fame voting and quarreling.
"I've noticed that a lot of people who are very smart about baseball, who maybe didn't care so much about the Hall of Fame, have started chiming in more lately," Thibodaux said. "Which I think is great. It's great to have more voices in the conversation. At the same time, every voter knows — and pretty much anybody who follows it closely knows — that the average comment on Twitter, or on somebody's ballot explainer column, is pretty brutal. And doesn't really add much. It detracts from it."
Sign up for our daily sports newsletter »
The cacophony overwhelms what should be a festive occasion. Thibodaux started his tracker a few years ago, while trying to figure out why Jeff Bagwell, who Thibodaux called "my boyhood hero," was not a first-ballot Hall of Famer. It took Bagwell a preposterous seven years on the ballot before he merited induction. When Bagwell went in 2017, "it was still an incredible moment," Thibodaux said.
"I felt as though my childhood was vindicated," Thibodaux said. "And he was where he belonged."
The bliss of that sentiment is worth remembering amid the debates. The Hall of Fame is a museum. It shouldn't make you angry.
Oh, but one last thing: Kevin Brown threw only six fewer innings than Mussina, with a better ERA+.
Twitter: @McCulloughTimes
---
Get our Dodgers Dugout newsletter for insights, news and much more.
You may occasionally receive promotional content from the Los Angeles Times.