Phillies boost chances with robust offseason capped by Bryce Harper signing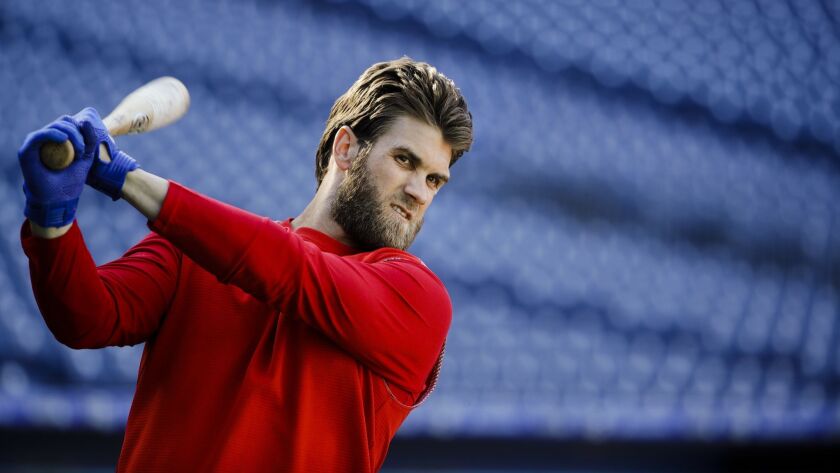 Reporting from Clearwater, Fla. —
On his first day with the Philadelphia Phillies, as the ink on his 13-year, $330 million contract was drying, Bryce Harper eschewed bold proclamations in favor of tempering expectations.
"I'm not going to tell you that we're going to come in this year and win the World Series, or win the division, or anything like that," Harper said. "Of course, we all want that to happen. That's your goal when you walk into spring training. But good things take time as well. We've got to mold as a team. We've got to mold as an organization."
The sentiment was understandable. But it is unlikely his message was heard in Philadelphia. After six years away from the playoffs, the Phillies flexed their financial might and deployed some prospect capital this winter to remodel their roster. They enter the 2019 season with a chance to conquer what figures to be baseball's most competitive division.
The American League East will showcase yet another 162-game bout between the Boston Red Sox and the New York Yankees. The National League Central includes three teams with championship aspirations in the Chicago Cubs, Milwaukee Brewers and St. Louis Cardinals. But no division features the depth or the volatility of the National League East.
"The thing about the East is it's a juggernaut," Harper said.
You can rule out the Miami Marlins. The other four teams all consider themselves contenders. The Atlanta Braves surprised by winning 90 games and the division in 2018. The team signed former American League MVP Josh Donaldson to a one-year deal and reacquired catcher Brian McCann, but otherwise stood relatively pat.
The Washington Nationals allowed Harper to defect to Philadelphia. But before Harper even officially signed, the Nationals had already spent $140 million on pitcher Patrick Corbin, who will join a rotation that already includes Max Scherzer and Stephen Strasburg. Washington will bank on outfielder Juan Soto to fill the void created by Harper's departure.
The New York Mets opted for a more aggressive approach. Under new general manager Brodie Van Wagenen, the team acquired All-Star closer Edwin Diaz and perennial All-Star second baseman Robinson Cano from Seattle. They signed reliever Jeurys Familia and veteran infielder Jed Lowrie.
The Phillies did even more. The depth of their winter haul was revealed midway through Harper's introductory news conference, as he outlined the members of the roster he appreciated.
"You can go on and on about this team, and how they good they can be," Harper said. "And my favorite player, J.T. Realmuto. That was huge, as well."
As a member of the Nationals, Harper publicly stumped for his team to acquire Realmuto from the Marlins. Granted entry into free agency, Harper joined the Phillies only a few weeks after the team traded for Realmuto. In any other winter, this would have been consider a crowning achievement: Realmuto hit 21 home runs with an .825 on-base plus slugging percentage in 2018, and is generally considered the best catcher in baseball.
Even before Philadelphia netted Realmuto, they made a series of upgrades. The team spent $52 million on outfielder Andrew McCutchen and $23 million on reliever David Robertson. A trade for shortstop Jean Segura should shore up what was a porous defense in 2018. The rotation features Aaron Nola, who was runner-up for the National League Cy Young Award last season, and Jake Arrieta, who won the same award in 2015.
"We feel like we're a complete team," McCutchen said.
The bevy of acquisitions should heighten the scrutiny of manager Gabe Kapler, the former Dodgers farm director, who dealt with a variety of challenges during his first season at the helm. Kapler overcame April mishaps to lead the Phillies into contention for much of the summer, only to see the team crumble in September.
Late in the season, as first reported by ESPN, veteran first baseman Carlos Santana smashed a television inside the clubhouse in protest of the younger Phillies playing Fortnite during games. Kapler told reporters he was unaware of any players taking part in video games while actual baseball games were being played.
The Phillies faded to an 80-82 record last year. The team has not produced a winning record since 2011. That season ended a five-year stretch of supremacy in the National League East, a period which includes two World Series berths and a championship in 2008. Kapler would like to reignite that sort of divisional reign.
Even before Harper arrived — when the winter consisted of the additions of McCutchen, Realmuto, Robertson and Segura — the pressure was on in Philadelphia. Adding Harper only upped the ante.
"I think we were a good team before him," Nola said. "But his addition to the team makes us even better."
Sign up for our daily sports newsletter »
Twitter: @McCulloughTimes
---
Get our Dodgers Dugout newsletter for insights, news and much more.
You may occasionally receive promotional content from the Los Angeles Times.