Clayton Kershaw has a light workout, which is seen as progress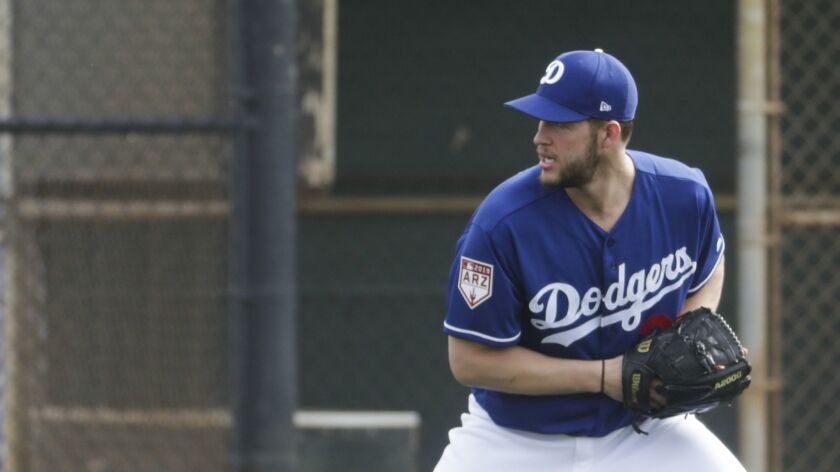 Reporting from Phoenix —
The spring of discontent for Clayton Kershaw has come down to this: A five-minute session of light catch at 60 feet on Thursday qualified as progress for the Dodgers ace, who has been slowed by shoulder inflammation.
Kershaw aspires to so much more. He's a three-time National League Cy Young Award winner and one-time most valuable player whose near-maniacal work ethic has pushed him to the top of the sport. A five-minute work day in which he hardly breaks a sweat is not a good fit for the 30-year-old left-hander.
"I think the biggest thing is Kersh is not the most patient person in the world — he wants to go out and compete, and we certainly get it," said Andrew Friedman, the team's president of baseball operations.
"We're early enough in spring training where we have a little bit of time. Today went pretty well, and I'm sure he'll pick up a ball and do it again [on Friday] and kind of go from there."
Kershaw's shoulder flared up in the second week of camp, and he stopped throwing for four days. He felt more discomfort while playing catch Monday, but Friedman considered Thursday's session a step forward.
"He's doing better today than he was a week ago, and that's a good thing," Friedman said. "Things are trending in the right direction."
The Dodgers are treating Kershaw with anti-inflammatory medication. They do not deem the pitcher's condition serious enough to warrant an MRI test.
"We have one from November," Friedman said of an MRI that was administered before Kershaw signed a three-year, $93-million deal. "Where his strength is, it's not something of significant concern as it relates to the shoulder."
Friedman acknowledged that "there is just not a lot of clarity" to Kershaw's injury. Though manager Dave Roberts has named Kershaw his opening-day starter, there is no timetable for when Kershaw will throw off a mound.
Sign up for our daily sports newsletter »
Kershaw was not available for comment Thursday. A true test of his health will come when he ramps up his throwing program, faces hitters in batting practice and pitches in a game.
"We don't know exactly, and sometimes it takes playing it out," Friedman said. "He's itching to get out there and pitch, and I know how much he did this winter to put himself in position to do it. But right now we have some time on our side and we should use it and continue to have dialogue and figure it out."
Miller time
The Dodgers signed Brad Miller to a minor league contract with a spring training invite, and the veteran infielder joined the team for workouts Thursday.
The left-handed-hitting Miller, 29, split last season between Tampa Bay and Milwaukee, batting .248 with a .724 on-base-plus-slugging percentage, seven homers and 29 RBIs in 75 games.
Miller, who has played shortstop, second base, third base and all three outfield positions, had his best season in 2016, hitting .243 with a .786 OPS, 30 homers and 81 RBIs in 152 games for the Rays.
"He's versatile and very athletic, a left-handed bat, a middle-of-the-diamond player who can play all three outfield spots," Roberts said. "He just adds depth."
Field of Genes
Pitcher Rich Hill and his wife, Caitlin, marked Rare Disease Day on Thursday by donating $575,000 to help fund the research of rare genetic and undiagnosed diseases at Massachusetts General Hospital for Children.
The couple's 2-month-old son, Brooks, died five years ago this week because of Galloway Mowat Syndrome, a condition that attacked Brooks' brain and kidneys. Brooks was treated by Dr. David Sweetser at Mass General.
The Hills hope to raise $1 million for an initiative they're calling "Field of Genes," which will provide financial and emotional support for the families of children stricken by rare genetic diseases.
"A lot of times, testing and support for families is hard to come by," Hill said. "We were fortunate to have a lot of support because of Dr. Sweetser. Families are trying to find answers, and hopefully we can help out a little bit."
Short hops
Walker Buehler has thrown only one bullpen session this spring, but Roberts and Friedman insisted the hard-throwing right-hander has had no physical setbacks. The Dodgers are simply "slow-playing" Buehler after the wiry right-hander logged 177 innings between the regular season and playoffs in 2018, double his workload from the previous season. "We're kind of easing him into it," Friedman said. "At some point we're gonna have to ramp up that process and go from there." … Blanca Jarrin, wife of Hall of Fame Dodgers broadcaster Jaime Jarrin, passed away Thursday morning in Flagstaff, Ariz. Blanca Jarrin suffered a heart attack while the family was visiting the area. The couple, from San Marino, was married for 65 years. Services are pending.
Follow Mike DiGiovanna on Twitter @MikeDiGiovanna
---
Get our Dodgers Dugout newsletter for insights, news and much more.
You may occasionally receive promotional content from the Los Angeles Times.