Dodgers' Clayton Kershaw will not pitch on opening day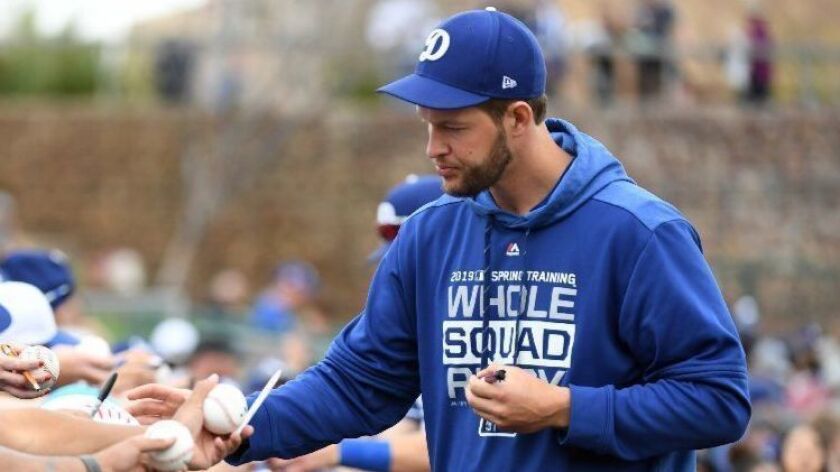 Reporting from Phoenix —
Clayton Kershaw will not start for the Dodgers on opening day, manager Dave Roberts announced Monday, confirming what has been obvious for weeks and effectively ending Kershaw's franchise-record streak of consecutive opening-day starts at eight.
"When he's ready to pitch for us is when he'll pitch for us," Roberts said.
A decision on who will start opening day hasn't been made. Ross Stripling will replace Kershaw in the rotation, Roberts announced late Monday night, after the right-hander was dominant over four shutout innings against Texas.
Shoulder inflammation sabotaged Kershaw's spring days after Roberts had named him the club's opening-day starter for the ninth straight year. He went four days without throwing after logging a bullpen session Feb. 20. He didn't pitch off a mound again until March 11, nearly three weeks later. Kershaw threw only fastballs in the first session and again in the second bullpen. He used his entire arsenal off a mound for the first time in his third session Sunday.
Kershaw, who turns 31 on Tuesday, will next throw in a live batting practice session on Wednesday. If he emerges healthy, he'd ideally throw again on Saturday. Roberts, however, said he isn't sure whether that is the plan.
Roberts said Kershaw will travel with the team to Los Angeles when the Dodgers break camp and not stay behind in Arizona to pitch in minor league games, and Monday night confirmed he won't start the season on the roster. How long Stripling stays in the rotation depends, for now, on how Kershaw progresses, Roberts said.
Teams can backdate stints on the 10-day injured list up to three days before opening day as long as the player does not play in an official exhibition game. That includes Cactus League and Freeway Series games.
The last Dodger not named Kershaw to start on opening day was Vicente Padilla in 2010. That was also the last time the Dodgers finished under .500. Kershaw seized the title the next year on his way to winning the first of his three National League Cy Young awards.
"It's a definite feather in Clayton's cap, but it's not just about making the opening-day start to add to your streak," Roberts said. "It's about being healthy and giving your team a chance to win. So he's in support of it and we are as well because we do have to take the long view and do what's best for the player."
Roberts ruled out Walker Buehler as opening-day starter Monday night, citing a lack of time to get him properly prepared. Buehler is scheduled to log three innings in his debut Tuesday against the Cleveland Indians at Camelback Ranch. If that goes well, he'll make a four-inning start before the beginning of the season.
Rich Hill is another option. The 39-year-old left-hander has been stretched out to five innings and has enjoyed a better spring training than he's accustomed to, an improvement he attributed to starting an intense offseason throwing program earlier than usual.
"Now it's more of a process of elimination," Roberts said. "So we're not prepared to say who it is but we're getting pretty close, yeah."
Seager to play in Cactus League
Shortstop Corey Seager will make his Cactus League debut Wednesday against the Chicago Cubs, Roberts said. It will be Seager's first game with the Dodgers since April 29, before he had elbow ligament-replacement surgery the next week and arthroscopic surgery on his left hip in August.
Roberts said Sunday that Seager would be ready for the season's start. Seager said he became confident he would be ready over the past week. Seager began playing the field in minor league games last week, progressing from three to five to seven innings on Monday.
"Once you start playing and recover and see how you feel, that's when you really know where things are at," Seager said.
Seager wasn't tested much in the field. He had to wait until the seventh inning Monday to see a groundball in a game. Seager quipped that it caught him off-guard.
"For us, it's more of him to play on the other side, and to stand out there in the field and get his legs under him," Roberts said. "Obviously, to see him make plays is a bonus, but in his work on the backfields, he's getting plenty of groundballs."
Schultz is optioned
Jaime Schultz was sent to minor league camp, leaving the Dodgers with 37 players, including 20 pitchers.
The Dodgers acquired Schultz from Tampa Bay in January. Schultz gave up five runs (four earned) on four hits and four walks in 71/3 innings this spring.
Sign up for our Dodgers newsletter »
Twitter: @jorgecastillo
---
Get our Dodgers Dugout newsletter for insights, news and much more.
You may occasionally receive promotional content from the Los Angeles Times.