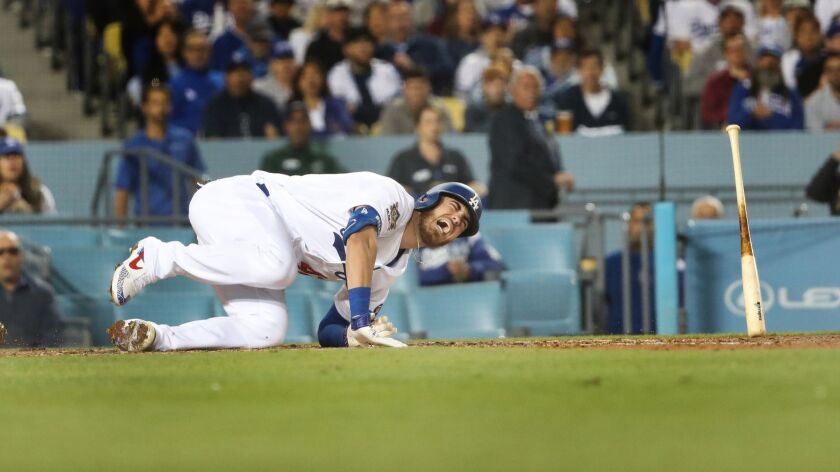 On a night when the focus was on their former starting right fielder, the Dodgers evaded disaster with their current starting right fielder Monday when X-rays on Cody Bellinger's right knee came back negative after he took a 96 mph fastball to the knee in their 4-3 win over the Cincinnati Reds.
"I feel good," Bellinger said. "Some swelling … We'll do some stuff tonight and see how I wake up tomorrow and feel. Just glad there's nothing too serious with it."
Bellinger absorbed the fastball from Luis Castillo in the third inning. He dropped to the ground attempting to avoid the pitch and immediately stood up, hobbling as manager Dave Roberts and a trainer sprinted out to check on him.
"That's 96 coming right at your knee and there's not much cushion there or flesh," Roberts said. "So it looked bad. That's one of those places you don't want to get hit."
Los Angeles Times sportswriters Jorge Castillo and Dylan Hernandez break down the first part of the Dodgers' 2019 season and what they need to do to get back on track.
After a minute or two, Bellinger was able to slowly walk down the first-base line. It didn't hurt to the touch, he said, and he jogged and walked around. He said he was relieved — pain remained but he felt good enough to attempt to stick it out. So he stayed in the game
But it was quickly evident that he wouldn't stay long. He limped off first base for his leads. Clearly bothered, he jogged between pitches to try to run off the discomfort. After watching A.J. Pollock and Max Muncy strike out to end the inning, he gingerly walked back to the dugout. It was then decided that his night was over. Alex Verdugo emerged to replace him in right field.
"You can't miss by that much," Dodgers pitcher Clayton Kershaw said. "He's a very good pitcher, has tremendous stuff. … Obviously a little wild tonight, but you can't miss by that much. That was really bad."
Sign up for our Dodgers newsletter »
The scare came after Bellinger continued his blistering start to the season with an RBI ground-rule double in the first inning. His abbreviated performance Monday raised his on-base percentage to a league-leading .513 in 78 plate appearances. He also tops the National League in batting average (.433), slugging percentage (.925), home runs (nine), and RBI (23). He's posted more walks than strikeouts (10 to nine) and has three of the Dodgers four steals this season.
He's been the best player in the National League, and an extended absence would be devastating. But Bellinger and the Dodgers appear to have avoided the worst.
---