Column: Dave Roberts hammers home a new attitude in clubhouse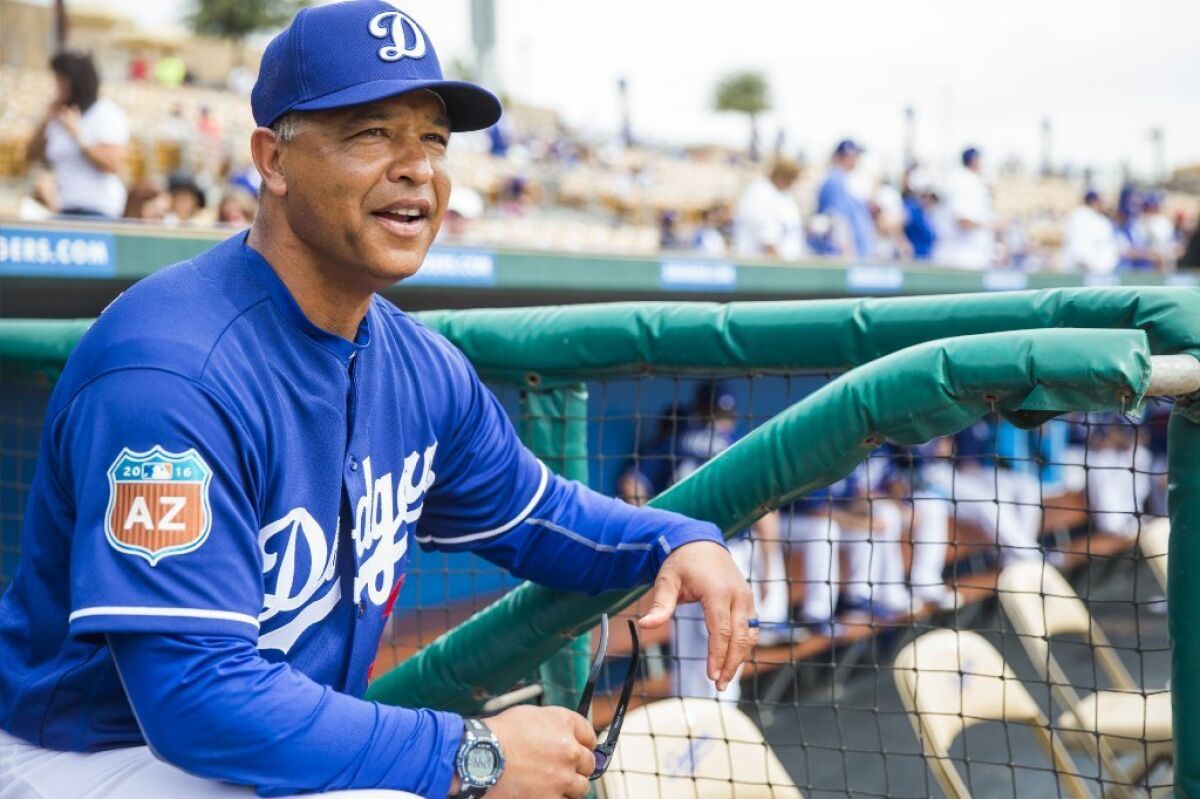 FROM PHOENIX —
He fought to carve out a playing career, fought to beat cancer, fought to get this job.
The question facing Dave Roberts entering his first spring training in his first year as a manager was, how can he inspire this fight in his players?
And so a couple of weeks ago in the Camelback Ranch clubhouse, the new Dodgers boss found himself lying on a bed of cinder blocks with a lone 10-pound block sitting on his chest and a stranger preparing to smash that block with a sledge hammer.
See the most-read stories in Sports this hour>>
It occurred during the team's daily morning motivational meeting. A strongman speaker named Donnie Moore and his partner Dean Johnson of Radical Reality had been exhorting the Dodgers to trust and unify and connect while getting their attention by tearing phone books and bending frying pans.
"Then I saw the new manager getting just as excited as the players, and I had an idea," Moore recalled.
The speaker turned to Roberts and loudly asked whether he would take one for the team. Roberts immediately stepped forward and tore off his jersey as his players roared.
Moments later he was on his back with a giant block on his chest, a towel over his face, and a sledgehammer coming down up on him.
"Yeah, there was a little bit of a pressure there," Roberts said. "I mean, like, real pressure on my chest."
The strike was perfect. The block was shattered. The manager was unharmed. Roberts leaped into the admiring high-fives of his cheering players.
"I've never seen that kind of energy coming from somebody who was about to get hit in the chest with a sledge hammer," Moore said. "You've got to have guts to do that, especially on the spur of the moment. You've got to really want to give it up for the team."
An exaggerated metaphor, perhaps, but the perfect metaphor for the new guy in a uncertain clubhouse, a guy searching not only for fight, but faith.
"I was showing complete trust in a guy I just met five minutes ago," Roberts said. "I hope the players and coaches will trust me like that."
That would be nice, because Monday in San Diego, the real sledgehammer is coming.
::
He's losing players daily, injuries mounting, ice and bandages and limps everywhere.
He's hearing whispers daily, everyone wondering whether it will really be his lineup card, his pitching changes, his team.
At first glance, it has not been the ideal spring for Roberts, a new guy trying to shape a unsettled team while being shaped by a sometimes unsettling front office.
Yet he recently greeted a visitor to his Camelback Ranch office with a huge smile and a finger pointed to a wall containing regally framed photos of 27 former Dodgers managers.
And a taped-up pic of Roberts wearing a goofy grin and backward cap.
"There he is, the newest manager," Roberts said with a chuckle. "One of the guys put it up there, and I just can't take it down."
He laughs at himself. He challenges himself. He challenges his team. Injuries are not an excuse. Shrugs are not allowed.
"What has happened this spring is not exactly how you'd want to write it up, but I'm not going to hang my head," Roberts said. "No distractions. Minimize the noise. Keep moving upward. That's what we've got to do."
There is another taped photo on his wall of Joc Pederson sitting at a spa receiving a facial. The players stop by to laugh at it. Yasiel Puig stops by every day to say hello. The office is a place of warmth. It is also a place of accountability, as he has also already summoned several players for scoldings, usually involving intensity.
''We're going to have a certain style, a certain mentality when we play," Roberts said. "That's what we're working on now."
The style and mentality of this team feels vastly different than in recent years under Joe Torre and Don Mattingly. It feels younger. It feels more alive. It's only spring, but it's a start.
"It's infectious, energetic, positive," catcher A.J. Ellis said. "It's fun every day to come to the ballpark."
New season, new attitude, even a new nickname. Many folks have starting calling Roberts "Doc," which sounds strange to those who knew him during his 10-year major league career, but whatever. It's a perfectly old-school baseball moniker that also relates to the sort of surgery Roberts is attempting on this team's insides. He acknowledges the players' vastly different personalities, but won't accept those differences leaking on to the field as in past years.
"You've got to let guys be individuals, but you also have to be accountable to your teammates, and there's certain lines you won't cross because you respect one another," said Roberts.
He has defined those lines with messages delivered in the sort of daily meetings that are usually found in the rickety clubhouses of rookie league teams. Players who once barely spoke to each other now stand in front of each other and share everything from their jokes to their histories.
"Some of the most phenomenal coaches I ever played for were on our previous staff, but sometimes those voices are drowned out or go stale," Ellis said. "The fresh voice has been great. There's been a running dialogue between Dave and the team, he's up there ad-libbing, improvising, asking questions, calling out some young guys, creating more dialogue."
Defining the line between himself and the front office led by Andrew Friedman and Farhan Zaidi is going to be more difficult. Roberts knows it probably would sound more traditionally managerial to claim he will make all decisions unilaterally, but he wants to be honest. No, he doesn't have to listen to anybody, but, yes, he will listen to everybody.
"I have as much control as I want, but I encourage as much information as I can get," he said. "The coaches are going to have thoughts, the front office is going to have thoughts, and once I get all their information, then I'll make my decision."
There is one thing Roberts must do on his own. He did it during a day off in the middle of last week. He flew back to San Diego to undergo his annual PET scan to check for a recurrence of Hodgkin's lymphoma, which he successfully battled in 2010.
"I do hold my breath, a little bit," he said.
Five hours later, he was informed that the scan was clean. An hour later he was sitting at his office desk, laughing, gesturing, managing.
"I'm in a great place, you know?" he said firmly, preparing himself for another bout with that hammer.
Follow Bill Plaschke on Twitter @BillPlaschke
ALSO
North Carolina's Roy Williams again will be the Final Four's best-dressed coach
Dodgers' Ross Stripling is still in the conversation for the rotation
Lakers teammates 'ticked off' at D'Angelo Russell because of secretly recorded video
---
Get our Dodgers Dugout newsletter for insights, news and much more.
You may occasionally receive promotional content from the Los Angeles Times.