North Carolina's Roy Williams again will be the Final Four's best-dressed coach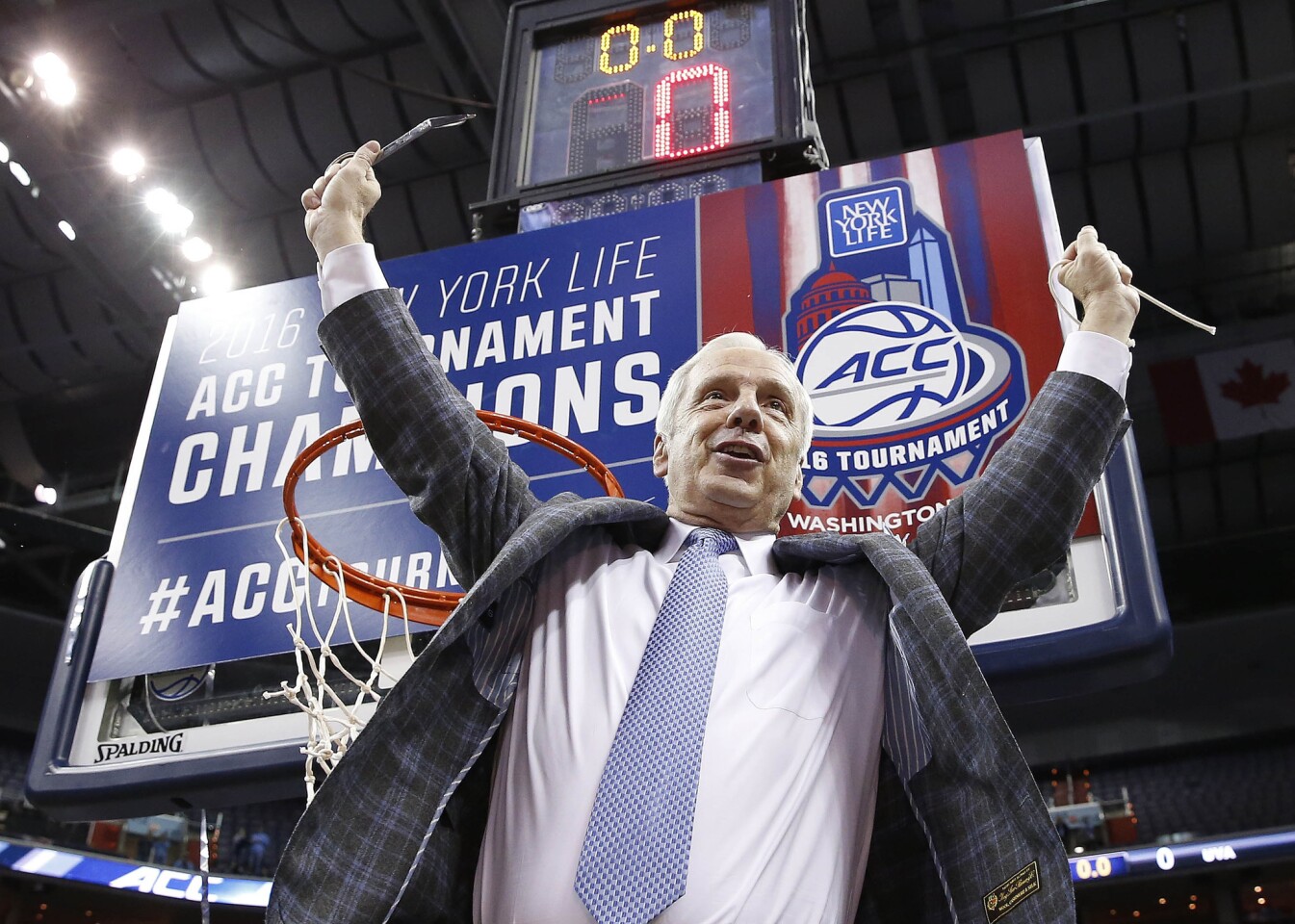 North Carolina Coach Roy Williams holds part of the net after his Tar Heels defeated Virginia in the ACC championship game on March 12.
(Alex Brandon / Associated Press)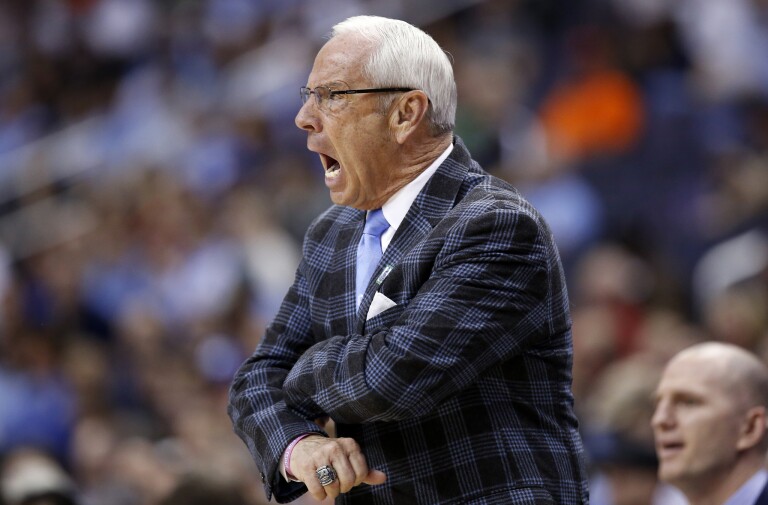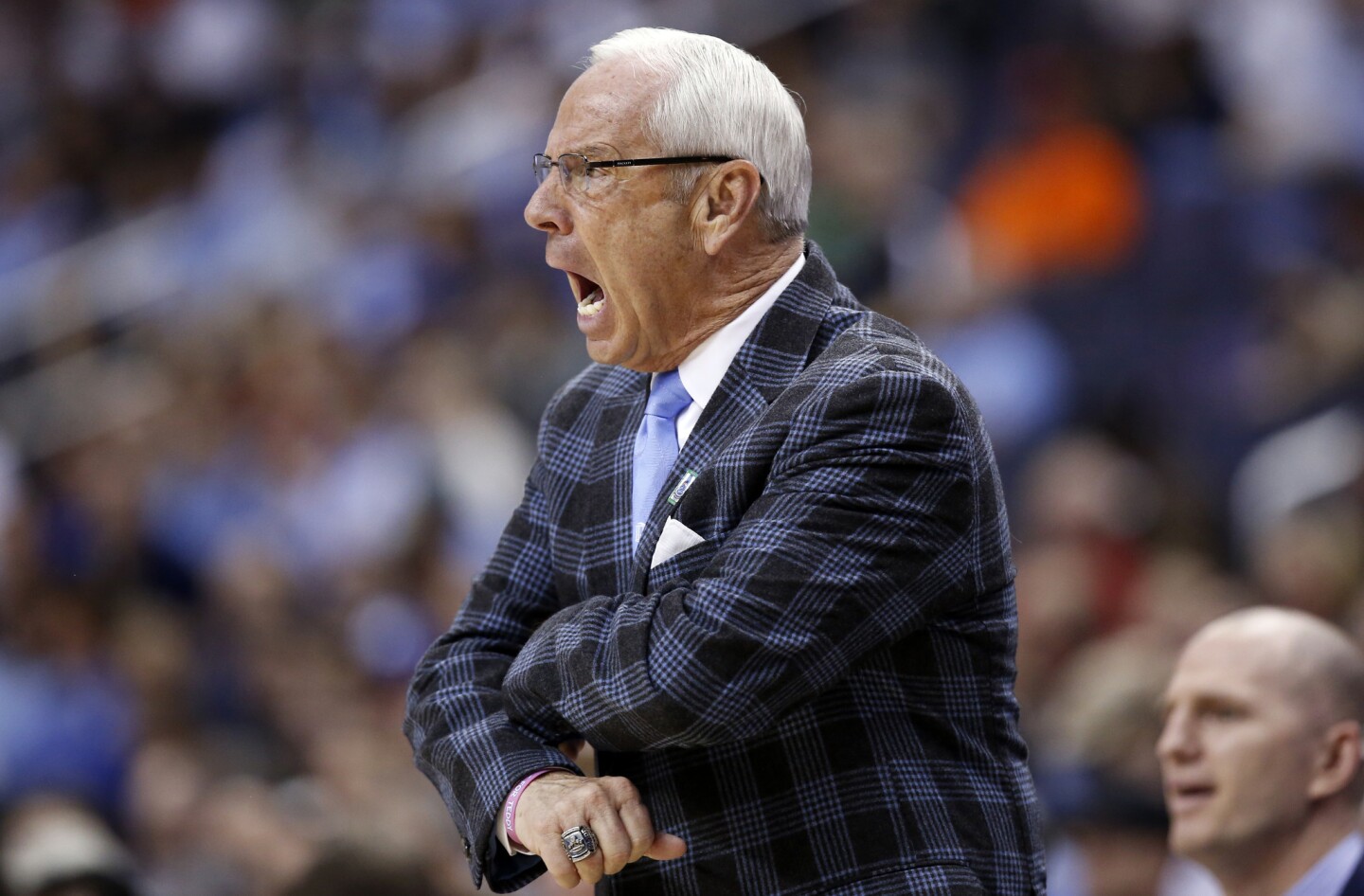 Roy Williams yells toward the court as his North Carolina Tar Heels play Pittsburgh in the ACC tournament on March 10.
(Alex Brandon / Associated Press)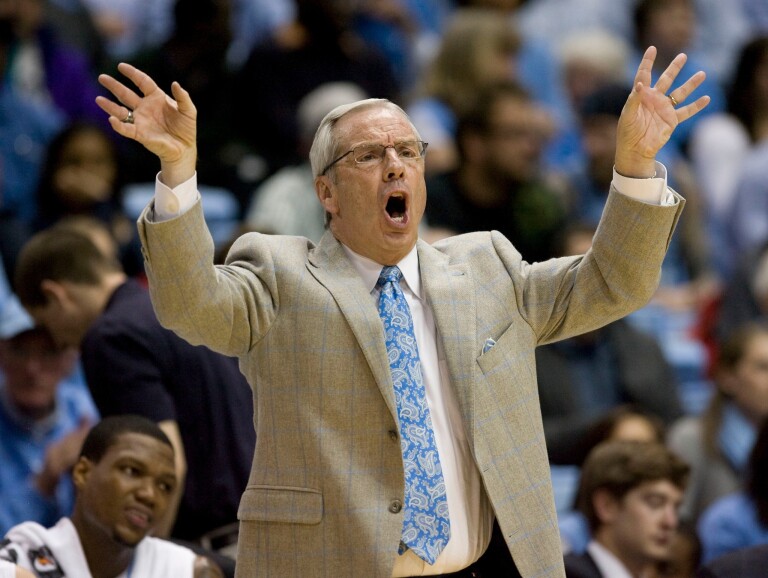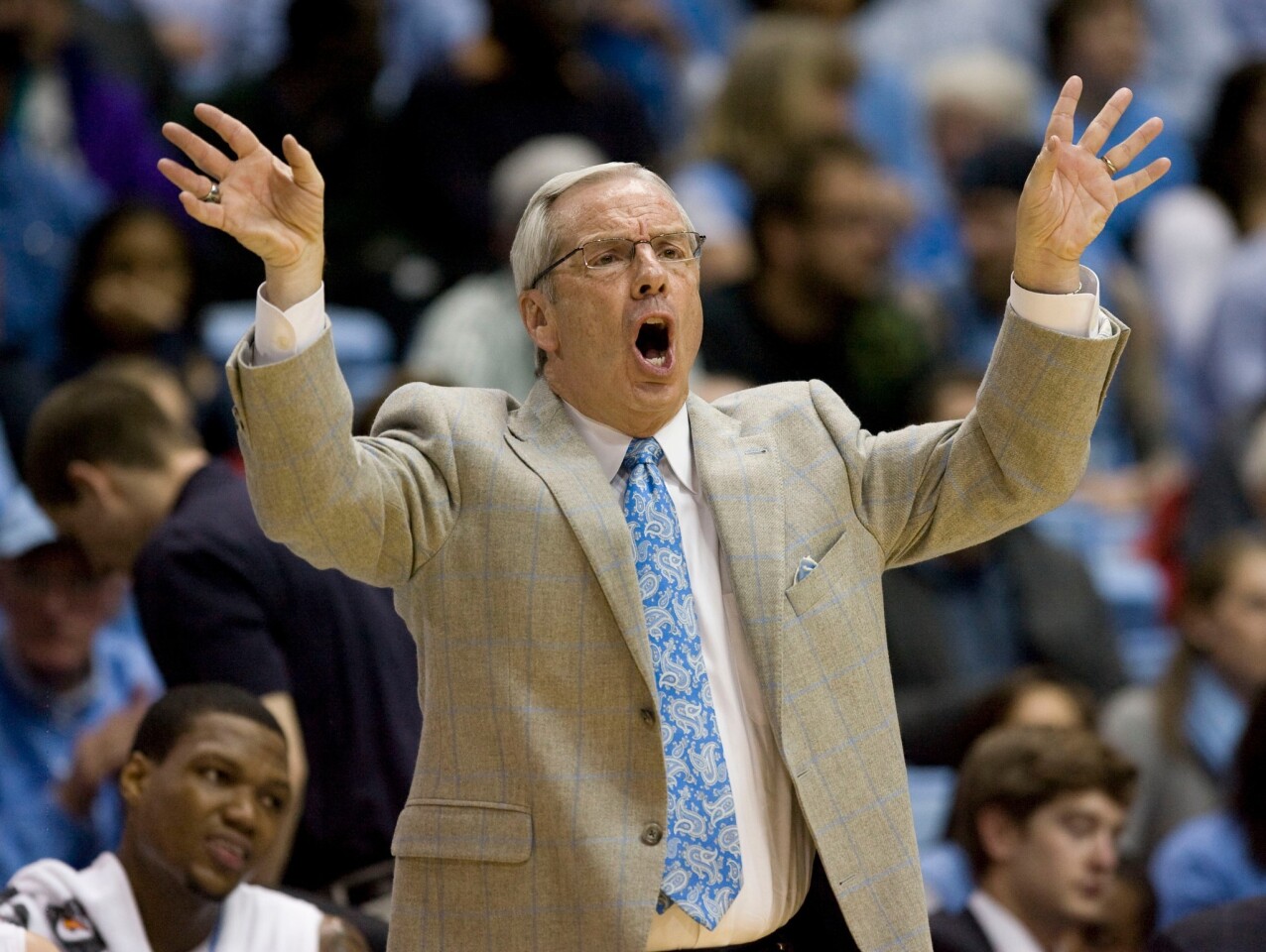 Roy Williams, shown coaching against the Tar Heels against Miami on March 2, 2010, often likes to get creative with his wardrobe.
(Robert Willett / Associated Press)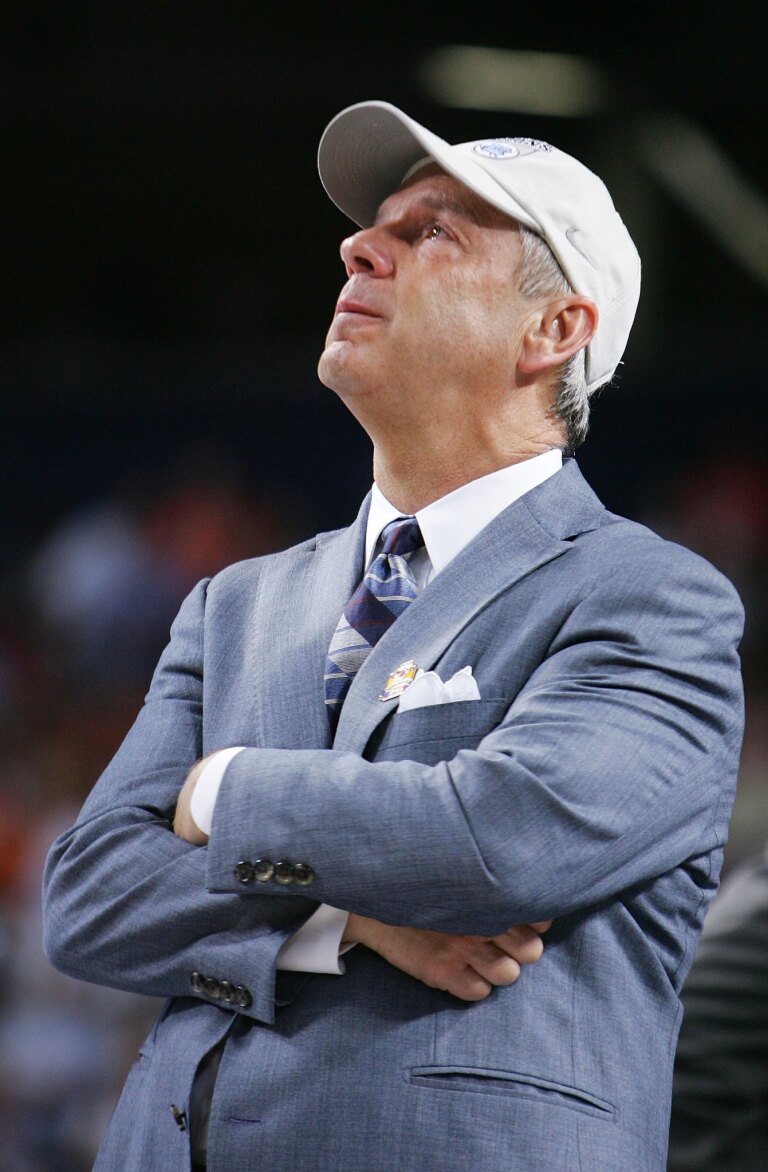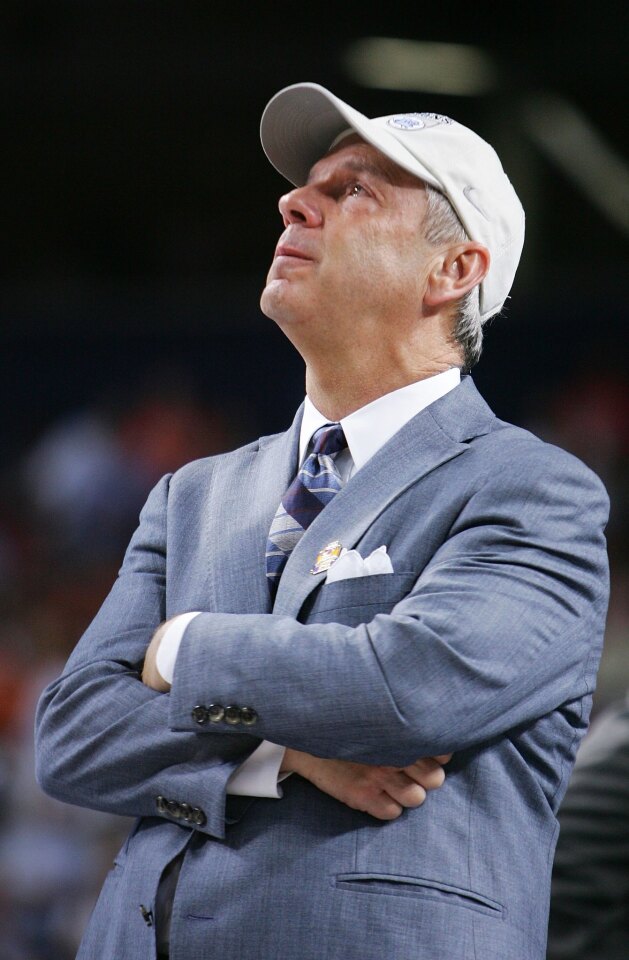 Roy Williams shows his emotions after the Tar Heels defeated Illinois to win the 2005 national championship.
(Elsa Hasch / Getty Images)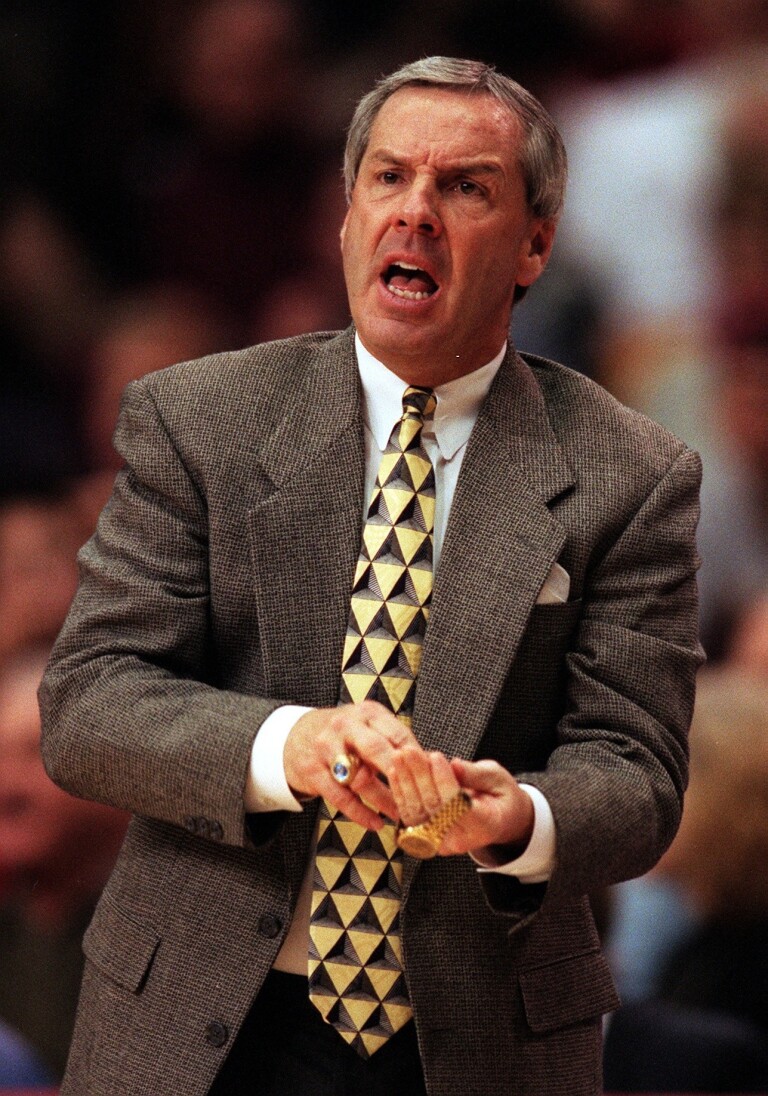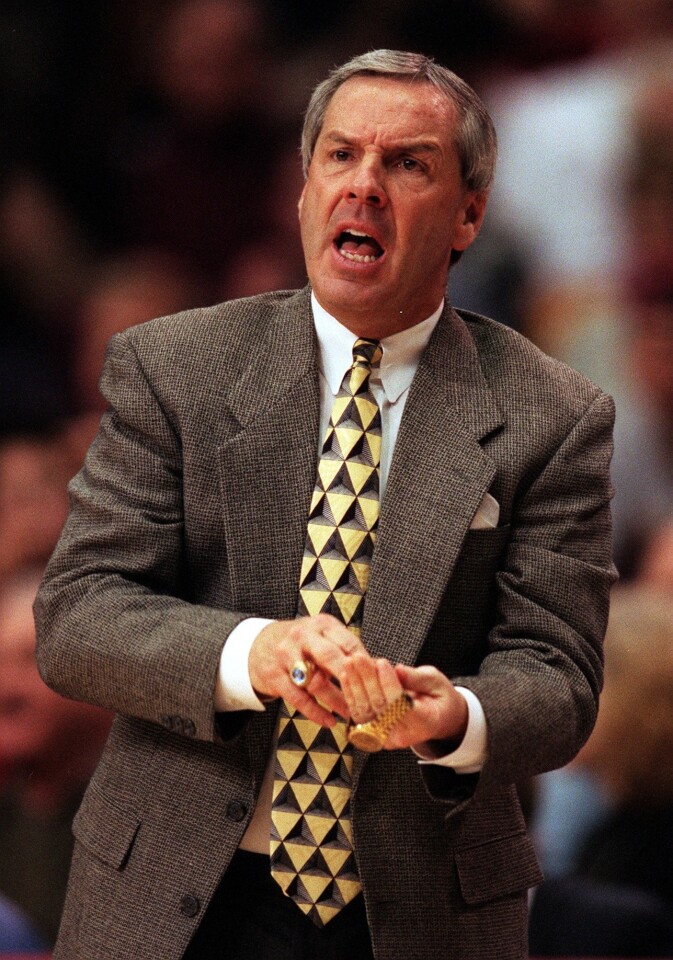 Roy Williams, shown in 1998, favored more drab suits while coaching at Kansas.
(Vince Compagnone / Los Angeles Times)
Roy Williams favors brighter suits more often these days, left, than he did back at Kansas, shown right in 1998.
(Streeter Lecka / Getty Images; Vince Compagnone / Los Angeles Times)
Julian's manager Bart Fox compares a fabric sample, an Australian wool and cashmere blend, to an identical suit worn by North Carolina Coach Roy Williams. Since Williams wore the suit, it has become a favorite of customers at Julian's.
(Zach Helfand)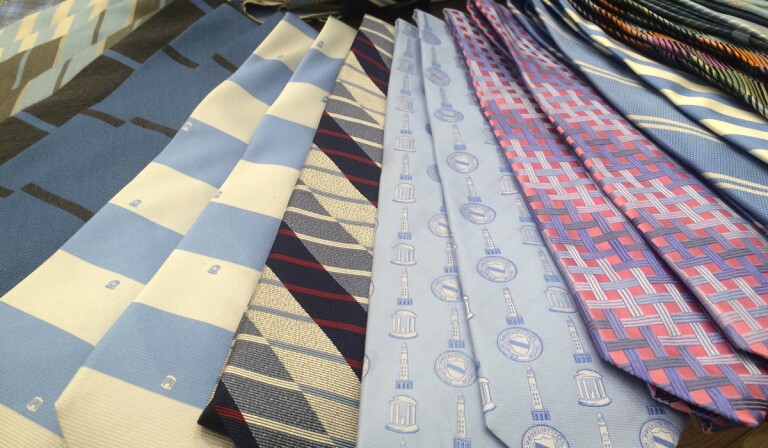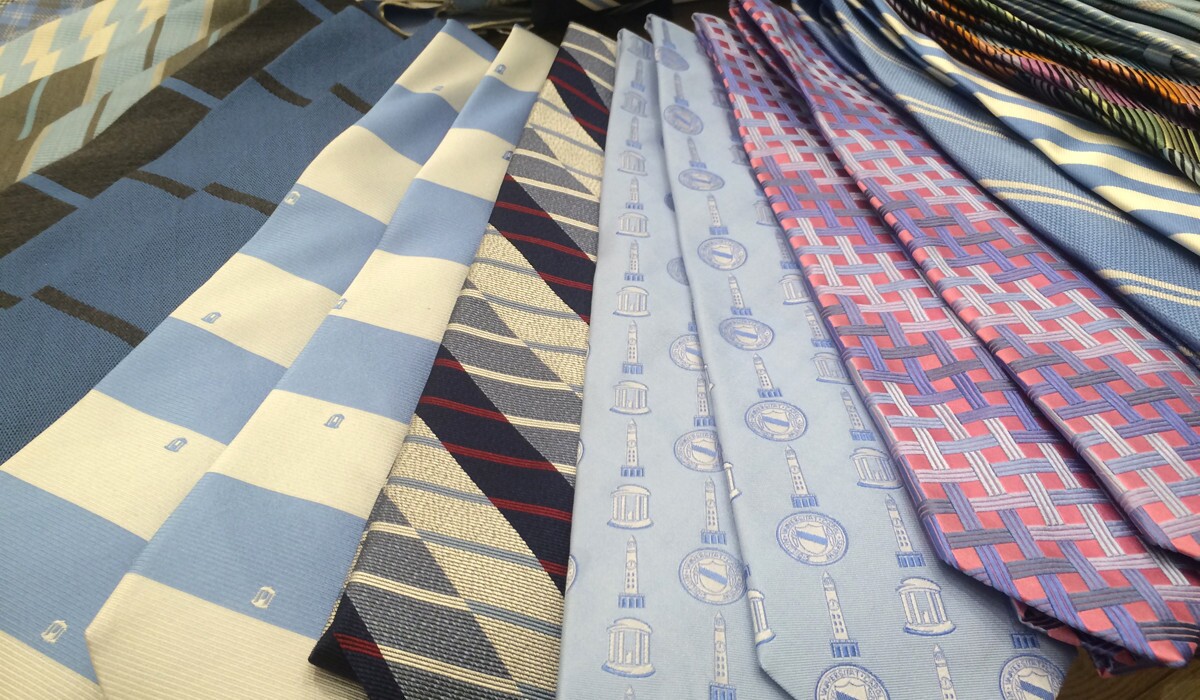 Many of Julian's ties display some homage to North Carolina. The striped tie (middle) was the same design worn by North Carolina Roy Williams during the 2005 national championship game
(Zach Helfand)
A suit on display at Julian's shows off plenty of Carolina blue. The shop can look like the inside of a robin's nest.
(Zach Helfand)
Reporting From CHAPEL HILL, N.C. —
The suit had a pattern of tiny Carolina blue checks, a white pocket square and specially crafted necktie, and when he was done designing it, Alex Julian thought it fit for a national champion.
Fortunately, he knew an aspiring one. He called Roy Williams.
"Coach," Julian said, "I've got a really good feeling about this one."
North Carolina's basketball coach isn't a superstitious man, but he also isn't one to risk an unlucky suit. He wore Julian's design a month later for the 2005 national championship game.
Williams got his title. The suit got a spot in the school's hall of fame.
"Ladies and gentlemen," Williams began his celebratory speech, "I owe it all to my lucky Alexander Julian suit and tie."
Among those who favor plaids and pastel blues, Williams will again be the best-dressed coach at this year's Final Four, where Williams' Tar Heels are the only top seed left. In Chapel Hill, he is known almost as much for his sideline attire as he is for his sleepy drawl and two national championships. One fan blog tracks Williams' suit and tie choices each game.
"In the world of clotheshorses," Julian said, "Roy is not only a thoroughbred, he is Secretariat."
For his silks and linens, he trusts no designer more than Julian, whose family clothing shop, Julian's, has been a staple on Chapel Hill's Franklin Street since 1942.
Julian has been the school's unofficial haberdasher, and its good-luck charm, for more than 25 years.
In 1990, when Dean Smith wanted to redesign the Tar Heels' uniforms, he called Julian. "This is like having God phone you and ask for new halos for the archangels," Julian said.
Julian drew up 30 different designs. Some leaked early, and everyone had a different preference. It was a nightmare. So Julian devised a solution.
"I asked Michael if he would weigh in," Julian said.
Julian's plan worked — who in town would dare disagree with Michael Jordan? And thus Julian's iconic argyle made its way into North Carolina's uniforms.
Julian said the design, with its diamonds and crosses, was evocative. "Some people thought that the argyle looks like a four-corners play," he recalled.
A season after the redesign, North Carolina won the national championship.
The design stuck, and later crept onto the sideline. Williams began patronizing Julian's when he was an assistant coach. Julian's suits, which can cost well into four figures, had long been an aspiration.
"When I was a student," Williams once told radio station WRAL, "I used to go in, but I couldn't afford anything."
When Williams became the coach in 2003, he visited the store for biannual fittings. Eventually, word got out.
"He'd get so swamped that we just felt really bad," said Bart Fox, Julian's nephew and the store's manager.
Now, before each season, Julian and Fox visit Williams' office. Julian discusses the new styles; Fox resizes Williams for fit.
Williams is versatile. He has classic single-breasted suits with traditional peak lapels. But he's also fond of bright patterns.
Players know it's a big game when Williams is wearing something extra nice. Walk-on Spenser Dalton said he especially liked the pink suit Williams wore at this season's first practice.
"He's a pretty fly dude, honestly," forward Joel James said.
Julian said Williams' style "is very Carolina," but it might be the other way around.
"There isn't a day that goes by in our store that someone doesn't come in and say, 'I saw Roy in that jacket! Roy has that tie! Roy has those socks!'" Julian said. Then they'll ask for the same. "He's a cultural icon for us."
Williams doesn't wear Julian's clothes exclusively. "Only the ones that look good," Fox joked.
But they are a favorite. Once, Fox said, an employee calculated Williams' winning percentage when the coach was wearing Julian's clothes. It was more than 90%.
Williams is a dream client for Julian, whose store has been in the family for three generations. Julian attended North Carolina. So did his father, a sister, a brother-in-law, four children and one wife.
Back when the Charlotte Hornets were the only professional team in the state, Julian designed their purple and teal uniforms. He declined a cash payment and instead asked for a monthly delivery: five pounds of hickory-smoked shredded pork. Julian was living in New York, and he longed for good Carolina barbecue.
Today, Julian's Chapel Hill boutique looks like the inside of a robin's nest. He has hatched Carolina-blue-splashed varieties of pretty much everything.
Julian has designed almost 1,000 articles of clothing for Williams, including one ensemble after the coach underwent rotator-cuff surgery. Williams couldn't wear a jacket because he was in a sling, so Julian produced a shirt with print that looked like a plaid sport coat. He then had a tailor take fabric from an argyle necktie for a matching sling cover.
This year, Julian designed Williams' suit for the NCAA tournament regional final. ("That was his 'I'm in charge' gray," Julian said. "And he was.") But two other suits might be more exciting. One is gray with a subtle blue plaid. The other is charcoal with a bold horse-blanket pattern.
Williams already won wearing both this postseason, and Julian reasons it's a decent bet he'll wear one again.
Either should look good sprinkled with confetti.
---
Get our high school sports newsletter
Prep Rally is devoted to the SoCal high school sports experience, bringing you scores, stories and a behind-the-scenes look at what makes prep sports so popular.
You may occasionally receive promotional content from the Los Angeles Times.