Dodgers prospect DJ Peters producing notable numbers despite being a work in progress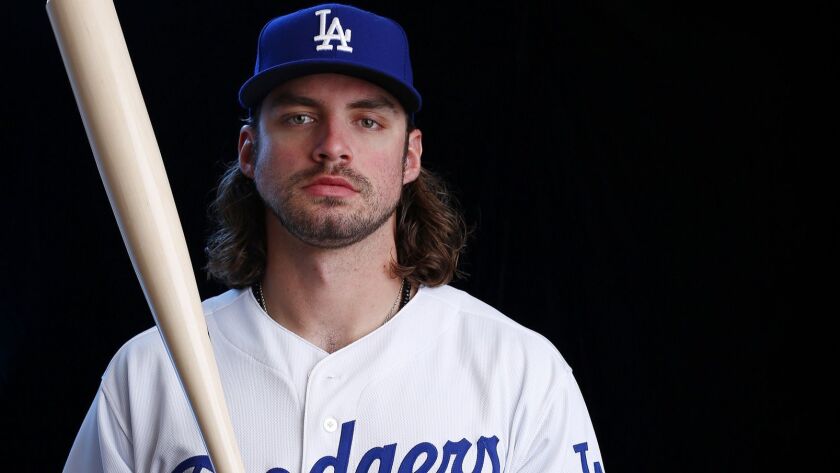 Reporting from Phoenix —
Introduce yourself to DJ Peters, and the Dodgers' top slugging prospect seems to shake your wrist along with your hand. That's how big and meaty the mitts of this 6-foot-6, 245-pound outfielder are.
"Yeah, I've always been big, ever since I was a baby," Peters said with a laugh. "I was 10½ pounds when I came out of the womb."
Peters has used his large, muscular frame to his advantage since he was a kid in Glendora, hitting prodigious home runs at every level. Now 23, Peters led the double-A Texas League with 29 home runs in 2018 and ranked third in the Class-A California League with 27 home runs in 2017.
But with size comes the challenge of synchronizing all of his body parts in a swing that can be far too long. Peters led the Texas League with 192 strikeouts last season and ranked second in the Cal League with 189 strikeouts in 2017.
"I'm a big guy with big levers — that can help me at times, and it can also get me in trouble," Peters said. "I know I can hit the ball out of any ballpark anywhere. I know I have the power side of it, the hits side of it, the walks. I just want to compete and put the ball in play more often with two strikes."
Peters worked extensively in the offseason with Dodgers hitting coach Robert Van Scoyoc, assistant hitting coach Aaron Bates, hitting strategist Brant Brown and hitting consultant Craig Wallenbrock to condense his swing and develop a better two-strike approach.
Peters spent countless hours hitting fastballs off pitching machines, focusing on those in the upper part of the strike zone, which have given him the most trouble.
The results have been noticeable to the big league staff in the nine exhibition games in which Peters has hit .235 (four for 17) with two home runs, a triple and three runs batted in.
"If I've seen one minor league player who has grown the most in the offseason, it's DJ Peters," Dodgers manager Dave Roberts said this week. "When talking about a swing change, a mechanical cleanup, he's as sound as he's ever been. Now you have to let it play into a season and see where it takes him."
A 2014 graduate of Glendora High, Peters was a fourth-round pick of the Dodgers after he hit .419 with 16 home runs as a sophomore at Western Nevada College in 2016. He hit .351 with a 1.052 on-base-plus-slugging percentage and 13 home runs in 66 games at rookie-league Ogden, Utah, in 2016.
After hitting .276 with an .886 OPS in 132 games at Class-A Rancho Cucamonga in 2017 and .236 with a .793 OPS in 132 games at double-A Tulsa in 2018, Peters is expected to open this season at triple-A Oklahoma City with a clear-cut goal.
"I really want to cut down those strikeouts by 40-50 a year and have a better two-strike approach, because when you put the ball in play, good things happen," Peters said. "I think I've shown that this spring so far."
Peters is still a work in progress. He fouled off three tough 1-and-2 pitches from Arizona reliever Bo Takahashi in the eighth inning of Saturday's game before striking out on a breaking ball.
Though he has shown good plate discipline in the minor leagues — he had 35 walks at Ogden, 64 at Rancho Cucamonga and 45 at Tulsa — Peters has five strikeouts and no walks this spring.
Peters has played mostly center field in the minor leagues and can play the corner spots. He has good speed, as he showed when he legged out a triple into the left-field corner against San Francisco on Monday and when he raced in to catch a fly ball in shallow center last week.
"I know I can run a little bit for a big guy," Peters said. "Some people are probably surprised that I play center field, but I know I can play it, and the Dodgers know I can play it. I feel really good out there. I'm getting really good jumps, and my arm is super strong. I just want to be a complete player."
If there is one part of the game that Peters has become proficient at by necessity, it's communicating with his fellow outfielders, calling for balls as loudly and as early as possible to avoid collisions.
This was especially useful last spring, when Peters played several exhibition games next to Yasiel Puig, the speedy and athletic 6-2, 240-pound right fielder who was traded from the Dodgers to Cincinnati in December.
Peters never played competitive football as a kid — he was a basketball and baseball player in high school — so he can only imagine how violent a collision with a player such as Puig would be.
Sign up for our daily sports newsletter »
"I don't even know what it would look like," Peters said. "I don't know who would go down first. That would probably be two very big bodies going down to the ground at the same time."
Short hops
Cody Bellinger, the outfielder and first baseman who was the National League rookie of the year in 2017, agreed to terms on a $605,000 contract for 2019, a $20,000 increase from his salary in 2018, when his contract was renewed by the team. Bellinger, who will be eligible for arbitration in 2020, played in 162 games last season, batting .260 with an .814 OPS, 25 home runs and 76 RBIs. … Pitcher Julio Urias, who has looked sharp this spring in anticipation of his first full season after 2017 shoulder surgery, agreed to terms on a $565,000 contract for 2019.
Up next
The Dodgers will play Cleveland at Camelback Ranch at 6 p.m. PST on Wednesday. Left-hander Rich Hill is expected to start for the Dodgers against right-hander Mike Clevinger. TV: SportsNet LA. Radio: 570.
---
Get our high school sports newsletter
Prep Rally is devoted to the SoCal high school sports experience, bringing you scores, stories and a behind-the-scenes look at what makes prep sports so popular.
You may occasionally receive promotional content from the Los Angeles Times.