Column: Dodgers get better of blockbuster deal simply by getting rid of Yasiel Puig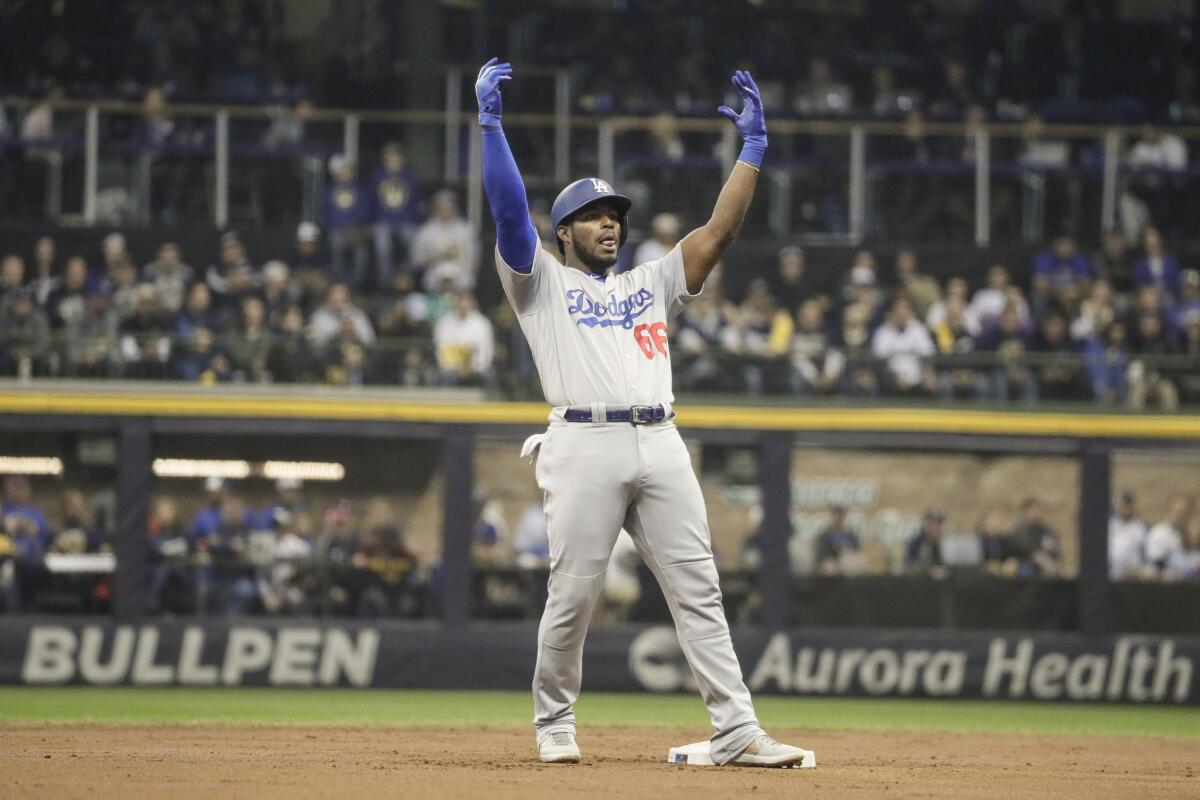 Yasiel Puig was energetic, exciting and fun.
Yasiel Puig was also selfish, irresponsible and ultimately destructive.
His success with the Dodgers was epitomized by that three-run home run in Game 4 of the World Series against the Boston Red Sox, the glorious flipping of his bat, the triumphant raising of the arms, the playful flex of his biceps for fan Kobe Bryant.
Yet his failure here was epitomized only a couple of weeks earlier when a base-running blunder against the Atlanta Braves earned him a rare playoff dugout scolding by manager Dave Roberts.
During his six seasons in Los Angeles, Puig captured the hearts of Dodger fans, but lost the trust of his team. He won moments, but cost games. He was their biggest star, but also their biggest clubhouse burden.
The most popular cheer at Dodger Stadium was, "Puiiiig."
But if that low guttural tone came from the dugout, it would often be a "Boooo."
Vin Scully delightfully called him the "Wild Horse."
But too many times, Puig acted like the wild rear end of that horse.
Mourn the loss of Puig you will — and surely you will — but the Dodgers got the better end of Friday's trade simply by getting rid of him.
In a deal that was all about dumping, the Dodgers traded Puig, Matt Kemp, Alex Wood and Kyle Farmer to the Cincinnati Reds for two minor-leaguers and a major-league pitcher, Homer Bailey, who was 1-14 with a 6.09 ERA last year and will promptly be released.
While the Dodgers received no guaranteed assets for three contributors, they freed up salary space to potentially improve their outfield with a free agent such as Bryce Harper or A.J. Pollock. Barring that, they could also use the financial flexibility to acquire a top starting pitcher, which, along with catcher, is one of their two biggest needs.
No matter what happens next, it was a win if only because they were finally able to send Puig packing.
It was a move they have been attempting for a couple of years, a move which has been promoted several times in this column space, a move which had become not just optimal, but necessary.
This being his final year before free agency, an arbitration year in which Puig was projected to make about $11 million even though he was no longer an everyday player, it was the perfect time. Cincinnati being the new home of his beloved batting coach Turner Ward, the Reds were the perfect place.
Hitting against all pitching in that homer-happy ballpark on the Ohio River, Puig will be fine. While Dodgers fans won't like this one bit, the team has to be thrilled.
No more wondering if Puig will show up on time, and whether he'll actually be invested once he's there. No more hoping he won't be so empowered by a diving catch that his next throw will sail purposely over the cutoff man. No more worrying that he'll become so starved for attention during the middle of a lazy July afternoon game, he'll try to steal third with two outs and kill another inning.
No more fretting about a plate approach that rarely included adjustments, base-running tactics that needlessly threatened potential big innings, and general disrespectful behavior that could be impulsively detrimental.
The beginning of the end occurred in August of 2016, when he was sent to the minor leagues for a month and promptly appeared in a video partying with his Oklahoma City teammates.
Perhaps the last straw happened in the middle of August of this season, when Puig shoved and slapped a taunting San Francisco Giants catcher Nick Hundley, resulting in a two-game suspension.
Make no mistake, his behavior wouldn't have mattered as much if his production equaled his distraction. But it didn't. He never quite lived up to that amazing rookie summer in 2013, never collecting more than 74 RBIs, and only once hitting more than 23 homers.
He was an average player. But man, he had his moments, and the Dodgers will miss those moments.
He was fearless in the postseason, with five homers and 18 RBIs in the last two Octobers. Not only did he have that mammoth blast in Game 4 of the recent World Series, but earlier his three-run homer in the sixth inning in Game 7 of the National League Championship Series against the Milwaukee Brewers basically gave the Dodgers the pennant.
Every time he came to the plate, Dodger Stadium buzzed, and his impact reached far beyond Chavez Ravine.
He was great in the community, especially with children, who he would entertain behind the batting cage before games. He was engaging on social media, the rare baseball player who connects with fans and isn't afraid to market himself.
When asked to assess Puig's career in Los Angeles, Dodger baseball boss Andrew Friedman summed it up perfectly with the first part of his answer in a Friday conference call.
"That's a very deep question," said Friedman. "Obviously he's made a tremendous impact on this team, on this community, he's an electric talent."
Friedman added, "Obviously going through the well-publicized issues in 2016, he was kind of at a fork in the road in terms of which way to go. To his credit, he put in a lot of hard work and focused on being a better teammate and performing more consistently and has been a big part of the success we had in 2017 and 2018."
No matter where you stand on the polarizing figure, there is a certain sadness to his departure, a sadness borne of a lost opportunity.
Puig could have been great here. He should have been great here.
When Puig first arrived in Los Angeles at age 22 after a harrowing journey from his Cuban homeland that was aided by smugglers from a Mexican drug cartel, his immaturity was understandable and his enthusiasm was infectious.
Perhaps he could have learned to channel that energy into greatness, but members of the Dodgers ownership group never forced him to grow up. Blinded by his ability to sell tickets, they enabled and empowered behavior that became more childish and disrespectful as his fame increased. They were always making excuses, always looking the other way, even to the point of not retaining his mentor and monitor Tim Bravo, the one man that could get through to Puig.
In the end, the only way the Dodgers could truly handle him was to trade him. Yasiel Puig was fun while he lasted. He just couldn't last.
Get more of Bill Plaschke's work and follow him on Twitter @BillPlaschke
Get our high school sports newsletter
Prep Rally is devoted to the SoCal high school sports experience, bringing you scores, stories and a behind-the-scenes look at what makes prep sports so popular.
You may occasionally receive promotional content from the Los Angeles Times.