Why Alex Wood is a luxury for the Dodgers and not a quandary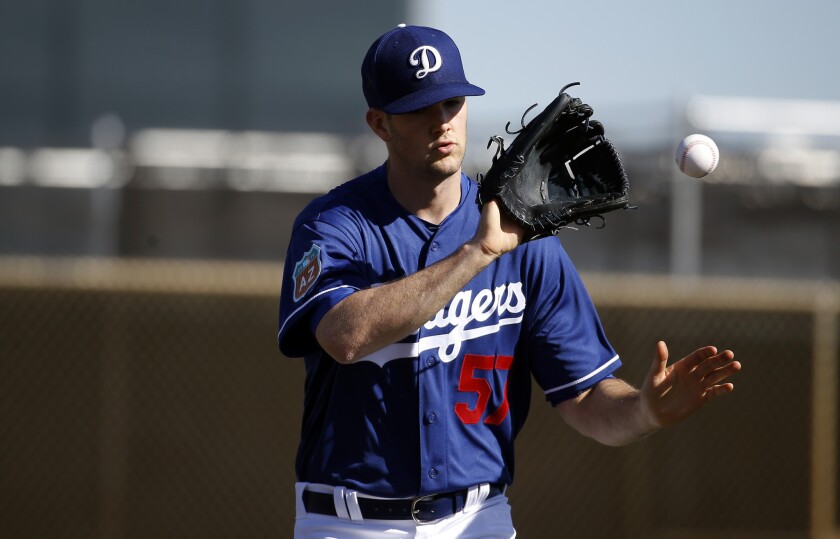 So Alex Wood wants and plans to start for the Dodgers. That's great, as it should be. Every manager hopes his pitchers want the ball.
Wood came to training camp all bold this month, declaring: "I'm going to be in the rotation. That's the plan .... And I don't plan on leaving."
Terrific, except, of course, there is one potential snafu to all this. He very well might not be in the rotation.
Wood's immediate future would appear to hinge largely on the return of Hyun-Jin Ryu. If Ryu is able to come back from his shoulder surgery and open the season in the rotation, Wood looks to be the odd man out. Which would either send him to the bullpen, where the Dodgers aren't exactly in need of another left-hander, or, worse for him, back to the minors at age 25 after three seasons in the majors.
These things often have a way of working themselves out, like someone coming up with an injury that prevents them from taking a regular turn in the rotation. The Dodgers have already said that Ryu is about two weeks behind the other pitchers and wisely plan on going very slowly with him. It's easy to foresee them deciding to start him on the disabled list to continue to build arm strength.
And Wood allows them to play it safe with Ryu. Whether he ends up being in the rotation all season, making spot starts, shuttling back and forth to triple-A or whatever, he is a valuable piece to have.
Barring some spring setback, the Dodgers rotation will feature Clayton Kershaw, Scott Kazmir, Kenta Maeda, Brett Anderson and either Ryu or Wood. But setbacks are near inevitable during the course of the season. Last year the Dodgers lost Ryu and Brandon McCarthy in April. By the middle of May, they had already used nine different starting pitchers.
Maybe the way Wood performed last season with the Dodgers left you less than giddy at the prospect of him back in the rotation. If he wasn't the major disappointment of the other midseason starter pickup (Mat Latos), neither was he some kind of raging success (5-6, 4.35 ERA, 1.27 WHIP in 12 starts).
But this is the left-hander who the previous year went 11-11 with a 2.78 ERA and 1.14 WHIP, and now there is suddenly a lot of talk about how he sprained his ankle with the Braves just prior to the trade and developed a bone bruise that knocked his delivery out of whack.
"He had some nicks and bruises and some things that he was dealing with last year," Dodgers General Manager Farhan Zaidi told The Times' Andy McCullough. "I absolutely don't think we saw the best he had to offer. We saw it in little glimpses."
The bone bruise now healed with an off-season's rest, the Dodgers anticipate the pitcher they expected and not the one who showed his potential in glimpses.
Spring games do not begin until March 3, so there is plenty of time to figure out who's ready to rock and roll and who needs more time. If Ryu is deemed healthy enough to enter the rotation at the season's start and the others are all healthy, the Dodgers could be looking at a difficult early decision with Wood.
Compared to how last season unfolded with the rotation, it's a stupendous problem to have. A veritable luxury.
---
Get our high school sports newsletter
Prep Rally is devoted to the SoCal high school sports experience, bringing you scores, stories and a behind-the-scenes look at what makes prep sports so popular.
You may occasionally receive promotional content from the Los Angeles Times.