Dave Roberts' first call: Clayton Kershaw will be Dodgers' opening-day starter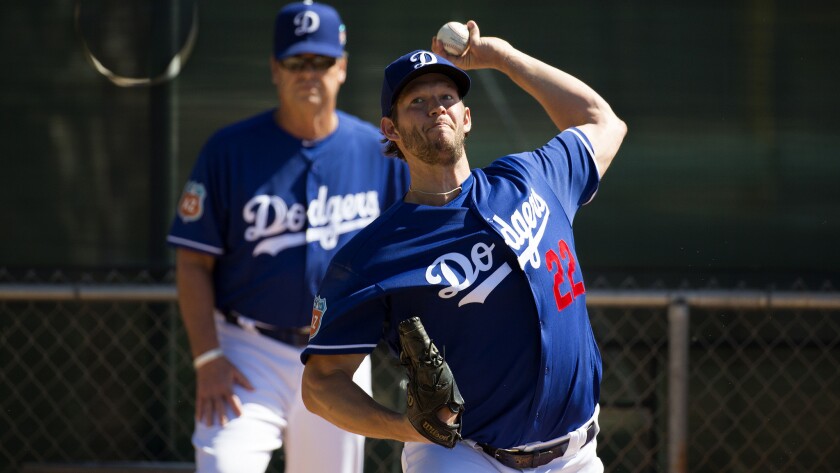 The managerial career of Dave Roberts has just begun, but surely few decisions will be easier than this. Dodgers left-hander Clayton Kershaw will start opening day, April 4 in San Diego, Roberts announced Sunday morning at Camelback Ranch.
"That was a tough one," Roberts said. "That was one of the harder managerial decisions I've had to make. After a lot of review and thoughts, we came to that conclusion."
Roberts maintained a straight face through the sarcasm. The placement of Kershaw at the front of the Dodgers' rotation has never been questioned. The order of the pitchers behind him is a more intriguing subject.
Kershaw will also start the Cactus League opener Thursday against the White Sox. At this point, it appears Scott Kazmir will be the No. 2 starter, followed by Kenta Maeda and Brett Anderson. Alex Wood looks like the favorite for the fifth spot.
Kazmir threw live batting practice Sunday, a day after Kershaw did the same. Maeda will start against the Diamondbacks on Saturday, two days after Kershaw faces Chicago.
Roberts insisted the rest of the rotation is not iron-clad, and that observers should "not read a whole lot into that."
"With respect to the other guys in the rotation, we've still got time," Roberts said. "And there's off days and things like that. So that's definitely not set in stone."
Koufax says he has retired
Sandy Koufax released a statement through the Dodgers emphasizing his continued connection to the club, but announcing his retirement from baseball. Two days before, the team confirmed that Koufax was no longer a member of their front office.
"I'm 80 years old and I have retired," Koufax said in the statement. "I have not quit. I'm still part of the Dodgers' organization and always will be especially as long as Mark and Kimbra Walter are part of ownership.
"I will do most of what I have done in the past with no official title. I hope all the players, coaches, manager and everyone else in the clubhouse have successful and healthy seasons with a spectacular ending. See you Opening Day."
Koufax had been a special assistant to Walter, the team's owner and chairman, since 2013. He visited Camelback Ranch on Friday.
Gonzalez sits out because of neck issue
Adrian Gonzalez missed Sunday's workout because of a flare-up of a chronic neck condition that he has dealt with for the last five years. Gonzalez aggravated his neck during a baserunning drill Saturday.
During the winter, Gonzalez visited with doctors who confirmed he has a bulging disc on the right side of his neck.
"It's basically pain management," Gonzalez said. "I've got to stay away from things that irritate it. I wasn't smart yesterday. During a normal baserunning drill, I did something to irritate it."
Gonzalez said the condition cannot be surgically corrected. The doctors told him any procedure would be "too risky."
"My last year in San Diego is when I started having chronic neck issues," Gonzalez said. "And I've had it since."
Follow Andy McCullough on Twitter: @McCulloughTimes
---
Get our Dodgers Dugout newsletter for insights, news and much more.
You may occasionally receive promotional content from the Los Angeles Times.