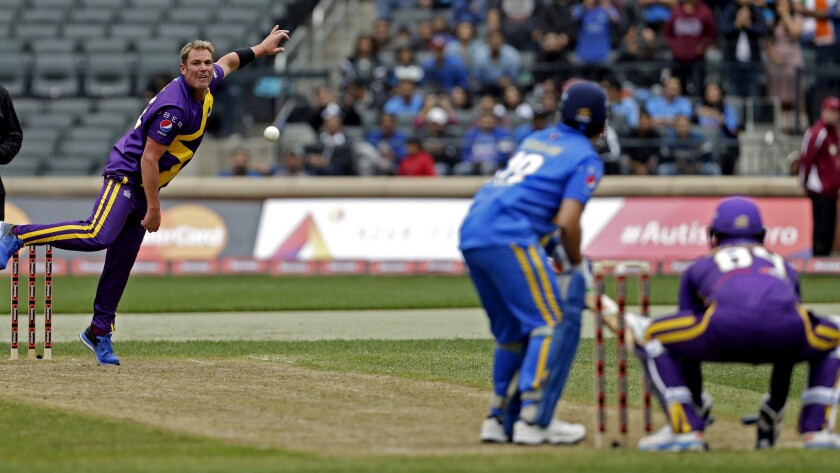 It was almost a year ago that Shane Warne picked up the phone to call his friend in India.
As one of the top cricketers in history, the Australian had an idea he wanted to share with another great from the sport, Sachin Tendulkar.
"We are both very passionate about the game," Warne said. "And we both love America."
It was a simple plan: Assemble two all-star teams for a tour of the U.S. and play the games in Major League Baseball parks.
The tough part? Getting people to come watch.
"It's a sport-loving nation," Tendulkar said. "But this would be a challenge."
The Cricket All-Stars series, which began in New York, makes its final stop in Los Angeles this week. The 6:30 p.m. match Saturday will mark the first visit to Chavez Ravine for an ancient game of bats and balls.
"I've seen Dodger Stadium only in photographs," Tendulkar said. "To go there and play cricket, for a sportsman, it's something special."
Though cricket is played by an estimated 120 million people worldwide, it has never caught on in America.
The game is similar to baseball in that each team sends a series of batsmen to face a pitcher — known as a bowler — who throws a ball made of cork and wound string, covered in leather.
There are also big differences.
Pitches known as googlies and yorkers bounce before reaching the batsman. The bat is broad and can hit in a range of directions around an oval-shaped field.
Defensive players manning positions such as slips, fine leg and gully spread themselves in a wide array, trying to catch the ball barehanded and stop runners who sprint back and forth within a rectangular pitch in the middle of the field.
Innings can stretch for hours.
The Cricket All-Stars tour features 29 of the best players from the past two decades, with a roster including renowned batsman Brian Lara of Trinidad and Tobago and bowlers Wasim Akram of Pakistan and Glenn McGrath of Australia.
Warne, famed for his bowling skills, has come out of retirement to be one of the captains. Tendulkar has done likewise after a career that saw him help India to the 2011 World Cup and become the only player to complete 30,000 runs in international competition.
It's the rock-and-roll version. Huge hits and lots of fielding.
Shane Warne, on the Cricket All-Stars series
After their initial telephone conversation, the pair turned to Ben Sturner, a New York-based sports marketer, for help. Sturner had previously staged a Harvard-Yale hockey game at Madison Square Garden.
"We put our heads together," the head of Leverage Agency said. "If you're going to do something with these guys, you don't want to do it at the local cricket grounds."
Assembling the rosters and lining up open dates at Citi Field in New York, Minute Maid Park in Houston and Dodger Stadium took awhile. It was decided the teams should play a specific type of cricket.
Twenty20 is the shortened form of a sport whose matches can last for days. The average T20 playing time is about three hours.
"It's the rock-and-roll version," Warne said. "Huge hits and lots of fielding."
There will be some American touches, with cheerleaders and a disc jockey to play during breaks.
The tour coincides with cricket officials' visiting the International Olympic Committee in Switzerland to ask that their sport be returned to the Games after making its only appearance in 1900.
The addition could occur as soon as 2024, the same Olympics for which Los Angeles is bidding.
This week, tour organizers are hoping to get some promotional help from expats living in the region.
"I have a lot of friends from India who have gone to America to study or settle," Tendulkar said. "They had no idea about baseball or basketball when they moved, but the locals took them to games and they started liking it."
Now, perhaps, some of those people will reciprocate by inviting the locals to an unfamiliar game.
"Hopefully they'll come and have a look," Warne said. "It's an opportunity for us to spread the word of cricket."
Twitter: @LATimesWharton
---