Why food at Dodger Stadium isn't as good as that at San Diego's Petco Park
Reporting from SAN DIEGO —
As Ruth Lester waited for her food from a concession stand at Petco Park, she peeked at the adjacent stand. The steak tacos from Lucha Libre Taco Bar looked enticing. But then Lester got her order – a shrimp taco and a mahi-mahi taco from Blue Water Grill – and she was delighted with the freshly made meal she had just been handed.
"I'm excited about this food," she said.
Lester echoed a common refrain among the thousands of Dodgers fans who invade Petco Park every season and drown out the "Beat L.A." chants from the home fans. The Dodgers usually win, and their fans return to Los Angeles wondering why the food at Dodger Stadium cannot be as good as the team that plays there.
From crispy coconut shrimp to clam chowder, and from tri-tip nachos to a burrito packed with steak, shrimp and avocado, Petco Park offers culinary delights that go far beyond hot dogs, peanuts and Cracker Jack.
The Padres still sell that traditional fare, in partnership with a national stadium concessionaire. What makes Petco Park a dining destination is the restaurants that set up shop within the ballpark – 16 this season, most of them San Diego favorites.
"I love my Dodger dogs, I swear by my Dodger dogs," said Ben Nieberg, a San Diego lawyer who grew up going to games at Dodger Stadium. "But it's nice to have diversity as well. L.A. is one of the culinary capitals of the country. They have to bring that to Dodger Stadium."
According to Erik Greupner, the Padres' president of business operations, the team took to Twitter in 2012, asking its fans a simple question: What's the best hamburger in San Diego?
The winner: Hodad's, a beloved Ocean Beach burger joint once featured on the Food Network's "Diners, Drive-Ins and Dives." The Padres invited Hodad's to become the first tenant in a ballpark food heaven that has grown to include one restaurant that features a pizza oven imported from Italy and another that cooks on monster-sized barbecue grills.
"We've never been big into gimmicks here," Greupner said. "Anybody can make a five-pound hot dog. We'd rather serve the very best, fresh flavors of San Diego in the ballpark than be known for creating the Frankenstein dog."
Dodger Stadium this year introduced a hot dog that costs $21 and weighs in at just more than one pound. Two years ago, it sold a hamburger topped by a hot dog.
It is not alone in the craze of ballpark food oddities. The Texas Rangers' ballpark this season sells a two-pound chicken strip called "The Fowl Pole." At last month's MLB Food Fest in Los Angeles, where each team presented a popular concession item, five types of hot dogs were available, including one stuffed inside a pickle (the Rangers again) and another breaded in Fritos (the Houston Astros).
Sign up for our daily sports newsletter »
The Angels, whose concession space was enhanced in a 1996 stadium renovation, offer a selection of food from national chains, including Chronic Tacos, Yogurtland and Jersey Mike's (not coincidentally, Mike Trout is from New Jersey).
In this case, invention is one part novelty, one part necessity. Ballparks are about feeding thousands of fans in a short period of time, where a popular restaurant might feed dozens in the period, with ample kitchen space to prepare complex dishes. Dodger Stadium opened in 1962 with only one primary kitchen and two finishing kitchens for heating and garnishing food.
"What Petco has done is great, great, great," Dodgers President Stan Kasten said. "When [Dodger] Stadium was built, and when it was designed in the late '50s, there were three basic things sold in stadiums: hot dogs, Coke and beer. To this day, those are still the three things sold the most. Only today, we have much, much more in the way of variety.
"This stadium is going to be the most magnificent place ever to play baseball, and it will remain that way for a century, I think. But it's not a new stadium."
The Oakland Coliseum opened in 1966, so the Athletics face a challenge similar to the Dodgers'.
Although a modern ballpark might have six or seven kitchens, the Coliseum has two, A's President Dave Kaval said.
In response, the A's have added food trucks to the ballpark menu, with six to 12 at each game, parked in an area ticket holders can access. Food trucks are kitchens on wheels, so they are not affected by the minimal kitchen space in the stadium.
Kaval said the A's rotate the trucks to increase the choices available to fans, from Vietnamese noodles to Texas barbecue, from sushi to vegetarian curry wraps.
"It's a great opportunity for the small business owners that control the trucks," Kaval said. "They're mostly from Oakland. And it adds a level of variety and food options that fans really enjoy."
In 2014, the Dodgers expanded the outfield area to add concession stands – and the kitchens to support them – for a barbecue joint in left field and Tommy Lasorda's Trattoria in right field. Kasten said the Dodgers plan to further expand dining options as part of the next wave of renovations, some perhaps in time for the 2020 All-Star Game at Dodger Stadium.
He isn't sure food trucks are an answer, in the interim or otherwise. But, he said, the Dodgers soon plan to unveil a series of what they call "pop-up restaurants" – local restaurants setting up shop within existing outfield concession spaces at Dodger Stadium. He wouldn't identify which restaurants might be involved in the pilot program, but he did say they would be rotated, one homestand at a time.
"If something's popular, we'll find a way to have it available even more," Kasten said.
In the meantime, Kasten takes comfort – as do millions of fans each season – in the iconic Dodger dog.
"The Dodger dog continues to be the number one-selling hot dog in all of baseball," he said. "It laps the field."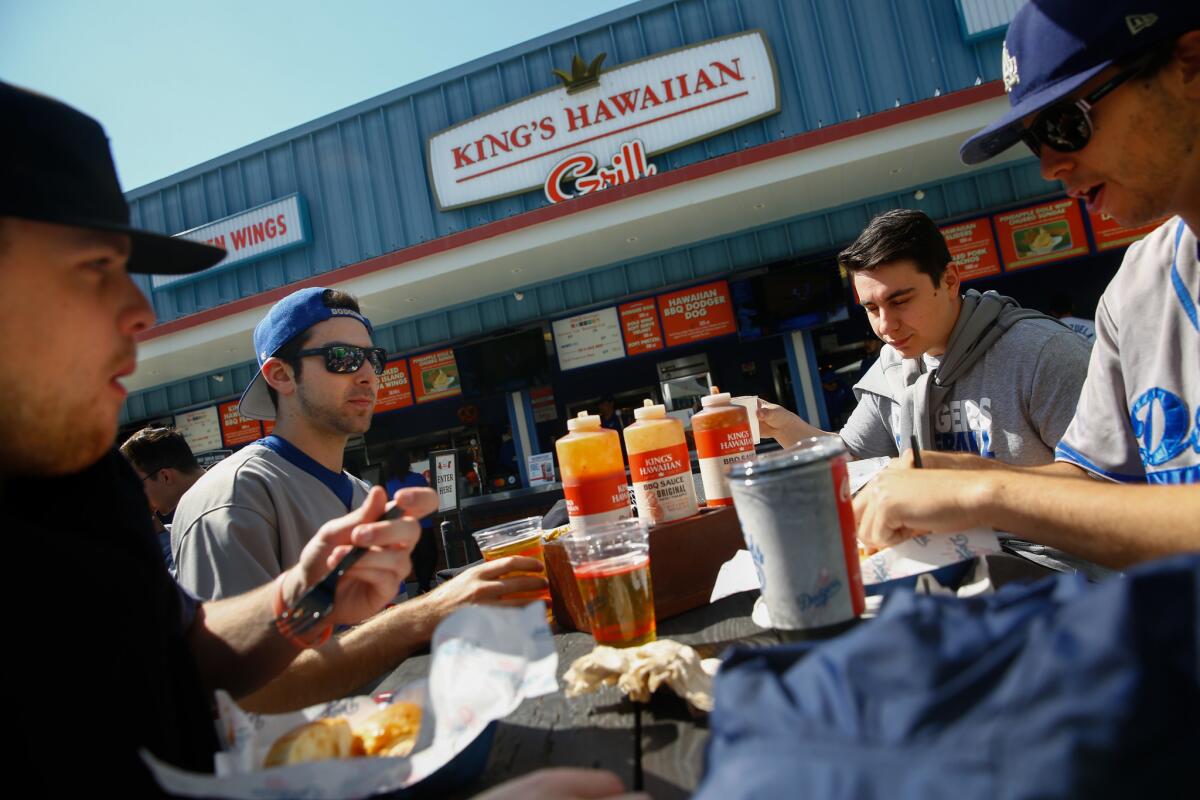 In San Diego, where Greupner said the Padres have retrofitted Petco Park to ensure that each "key food concept" has a kitchen to support it, the food fair rolls on. Padres' food and beverage sales have jumped by 110% since the team first welcomed restaurants into the ballpark seven years ago, spokesman Craig Hughner said.
"We want our fans to come into the ballpark and feel like they're moving from neighborhood to neighborhood throughout San Diego," Greupner said, "as they go from restaurant to restaurant."
The Dodgers have delivered a division champion in each of the last six years, a World Series appearance in each of the last two. The Padres promise better days ahead, with a touted collection of young talent, but they have not posted a winning record in nine years. They have not advanced to the playoffs in 13 years. Yet their attendance increased last year, and Greupner proudly offered one explanation.
"We've drawn the casual fan here," he said. "They may not be as into baseball, but they really love the foodie experience they have here, and they love the social and communal experience."
Dodgers fans in San Diego love the experience too, and not just because they enjoy their team beating up on the Padres.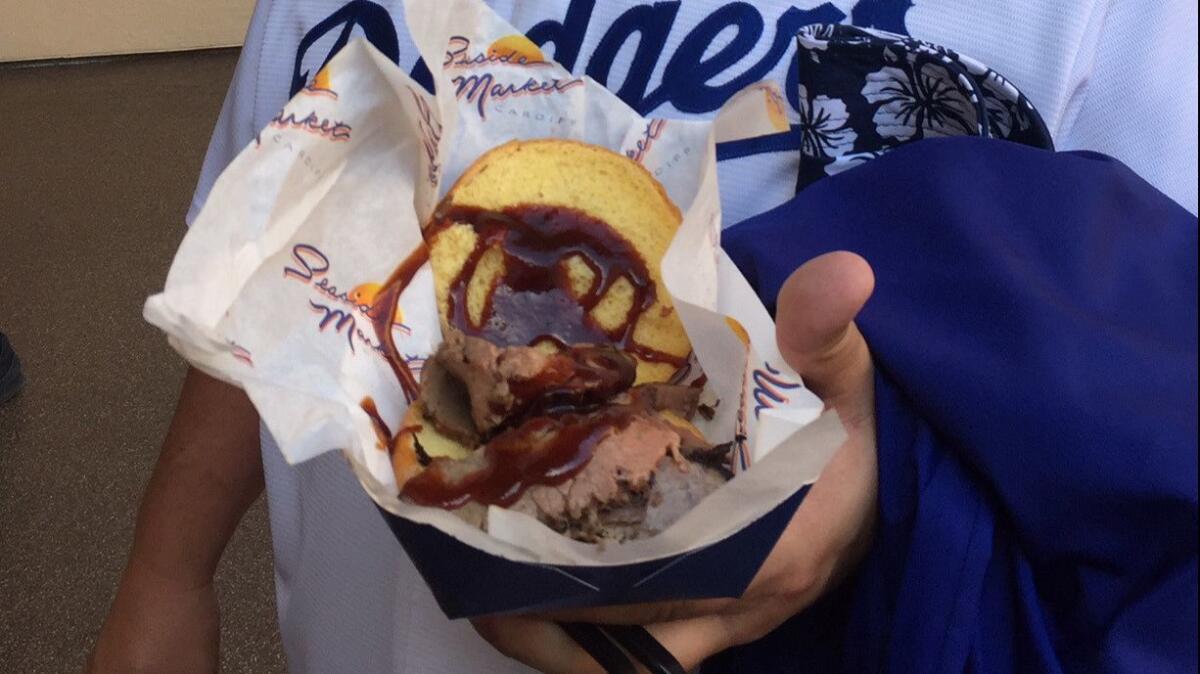 Steve Cardenas said he has visited more than a half-dozen major league ballparks and said the food at Dodger Stadium does not measure up. He spoke from Petco Park as he held up a Seaside Market Famous Marinated Tri-Tip Sandwich, advertised with the motto "So good it ought to be illegal."
Lester, the Dodgers fan who ordered the shrimp and mahi-mahi tacos, was in a hurry to catch up to her husband and his friend. The husband had ordered from the cheesesteak stand; the friend went with a burger from Hodad's.
"You can do all that here," Lester said. "And I'm going to the wine bar."
Follow Bill Shaikin on Twitter @BillShaikin
Get our Dodgers Dugout newsletter for insights, news and much more.
You may occasionally receive promotional content from the Los Angeles Times.