Dodgers' rotation remains work in progress after 5-4 loss to Marlins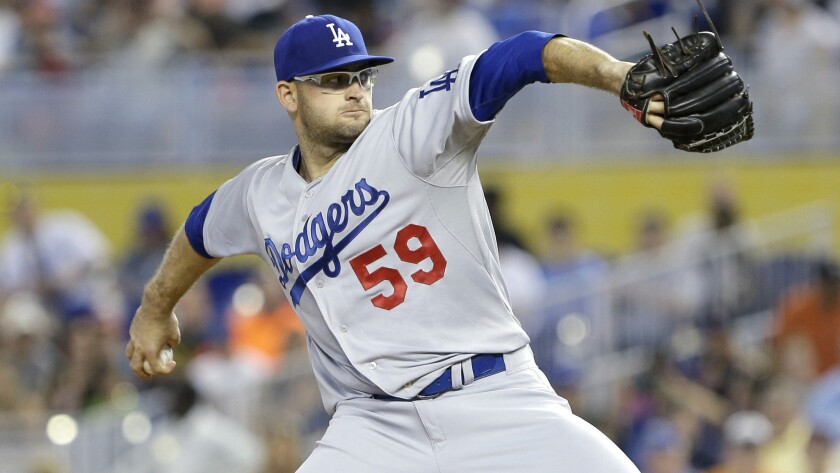 Reporting from Miami —
When Stephen Fife took the mound Sunday, he became the second member of the Albuquerque Isotopes' rotation to start a game for the Dodgers in the last four days.
And he probably won't be the last. Because while pitching — especially starting pitching — was supposed to be the Dodgers' strength this season, six weeks into the schedule the staff remains very much a work in progress.
Three of the team's top five starters have spent time on the disabled list and even Clayton Kershaw's return from the DL on Tuesday won't make the rotation whole again. That's because left-hander Hyun-Jin Ryu returned to Los Angeles on Sunday to have his sore shoulder examined by team physician Dr. Neal ElAttrache.
BOX SCORE: Marlins 5, Dodgers 4
Which means the team could be seeing more of pitchers like Fife, who gave up seven hits in six-plus innings Sunday in a game the Miami Marlins won in the ninth, 5-4, on Jeff Baker's two-out walk-off double.
Dodgers Manager Don Mattingly wouldn't say whether Fife's performance was good enough to earn him another start. "We'll see with all that," he said. "We kind of have a plan in place. He came in and he did his job and we'll see where it goes from there."
With Ryu ineligible to come off the DL until next week, the Dodgers will need someone to start in his place this weekend.
"You'd love to have the same five guys go out there and everybody get their 30 starts," pitching coach Rick Honeycutt said. "It's not going to happen all the time. The game dictates what we have to do. It's a juggling act at times."
And the Dodgers have gotten very good at juggling. Last season they used 11 starting pitchers and got more than 30 games out of just one, Kershaw, who won the Cy Young Award.
Six weeks into this season they're already ahead of that pace, having used eight starters in their first 32 games — and seven different ones in the last seven games.
One of those, right-hander Red Patterson, made his major league debut Thursday against the Minnesota Twins while veteran left-hander Paul Maholm, signed over the winter primarily as an insurance policy, has pitched in more games than the team's top two starters, Kershaw and Zack Greinke, combined.
"There's no rhyme or reason," Honeycutt said. "You'd love to just pencil in five guys pretty much like you pencil in eight [position players] every day. But it just doesn't happen that way."
Yet the banged-up rotation hasn't just weathered the injury storm, it has sailed through it with the starters combining for a baseball-best 14-5 record and 2.99 earned-run average.
The bullpen? Well, not so much.
The loss Sunday was the ninth of the season for a Dodgers reliever, also tops in the majors. And that, too, may be related to the patchwork rotation, which is averaging less than six innings a start. As a result, the bullpen has already thrown 114 innings, second-most in baseball.
Jamey Wright, who took the loss Sunday, finished the game leading NL relievers in innings while J.P. Howell and closer Kenley Jansen have both been in 18 of the team's 32 games, leaving them on pace to appear in more than 90 games over a full season.
"The season's been kind of, I don't want to say rocky, but your starters are going to determine bullpen usage," Honeycutt said.
So until the rotation gets sorted out, the Dodgers' pitching staff is likely to remain more of a question mark than an answer.
"It is a work in progress," Honeycutt said. "I think we'll be able to start getting back into more of a groove."
---
Get our high school sports newsletter
Prep Rally is devoted to the SoCal high school sports experience, bringing you scores, stories and a behind-the-scenes look at what makes prep sports so popular.
You may occasionally receive promotional content from the Los Angeles Times.