Zack Greinke, Dodgers are left all wet in Washington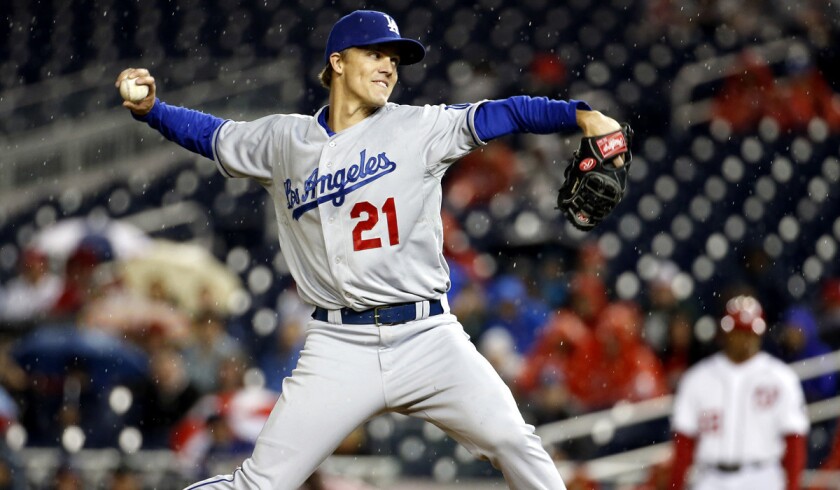 Reporting from Washington —
Dodger catcher Drew Butera says teammate Zack Greinke is a student of the game.
"I follow the statistics," Greinke admitted. "But not to the extreme."
Yet even a cursory familiarity with the numbers was probably enough to give Greinke a grasp of the history that was washed away by Monday's 3-hour, 17-minute rain delay, which began with Greinke on the mound, trailing 2-0, in the bottom of the fourth inning at Nationals Park.
BOX SCORE: Washington Nationals 4, Dodgers 0
Because when the game restarted at 11:40 p.m. local time Greinke did not, ending a string of 21 consecutive starts in which the right-hander has gone at least five innings and given up two or fewer runs. No one has done that in at least a century.
"It's not really like it's an important streak. No one cares about [it] anyway," Greinke said. "If it was something more important than that it would mean a little bit more."
And when the Nationals went on to win, 4-0, pinning the loss on Greinke, a number of other impressive streaks came to an end as well. Entering Monday's start, which was aborted after 54 pitches, Greinke had gone 13 games -- and more than three years -- without losing to a National League East team.
And he hadn't lost as a Dodger when starting a game following a loss.
You can't blame all of Greinke's bad luck on the rain, though; the Nationals had something to do with it too. When Denard Span led off with a double and Anthony Rendon followed with a home run four pitches later, the Nationals became the only team to score off Greinke in the first inning this season. They added a pair of insurance runs on Danny Espinosa's two-run homer in the eighth, lifting them past the Atlanta Braves into first place in the NL East.
Rendon's homer was long forgotten everywhere but on the scoreboard by the time the game finally ended Tuesday morning. But then the Dodgers have developed a penchant for playing odd contests this season. Eight of their 33 games have gone to extra innings, the most in the majors, and on this roadtrip they've played one 11-inning game, one 12-inning game and an 8-hour, 12-minute doubleheader that went 21 innings and featured 773 pitches.
That, too, was caused by rain.
"Welcome to the East Coast," Dodger Manager Don Mattingly said. "You do this 10, 15 times a year out here. You're going to get this weather early. You have delays. Same on both clubs."
The Dodgers hope to restore some semblance of order later Tuesday when Clayton Kershaw comes off the disabled list and returns to a major league mound of the first time in six weeks.
But back to Monday. Greinke was followed to the mound by a procession of relievers -- Brandon League, Chris Withrow, Brian Wilson and Pedro Baez -- that made the game feel a bit like a very cold and wet spring training contest.
The Nationals, whose pitching staff was in such a shambles that they were unsettled on a starter for Tuesday, also emptied their bullpen. Jordan Zimmermann started, holding the Dodgers to five hits in four scoreless innings, striking out three. He was followed by Aaron Barrett, Jerry Blevins, Drew Storen, Tyler Clippard and Rafael Soriano, who combined to hand the Dodgers their second shutout of the season.
By the time it was over the team had combined to use 32 players, including 11 pitchers.
"It's just baseball. There's certain parts of the season you hit little stretches like this," Mattingly said. "When you go into spring training you know things like this are going to happen. And you can't allow them to be excuses.
"You've got to play because at the end of the day you've either won or lost. It's on your record. It's on the schedule. At the end of the day we got it done, we didn't get it done. Tonight we didn't get it done. You don't score you're not going to win."
---
Get our Dodgers Dugout newsletter for insights, news and much more.
You may occasionally receive promotional content from the Los Angeles Times.