Major League Baseball pops the Dodgers' bubble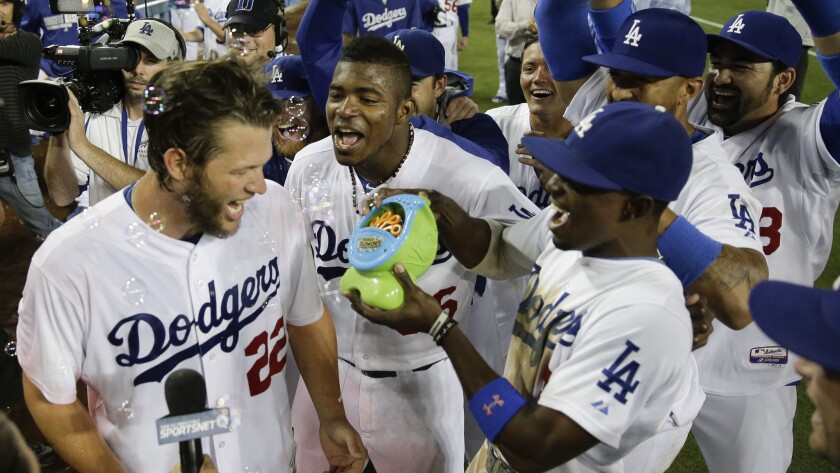 Baseball games linger beyond three hours, usually for no good reason. The Dodgers have disappeared from most television screens in Southern California. As Commissioner Bud Selig approaches retirement, feuding factions of owners are fighting to decide who his replacement will be.
There is no shortage of concerns for the good folks in the commissioner's office to address. So what pressing issue did a high-ranking league official take up with the Dodgers this week?
A machine that dispenses soap bubbles.
No, seriously.
When a Dodgers player hits a home run, the team celebrates with a bubble machine. Before Tuesday's game against the Angels at Dodger Stadium, Joe Torre, Major League Baseball executive vice president, advised the Dodgers to stop using the machine.
That word did not get to all the players, or to the video crew. When Juan Uribe hit a home run in the second inning, the Dodger Stadium video board flashed an image with the words "Bubble Machine."
As Uribe trotted around the bases, the players gathered for the dugout celebration. Uribe danced with Hanley Ramirez, but the bubble machine was conspicuous in its absence.
"My initial thought was, somebody forgot," catcher A.J. Ellis said.
"I thought the batteries were out," outfielder Andre Ethier said, "or we ran out of bubble solution."
The bubble machine was back Wednesday, at Angel Stadium. When Matt Kemp hit a home run in the second inning, the dugout welcome again included soap bubbles floating above the head of the hero.
Did the Dodgers negotiate a compromise with MLB, or did they unilaterally decide to bring back the bubble machine?
No one would say. The ban of the bubble machine was baffling. The refusal of Dodgers officials and MLB executives to discuss it was even more baffling.
Torre, the former manager of the Dodgers, was asked through a league spokesman why the Dodgers were asked to turn off the machine and whether the Angels or any umpires had complained about its use.
"We respectfully decline comment right now," MLB spokesman Mike Teevan said.
The Dodgers players wondered what all the fuss was about.
"We don't disrespect anybody," infielder Dee Gordon said. "We just have fun with our team."
If any other team had taken exception to the bubble machine, Ellis said, he would have heard about it — from an opposing hitter while he was catching or from an opposing first baseman after he had reached base.
"No one has ever mentioned the bubbles," Ellis said.
"Everybody has their own way to celebrate a home run. Ours includes a prop. So does Milwaukee, a guy sliding down a slide. So does New York, with a big apple popping up in center field. So many teams are firing off fireworks.
"It's fun for the fans. It's a little innocent thing. This game is serious enough as it is. We get criticized enough for being stoic."
Ethier, in his ninth season with the Dodgers, has seen his share of controversy. He had no idea why there would be a controversy surrounding a bubble machine.
"We're just having a good time with it," Ethier said. "If it's not hurting anyone, other than bubble soap getting in someone's eyes, it shouldn't be a big deal."
---
Get our Dodgers Dugout newsletter for insights, news and much more.
You may occasionally receive promotional content from the Los Angeles Times.