Dee Gordon helps get Dodgers going in 6-4 win over Atlanta Braves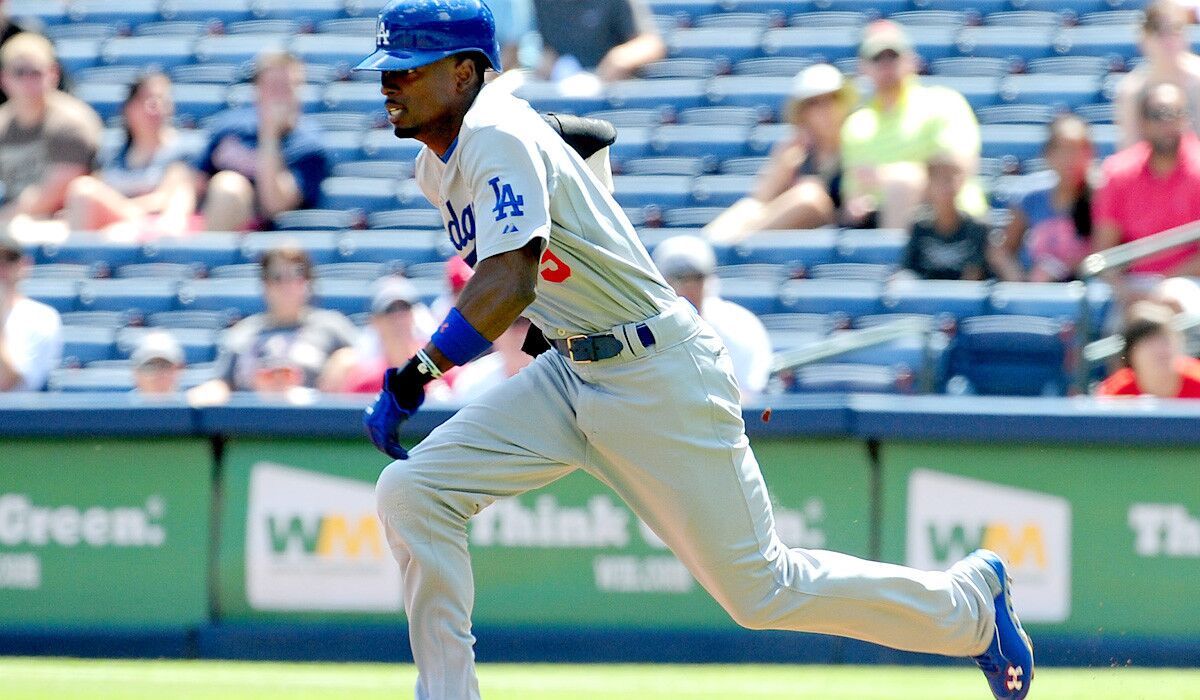 REPORTING FROM ATLANTA —
These days, when Dee Gordon doesn't hit, he doesn't panic as he once did.
He knows he's bound to play the kind of game he played Thursday, when he scored four runs in the Dodgers' 6-4 victory over the Atlanta Braves at Turner Field.
"I think I'm doing a better job of not going outside of my game," Gordon said.
Gordon's three-hit, two-steal performance ensured the Dodgers' three-city trip would be considered successful by Manager Don Mattingly. The Dodgers won six times on the nine-game voyage, which included visits to Anaheim and Milwaukee.
The trip started well for the Dodgers, who won their two road games against the Angels, but not for Gordon. Over the first seven games, the All-Star second baseman was a combined three for 25 (.120). Sensing Gordon might be wearing down physically, Mattingly twice didn't start him in that stretch.
"I had a tough week and a half, two weeks," Gordon said. "But I just grinded it out."
Gordon recovered by collecting a pair of hits on Wednesday night, when the Dodgers dropped their only game of the four-game series against the Braves. In the series finale at Turner Field the next day, Gordon was flat-out electric, as he went three for four with a walk to raise his season average to .291.
"I think the lack of changes has been the key thing," Mattingly said. "You don't see him go into a panic and all of a sudden changing everything around. He kind of stays with what he's doing."
In previous seasons, Gordon said, he might have adjusted his stance or changed his approach.
The patience was something he discovered last season when his career was at its low point. He was stuck in triple A, unable to shake the perception that he couldn't hit major league pitching. Frustrated, he asked hitting coach Franklin Stubbs to help him develop a swing that would be effective at the next level.
The results didn't come immediately.
"Trust the process," Gordon was told by Stubbs, who was part of the Dodgers' 1988 World Series team.
Gordon did. Now, it's as if he's a new player.
He made the Dodgers' opening-day roster this year, became their everyday second baseman and was selected for his first All-Star game.
Gordon tries to exercise similar patience these days whenever he goes into a slump. In the 27 games he played from May 4 to June 3, Gordon batted .191. Throughout that period, Gordon recalled Stubbs' words: "Trust the process."
"I knew I was going to get out of it," he said.
And he knew he would emerge from his latest skid.
Thursday, he reached base on a bunt single in the first inning. He stole second base and forced a throwing error by catcher Gerald Laird that allowed him to reach third. He scored on a single by Yasiel Puig to move the Dodgers in front, 1-0.
Gordon reached base again in the third inning, drawing a walk against Braves starter Aaron Harang. Gordon stole second again and later scored on a hit by Adrian Gonzalez to extend the Dodgers' lead to 4-0.
Gordon's stolen base in the third inning was his 54th of the season, the most in baseball.
He singled in the fifth inning and scored on another single by Gonzalez.
Gordon scored what turned out to be a valuable insurance run in the ninth inning, when he bunted his way on base and scored on a double by Gonzalez. The run increased the Dodgers' advantage to 6-4.
The infield hit for Gordon that inning was his 42nd of the season, the most in baseball. The run batted in for Gonzalez was his 83rd, tied for the most in the National League.
Follow Dylan Hernandez on Twitter @dylanohernandez
Get our Dodgers Dugout newsletter for insights, news and much more.
You may occasionally receive promotional content from the Los Angeles Times.